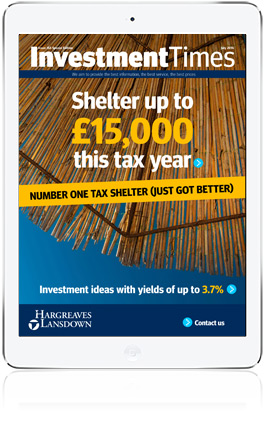 Investment Times app for iPad

The free interactive iPad magazine
Interactive features and enhanced content exclusive to the iPad, plus the latest investment news, research and comment.
New interactive content
Download editions direct to your iPad
Introductory offer: FREE 3-month subscription

Tax rules can change and the value of any benefits depends on your personal circumstances. No news or research item is a personal recommendation to invest. The Investment Times is designed for investors who like to make their own investment decisions.
iPad is a trademark of Apple Inc. App Store is a service mark of Apple Inc.

July 2014
ISA special New rules have made ISAs more attractive than ever, with more flexibility and the largest ever allowance. In this edition of the Investment Times we explain the changes and how you could benefit.

May 2014
The other side of the equation In this edition of the Investment Times we examine the prospects for stock and bond markets following strong gains over the last five years. We feature our latest investment ideas with variable yields of up to 3.3%, and Mark Dampier explains why he uses investment trusts to complement his unit trust holdings.

April 2014
The importance of being early In this edition of the Investment Times we explain why making use of tax shelters early in the tax year could be a profitable strategy. We feature our latest investment ideas and share tips from M&G's Tom Dobell. We also examine the changes to ISAs and pensions revealed in the Budget.

March 2014
The gateway to the lowest fund charges In this edition of the Investment Times we reveal the exclusive range of discounts we have negotiated for our clients on a selection of first-class funds. We also feature investment ideas for last-minute ISAs, funds with yields of up to 4.0% (variable and not guaranteed) and share tips from leading fund manager Harry Nimmo.
February 2014
Take shelter In this edition of the Investment Times we examine how to make the most of this year's ISA allowance. Featuring our latest investment ideas with yields of up to 3.6% (variable and not guaranteed, with no tax to pay in an ISA), plus share tips from leading fund manager Richard Buxton.

January 2014
Simplify your life In January's edition of the Investment Times we consider the outlook for the stock market in 2014 and highlight the areas we feel are showing promise. We also feature comment from guest commentators former Deputy Prime Minister, Lord Heseltine and ex-BBC Economics Editor, Stephanie Flanders.

November 2013
Proof of the pudding In this edition of the Investment Times we look at over-looked areas which are trading on rock bottom valuations, but which we believe could be due a revival. There is also an update on emerging markets - following a tough couple of years for the region, what is the outlook? We also provide our view following the recent announcement that Neil Woodford is to leave Invesco Perpetual next year.
October 2013
For every action, expect an overreaction In this issue, Peter Hargreaves examines the potential impact of rising confidence on the economy and stock market. We also feature our latest investment ideas, including an exciting new fund launch from Marlborough's Giles Hargreave, plus our views on Vodafone's landmark Verizon deal.

September 2013
Under the microscope In this issue we suggest four funds we believe could thrive in current conditions. There is no theme as such – they are just funds we believe have excellent potential to grow wealth over the long term. Ben Brettell and Chris Saint both examine the Bank of England's 'forward guidance' policy, while Lee Gardhouse explains our process when researching funds.

July 2013
World cycles In this issue we explore funds that invest globally in search of the best returns, including an income fund currently yielding 4.1% (variable and not guaranteed). Mark Dampier shares his latest views on the bond market, whilst we also discuss whether recent stock market volatility presents a threat or an opportunity for investors.

June 2013
Three pronged strategy In this issue we indicate three ways of investing in the UK market. You will most probably have a gap in your strategy which this edition could help you plug. We also feature Europe - still among the world's cheapest stock markets. Plus share tips from stock-picking maestro, Giles Hargreave.

May 2013
Capital punishment With today's paltry interest rates, even low rates of inflation can make a significant dent in your capital. Our experts highlight four funds which offer the potential for an inflation beating return, for cautious and adventurous investors alike. We also examine the outlook for interest rates, and feature share tips from a duo of leading fund managers.

Wealth 150 Report All our favourite funds reviewed, plus our research team's views on world economies and stock markets. We also feature the views of leading managers on the prospects for their funds.
April 2013
A sterling opportunity Sterling is under pressure, but this could spell opportunity for adventurous investors. Peter Hargreaves explains why, and Richard Hunter selects three shares he thinks could benefit from a weaker pound. We reveal our current thoughts on value in the UK market and feature four funds we believe could be excellent choices for early ISA and SIPP contributions.
March 2013
Time, not timing Peter Hargreaves explains why time in the market is more important than timing the market. Currency Analyst Chris Saint shares his outlook for Sterling, and Head of Research Mark Dampier explains why investors are increasingly favouring shares over bonds. We also feature our latest ISA and SIPP investment ideas.
February 2013
As some optimism returns to the stock markets, is it time to re-evaluate your investment strategy? We focus on investment opportunities at home, featuring some of our favourite UK funds for growth and income. PLUS: Another chance to enter our £100,000 prize draw.

January 2013
What could 2013 hold in store for investments and how could you profit? We have asked a number of leading names from the worlds of business, economics and politics for their views on the economy and markets. Our experts explain what it means for your investments.
All apps can be rated within the App Store. Ratings are important as they are the best independent guide to the quality of an app, as decided by its users.
Whilst Hargreaves Lansdown invites feedback by email or by phone, you are are also invited to publicly rate the app. You can even choose to provide a small written review.
If you wish to rate the Investment Times for iPad now, you can do so on the App Store
Your feedback on our services is very important to us.
If you have any questions about the Investment Times or you would like to provide us with some feedback, please don't hesitate to contact us using any of the methods below.
Call us:
0117 980 9953
Write to us:
Hargreaves Lansdown
One College Square South
Anchor Road
Bristol
BS1 5HL
Be among the first to hear about future editions of the Investment Times for iPad
Simply register here and we will email you as soon as each new edition is available for you to download.