Fund research & investment ideas
MFM Slater Growth Fund research update
Thu 30 October 2014
In light of the fund's recent strong performance, Mark Slater has been rebalancing the portfolio. He has taken profits from some of the fund's best performer and sold out of others.
Saracen Global Income & Growth Fund research update
Wed 29 October 2014
Investors are paying too high a price for defensive companies such as consumer goods, according to Graham Campbell, co-manager of the Saracen Global Income & Growth Fund.
Artemis US Fund Launches - Phase two
Tue 28 October 2014
The Artemis US equity team, headed by Cormac Weldon, recently launched three US focused funds. He has now, along with Stephen Moore, launched the fourth and fifth funds in Artemis's new US range.
Find out more and invest
in a new account:
Invest in an existing account:
Free research on Wealth 150 funds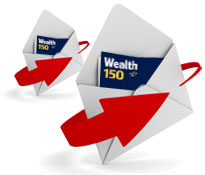 Get expert research on our Wealth 150 funds direct to your inbox.
No news or research item is a personal recommendation to deal.