Savings & discounts
You could receive annual cash back of up to 0.5% on over 1,000 funds through our loyalty bonus. We can do this because fund managers give us part of their annual management charge to administer your investments. This makes no difference to the annual management charge you pay - you simply receive a rebate in Vantage. On a typical transfer worth £40,000 our loyalty bonuses could save you as much as £1,000 over the next 10 years.
Save up to 5.5% on new fund investments
We've negotiated special terms for our clients which allow us to discount most, if not all, the initial charge on more than 2,400 funds (typically between 3% and 5.5%). On a £10,000 investment for example, this could instantly save you as much as £550. This saving can make an even bigger difference to the value of your fund over the long-term.
The chart below shows the difference between a client investing with no discount, and a client investing through the Vantage Service with a full saving.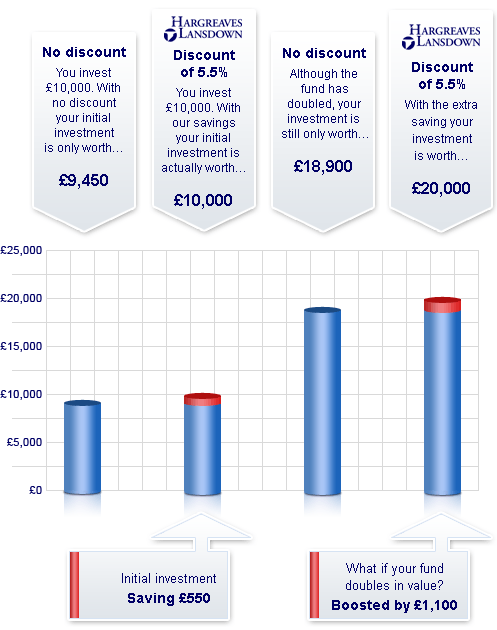 Please note this is not a projection of what the investment will grow to but a demonstration of the saving available.
Transfer to
Vantage now
Transferring your existing investments to Vantage couldn't be simpler. Complete a short transfer form, return it to us, then leave the rest of the transfer work to us.
We have saved our clients over £1 billion in charges since 2005. Find out how much you could save every year on the ISAs or Funds you already hold using our loyalty bonus calculator.
Have a question?
Call us on 0117 900 9000