How do I manage my Stocks & Shares ISA?
The greater interest you take in your ISAs, the better they are likely to perform. The Vantage ISA puts you in control and gives you the freedom to manage your own investments as you wish.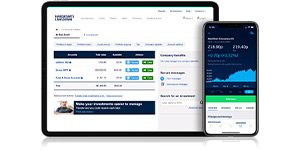 You can manage your ISA online, on your smartphone with our FREE app for iPhone and Android™, by phone and post. 98% of ISA clients rated our service as good, very good or excellent in a recent survey*.
Manage your ISA online 24/7
Managing your ISA online lets you get a valuation and buy and sell investments whenever suits you. You can use interactive charts and tools and even top up your ISA with your debit card or start a regular monthly contribution. What's more, you can:
React immediately to the latest investment opportunities with live dealing
View a summary of all your holdings
Access details of previous transactions
View, download and print copies of your statements
Check in an instant how much money you have available to invest
Track the performance of your ISA
Monitor all your other Vantage accounts under one secure roof
Within the Cash ISA you can move money from our variable rate to our fixed rate offers by post, telephone or online.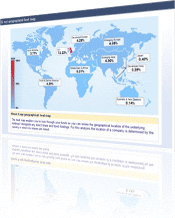 Online portfolio analysis tool - how to get more from your investments
Our free portfolio analysis tool gives you a precise overview of your investments, breaking it down by sector, geographical region and investment type. You can choose to exclude investments you're considering selling and add those you would like to buy. It gives you all the information you need to ensure your portfolio is balanced and suits your appetite for risk.
Manage your ISA on your smartphone
Log in safely and manage your Vantage ISA wherever and whenever you wish with HL Live, our FREE app for iPhone and Android™.
Find out more and download our free app
Call our UK-based Helpdesk
If you have a question or wish to make changes to your account, you can call our Bristol-based Helpdesk on 0117 900 9000. We have no automated messages asking you to "press one for this" or "two for that", you will speak directly with a friendly professional.
Manage your ISA by post
You'll be sent easy-to-understand statements every six months, and you can also check the value of your investments on our website at any time you wish.
You can also make changes to your account or ask any questions by writing to us: Hargreaves Lansdown
One College Square South, Anchor Road, Bristol, BS1 5HL


To date my experience of using HL services has been extremely positive and has exceeded expectations. The online service is slick, well laid out and provides all of the information I need to track my investments. If I have a query the advisors are prompt in returning calls, efficient and polite. Recommended!
Mr Woodroffe, Berkshire
Investment support

You'll receive email updates on many of the funds and shares you hold, keeping you up to date with the latest news and research.
Access to other Vantage accounts

You will be able to manage your ISA alongside your other Vantage accounts, such as the Vantage SIPP. They will appear on the same statement and can be managed on the website with just one log in.
Open a Stocks & Shares ISA online in minutes
Open your ISA today from as little as £50 a month or with a lump sum of £500 or more. If you're unsure where to invest in your Stocks & Shares ISA, you can open it today, hold your money as cash in your Stocks & Shares ISA and then choose your investments later.

Open a Stocks & Shares ISA
*Source: HL ISA client survey, March 2011, 372 respondents.
Save tax, time and money...
Get market beating savings and investment flexibility. Open your Vantage Stocks & Shares ISA online today.
Important information
Please remember, the value of tax savings will depend on your circumstances and tax rules can change over time. Investments can go down in value as well as up, so you might get back less than you invest.
Have a question?
If you're confused about ISAs, or have a question not covered in this section, call our friendly Helpdesk.

0117 900 9000
Mon - Thu:
8am - 7pm
Fri:
8am - 6pm
Sat:
9:30am - 12:30pm
Alternatively, view our ISA FAQs.
Get your free ISA guide
If you would like to find out more about ISAs and how to invest, claim your copy of our free guide to investing in ISAs.
Request your free ISA guide