Savings & discounts
New regulations have changed how investors are charged for holding funds. We have used the bargaining power of over 500,000 Vantage investors, to negotiate super-low cost funds for our clients. The average ongoing charge for a Wealth 150 fund is 0.79%, and just 0.65% for a Wealth 150+ fund. On a typical transfer of £20,000 our super low cost units could save you up to £440 over the next 10 years. Please note, in common with other platforms there are charges to hold funds in Vantage.
Save up to 5.5% on new fund investments
We've negotiated special terms for our clients which allow us to discount most, if not all, the initial charge on more than 2,200 funds (typically between 3% and 5.5%). On a £10,000 investment for example, this could instantly save you as much as £550. This saving can make an even bigger difference to the value of your fund over the long-term.
The chart below shows the difference between a client investing with no discount, and a client investing through the Vantage Service with a full saving. This does not take into account Vantage fees which will apply.

Initial investment
---
No discount
You invest £10,000. With no discount your initial investment is only worth...
£9,450
Discount of 5.5%
You invest £10,000. With our savings your initial investment is worth...
£10,000
What if your fund doubles in value?
---
No discount
Although the fund has doubled, your investment is still only worth
£18,900
Discount of 5.5%
With the extra saving your investment is worth...
£20,000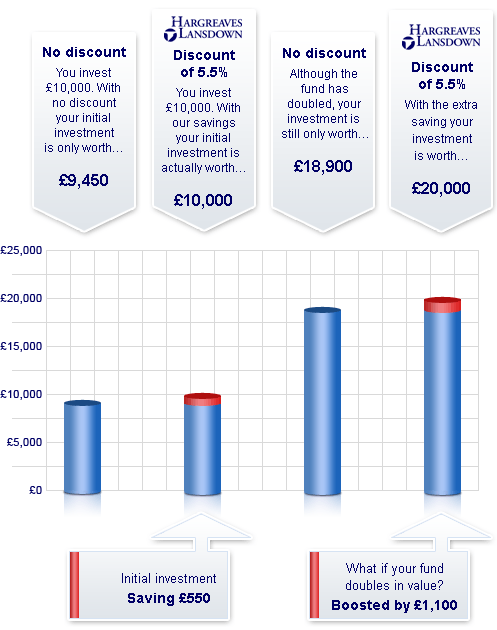 Please note this is not a projection of what the investment will grow to but a demonstration of the saving available.
Have a question?
Call us on 0117 900 9000