Why choose Hargreaves Lansdown?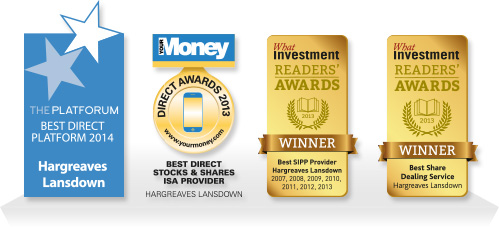 Hargreaves Lansdown has been providing investment services for over 30 years. We now look after more than £61.7 billion on behalf of over 827,000 clients.
We aim to provide the best service, the best prices and the best information. We are unswerving in our commitment to helping our clients make smarter, more profitable investment decisions.
94.4% of clients rate our service as good, very good or excellent* and we have won numerous industry awards, we listen to what our clients want and constantly seek to improve.
Knock your socks off service
Best information
Free market-leading research
Free comprehensive price, data and market feeds
Free news and articles
Free online fund and company reports and accounts
Free fund research
Free share research
Free guides
Free portfolio analysis and X-ray tools
Free Investment Times
Free HLTV
Free share and fund research alerts
Free share price alerts
Free stock market update emails three times a day
Free Wealth 150 research and analysis
Free real time online valuations
Free annual consolidated tax certificate
Free advanced share factsheets, interactive share charts and technical analysis tools
Free weekly sector reports from Shares Magazine
Free weekly share tips from Investors Chronicle
See more ways in which we provide the best information
Best service
A financially secure, FTSE 100 company
UK Helpdesk with knowledgeable staff who aim to answer calls in under 10 seconds
Telephone dealing from 8am to 9pm every business day
All major investment accounts - ISAs, Junior ISAs, SIPPs, Drawdown, Fund & Share accounts
Constant service enhancement, with 100 IT staff continually improving the service
Access to an extensive choice of thousands of investment funds, shares, bonds, ETFs, investment trusts, cash and other investments
Invest from just £25 per month
Free apps for smartphones and tablets
Free share alerts and other investing tools
Share dealing service covering 17 countries and 23 exchanges, including the UK, Austria, Belgium, Canada, Denmark, Finland, France, Germany, Italy, Luxembourg, Netherlands, Norway, Portugal, Spain, Sweden, Switzerland and United States
All custodial services included, including tax credit collection and tax wrappers
Lump sum investments and regular savings service
Cash management of client cash with UK institutions
Access to independent financial advice
New share offers / bond offers / fund launches
Management and communication of corporate actions
Administer family accounts via our free linked accounts service
Paperless service and secure online messaging centre for online clients
Free watchlists
Pension tax relief collected free
Income payments collected and then reinvested, held or paid out
See more ways in which we provide the best service
Best prices
Super-low cost funds, many with lower fund charges than any other broker
Negotiating better deals on investments on your behalf, saving Hargreaves Lansdown clients more than £1bn over the last 10 years
Simple, fair, low annual charge for holding investments
Free to place a deal to buy and sell funds online, by telephone or post
Low cost UK and overseas share dealing
Low-cost income reinvestment service for shares and funds
No fixed annual account fees
No inactivity fees
Typical fund loyalty bonuses on existing funds of 0.75% or more
Fund initial savings of up to 5.5%
Free "price improver" stockbroking price improvement
Free transfers in of your investments
See more ways in which we provide the best prices
Market leading discounts on fund ongoing charges
We have used recent changes in regulation to negotiate substantially lower charges for funds, saving our clients an extra £8m per annum. The average ongoing charge for a Wealth 150+ fund will be just 0.65%; many of the most popular funds will be priced even lower and will be exclusively available to Hargreaves Lansdown clients.
Wide investment choice
Vantage gives you access to a wide range of investments including funds, shares, investment trusts, ETFs, gilts and corporate bonds. As everything is held under one roof, you can monitor, track and analyse your portfolio at your convenience and see one valuation for all your holdings. You can buy these investments in a Stocks & Shares ISA, Self-Invested Personal Pension (SIPP), Junior ISA and a general investment account – the Vantage Fund & Share Account.
Security
For most clients the single most important feature of our service is our security. We manage the business conservatively, we have no borrowings and our audited accounts show our financial strength. We are regulated by the Financial Conduct Authority and each investor is protected by the Financial Services Compensation Scheme.
Find out more about the security of your invesmtents with Hargreaves Lansdown
*Client satisfaction survey conducted by Hargreaves Lansdown in August 2014 with 9,371 respondents