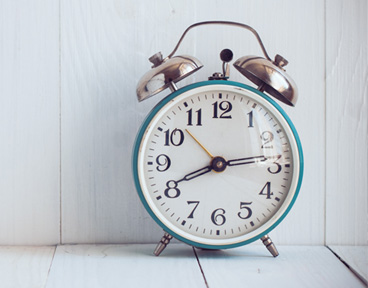 No news or research item is a personal recommendation to deal. All investments can fall as well as rise in value so you could get back less than you invest.
We've now been living with low interest rates for almost a decade.
Even if – as expected – the Bank of England chooses to raise rates this week, they'll still be extraordinarily low by historical standards.
Unsurprisingly, low interest rates have had a big impact on what people do with their money.
Investors have increasingly looked to riskier assets to satisfy their appetite for income. It's not always easy to know where to place your hard-earned savings. But for those willing to accept the risks, we think equity income funds are well worth considering.
As ever please remember that investments can fall in value as well as rise, so you could lose money.
How equity income can help
Equity income funds are run by an expert fund manager. They invest in a variety of dividend-paying shares.
This diversification reduces the risk of relying on only one source of income. Any business can fall on hard times and have to cut the dividend it pays to shareholders. So investing across a range of companies reduces the impact of each dividend on the total received.
Investors can choose from an array of high-quality income funds, which take away the hassle of deciding which companies to invest in. But selecting the right one is vital.
Why invest for income – read our special report
The inconsistency of income payments
Most funds pay income to investors quarterly or six-monthly. So there's an extra layer of complexity for those who wish to receive a consistent income – to meet outgoings in retirement, for example.
Managing your investments to ensure you receive regular payments throughout the year isn't a simple task. Each payment can also vary significantly, depending on when the underlying companies pay their own dividends.
This is shown in the example below.
The first chart below shows how much income two funds have paid per unit held by an investor (over one year). The Artemis Income Fund pays income twice a year, while the JOHCM UK Equity Income Fund makes a lower but more frequent income payment.
In both cases this leads to an attractive overall income over the long term, but the payments vary throughout the year.
Income per unit in 2016 (p)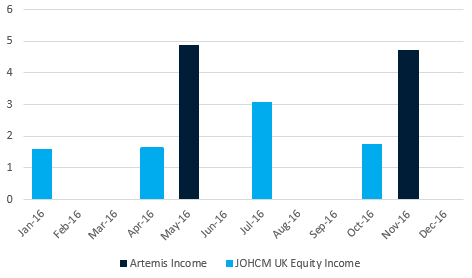 Income is variable and not guaranteed
Source: Lipper, HL, correct at 30/09/2017
Investing in a single fund might not prove sufficient for those in need of a more consistent income. Combining a number of income-paying funds could achieve a smoother spread of income payments throughout the year.
But constructing such a portfolio can be time-consuming. And this isn't the only thing to consider. We think it's important to invest with fund managers with proven track records of delivering a growing income as well as adding value through good stock-picking.
Is there a simpler solution?
The HL Multi-Manager Income & Growth Trust, run by our sister company HL Fund Managers Ltd., makes the search for income as simple as possible.
The fund pays investors income every month. It provides 11 equal income payments plus a final balancing payment in October, which distributes all the income collected by the fund that has not yet been paid out. This final payment is expected to be larger than the other payments, although this isn't guaranteed.
Income per unit in 2016 (p)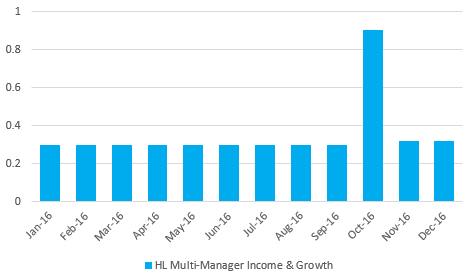 Income is variable and not guaranteed
Source: Lipper, HL, correct at 30/09/2017
How is this achieved?
Managers Lee Gardhouse and Ellen Powley carry out analysis to forecast and smooth the income from each investment within the portfolio.
They invest with a variety of fund managers with different investment styles, which complement each other and provide diversification to the overall portfolio. They invest with some of the most experienced income managers in the industry and make ongoing changes to the portfolio on investors' behalf. We think the results more than justify the extra costs associated with a multi-manager approach.
You can find out more about the HL Multi-Manager Income & Growth Trust, which recently reached its 15th anniversary, in our latest equity income report. We also look at two of its underlying holdings in more detail.
Read more: 15 years of HL Multi-Manager Income & Growth
Please remember income is variable and not a reliable indicator of future income. This article is not advice or a recommendation to buy, sell or hold any investment.
You may also be interested in: