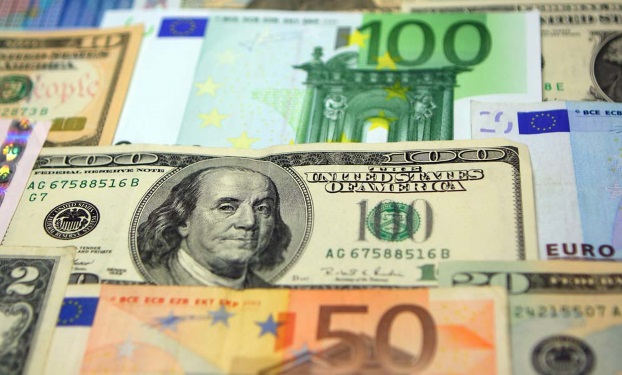 Chris Saint 17 July 2017
No news or research item is a personal recommendation to deal. All investments can fall as well as rise in value so you could get back less than you invest.
It's no secret that sterling has performed badly over the past twelve months or so. The pound fell sharply in the aftermath of the vote to leave the EU and has been under pressure ever since. Last June a pound would have purchased €1.30, but today it's worth just €1.14.
However, the story for some of sterling's developed-world counterparts is rather different. Some central banks have judged their economies strong enough to withstand higher interest rates, and this has seen their currencies strengthen. Below I look at the recent performance of the US, Canadian and Australian dollars, and assess their future prospects.
Find out more about the HL Currency Service
Sterling's 5-year performance versus selected currencies
Source: Proquote International, to 10/07/2017
US dollar - ahead of the pack as the Federal Reserve was first out of the blocks in lifting interest rates
The US dollar has been the standout performer among major currencies over the past few years, with the sterling/dollar exchange rate sliding from its mid-2014 highs of $1.70 to sub-$1.25 at the start of this year.
The key driver of the dollar's rally has been the belief that strong US growth prospects would prompt the Federal Reserve to raise interest rates earlier and faster than its counterparts.
All else being equal, the prospect of higher interest rates will typically attract foreign investment, boosting demand for the currency which raises its value on the foreign exchange markets. A flourishing US labour market should also eventually put meaningful upward pressure on wages and inflation as the economy nears full employment.
This scenario has largely played out as anticipated. The US central bank hiked interest rates for a second time this year in June, to 1-1.25%, seemingly on track to deliver the three upward moves for 2017 that it was predicting at the turn of the year.
However, the dollar's failure to build on its gains more recently have led some to question whether its 'bull run' could be over. Partly this reflects the fact markets were already factoring in a very positive outlook. Investors have also become more sceptical of the Trump administration's ability to enact its intended pro-growth policies as probes into possible election campaign ties to Russia refuse to go away.
Moreover, a sustained recovery in global economic activity means other central banks are also now reassessing their monetary policies, so the prospect of a narrowing interest rate advantage for the dollar threatens to further stymie the currency's future progress.
Free currency reports direct to your inbox
Canadian dollar – Canadian interest rates rise for the first time since 2010
The Bank of Canada last week became the first major central bank to follow its US counterpart in starting to nudge interest rates upwards – lifting its key policy rate for the first time since 2010, from 0.5% to 0.75%. The Canadian dollar rose to a one-year high against the US dollar in the wake of the announcement.
Canada's cumulative GDP growth since the end of 2007 has been higher than in any other G7 leading industrialised nation. With growth accelerating at a sharper-than-expected 3.7% annualised rate in the first quarter, Canada again looks set to be one of the fastest-growing advanced economies in 2017.
More broadly, the Canadian dollar has tended to display a fairly close relationship to the price of oil. As the 11th biggest export economy in the world and the energy sector accounting for a major share of export earnings, the currency often trades according to how well that export is performing. The pound's rise to highs near C$2.10 in late-2015 coincided with oil prices crashing below $40 per barrel, a stunning fall from peak prices at over $115 per barrel in mid-2014.
Visit our currency research centre
Australian dollar – also sensitive to commodity price trends over the longer term
The Australian dollar is also sensitive to commodity prices, particularly for iron ore, which is Australia's biggest export earner. As the chart shows, the sterling/Australian dollar exchange rate has followed a similar path to that of the sterling/Canadian dollar exchange rate over recent years.
The Australian economy has avoided recession for 26 years.
Its transition from the mining investment boom in the early part of this decade has been assisted by the depreciation of the Australian dollar, making exports more competitive and boosting tourism. One Australian dollar was worth more than the US dollar in early 2013. Today it buys just 77 US cents.
Between 2011 and 2016 the Reserve Bank of Australia cut interest rates from 4.75% to historic lows of 1.5%, helping to underpin consumer spending and business investment as the economy rebalanced away from mining.
The central bank now views this transition as almost complete. Yet it remains reluctant to lift interest rates any time soon, highlighting its concern that slow wage growth and high household debt are constraining consumer spending. On 4 July the central bank kept interest rates at 1.5% for an 11th consecutive month.
While Australian interest rates are still comparatively high (amongst developed countries only New Zealand's 1.75% rate is higher), this will become less of a draw for the currency if other major central banks raise their interest rates more quickly than anticipated.
Find out more about the HL Currency Service
How we can help you
Whether you want to reduce the risk of further exchange rate volatility, fix your costs or repatriate money to the UK, one of the simplest ways to ensure you are making the most of your money is to use a currency specialist instead of your bank.
If you or your business need to send money internationally, the HL Currency Service could save you thousands by offering bank-beating exchange rates (up to 3% better) and low transfer fees (often free).To see how we can help you during uncertain times, please give our currency specialists a call on 0117 311 3257 (Mon-Fri, 8am-6pm), or open an online account.
Find out more about the HL Currency Service
Keep up to date with our free currency reports
Important information
The information in this article is not intended to be advice or a recommendation to buy, sell or hold any of the currencies mentioned. No view is given as to the present or future value or price of any currencies.
The Hargreaves Lansdown Currency Service is a trading name of Hargreaves Lansdown Asset Management Ltd, which is a wholly owned subsidiary of Hargreaves Lansdown Plc, One College Square South, Anchor Road, Bristol, BS1 5HL. Company Registered in England & Wales No. 1896481.
Hargreaves Lansdown Currency Service is provided by Hargreaves Lansdown Asset Management Ltd which is authorised by the Financial Conduct Authority (FCA) as a Payment Institution under the Payment Services Regulations 2009. The Firm Reference number is 115248. You can look this up on the FCA register website. The marketing of the service is not regulated by the FCA.