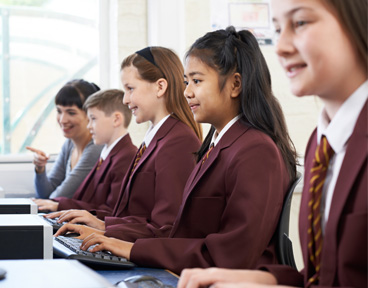 No news or research item is a personal recommendation to deal. All investments can fall as well as rise in value so you could get back less than you invest.
The average cost of independent school day fees has increased by 3.5% to £14,102 per year. With earnings increasing by just 2.3% on average, as the parent of a young child, you might be wondering how you'll save up for a good education.
Cash savings are unlikely to work hard enough, with the best 2 year fixed rate on a cash ISA at just 1.26% p.a.. And with the sums involved, tax on any savings held outside an ISA could make a real impact.
Starting early is key so you can regularly put away smaller amounts, making the goal much more achievable. It also provides an excellent long-term investment opportunity.
The stock market is often seen as the best place to grow money over the long term. Research from Barclays shows the longer you invest, the better the chance of the stock market beating returns from cash. However, unlike cash there is the risk that your child could get back less than invested.
How to save tax-efficiently for school fees
ISAs are a great way to save tax efficiently. But are there any other options if you've already used your annual ISA allowance? The popular Junior ISA won't help with school fees as the child cannot access the money until they reach 18.
The HL Junior Investment Account is another tax efficient way to invest. All children are eligible and there are no investment limits. Importantly, withdrawals can be made at any time, although they must be used for the benefit of the child (e.g. to pay school fees). In a Junior Investment Account, the money legally belongs to the child, so any gains are usually taxed as the child's. This means in most cases income or gains will fall within the personal tax allowances and exceptions so there is no tax to pay. And when investments are sold, there is no Capital Gains Tax to pay on gains up to £11,300 in the 2017/18 tax year.
The account is set up as a trust, which is a legally binding arrangement where assets are held by one person for the benefit of another. Note that if income from gifts from a parent exceeds £100 per year, this would be taxable at the parent's marginal tax rate and would need to be declared on the parent's own tax return.
Find out more about how to minimise tax when investing for children
Find out more about the HL Junior Investment Account
The tax rules referred to apply to the 2017/18 tax year and are subject to change, and any benefits depend on personal circumstances. This article is not personal advice. If you are unsure whether an investment is suitable for your or the child's circumstances contact us for personal advice.
You may also be interested in: