Unfortunately there is no 'winning formula' investors can use to select successful shares. However, there are certain characteristics I look for when considering potential investments. Please remember all investments fall in value as well as rise, so you could get back less than you invest.
1. Strong product innovation
Identifying a company with a culture of product innovation can potentially reap rewards. In the consumer goods arena, Reckitt Benckiser's consistent innovation has given it an edge over competitors. Reckitt's household products such as Finish and Nurofen are global brands. The company claims to change a product formula about every 8 hours. Such formula changes may improve the product's effectiveness, or generate cost savings, money which then can be reinvested in further Research & Development.
Reckitt Benckiser share charts, research and price
2. Changed business model
A changed business model, often the result of new management, can provide a positive share price catalyst. In 2010, broadcaster ITV outlined a new five-year transformation plan. Initiatives under the plan included driving new revenue streams and building a strong international content business. In the company's most recent half-year results, management commented that "the transformation plan continues to gain momentum. The £106 million increase in non-advertising revenues - from content, pay and online - was particularly significant and is further evidence that our strategy of rebalancing the business and growing new revenue streams is working."
ITV share charts, research and price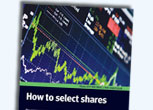 Find out how to select shares, including six other strategies for identifying shares with potential, and a basic guide to fundamental and technical analysis.
Your FREE Guide to How to Select Shares
3. Exposure to recovering markets
Potential recovery in a particular market can provide appeal. The excesses and subsequent downturn in the US housing market were a major factor in the global financial crisis. However, the market is showing signs of recovery, and companies with exposure are benefiting. Plumbing merchants group Wolseley generated over 45% of its revenue in the US as of its last full-year results. As such, the same full year results saw Wolseley announcing a 10% increase in its trading profit, helped by an 8% increase in like-for-like US sales.
Wolseley share charts, research and price
4. Management track records
Like football managers, I believe successful corporate managers are worth tracking. In May 2006, Richard Cousins, formerly of British Plaster Boards plc (BPB), became Chief Executive of catering company Compass Group. He helped lead a turnaround at the building materials company, which eventually led to a full blown takeover of the group. Since he took the reins at Compass Group its share price has increased from around £2.50 to over £7 today.
Compass Group share charts, research and price
Phillip Bowman at industrial conglomerate Smiths Group is another CEO we believe is worth watching, having previously overseen the sale of Allied Domecq to Pernod Ricard and Scottish Power to Iberdrola. He is currently implementing a strategy to simplify and build the business.
Smiths Group share charts, research and price
5. Takeover potential
Takeovers often require a significant premium to be paid over the current share price. As such takeover activity is normally good for investors and potential targets are worth noting. In early 2010, confectionary group Cadbury was acquired by US company Kraft Foods (now Mondelez International Inc). Kraft highlighted Cadbury's iconic brands and strong British heritage as attractive factors, along with significant scale in key developing markets. In late 2005, the assets of P&O, difficult to replicate and attractively located, were bid for by Dubai's state-owned ports operator, DP World. P&O was then the world's fourth-largest container terminal operator. Scarcity of such assets and expected global trade growth subsequently saw a rival bid made. P&O was eventually taken over.
Keep up to date with research and announcements on more than 150 popular shares direct to your inbox.
The value of investments can go down in value as well as up, so you could get back less than you invest. It is therefore important that you understand the risks and commitments. This website is not personal advice based on your circumstances. So you can make informed decisions for yourself we aim to provide you with the best information, best service and best prices. If you are unsure about the suitability of an investment please contact us for advice.