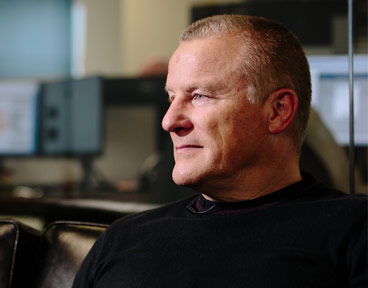 No news or research item is a personal recommendation to deal. All investments can fall as well as rise in value so you could get back less than you invest.
As Neil Woodford prepares to launch his latest venture – the CF Woodford Income Focus Fund – we thought it would be useful to look back at his career to date. He has built a well-deserved reputation as one of the UK's finest fund managers, but what lies behind his success?
In essence, we think it is his ability to combine analysis of individual company prospects with his astute reading of the economy to great effect. He has a long history of getting the big calls right, including when to move in or out of certain sectors. This has added significant value for investors over the long-term and given him an edge over other fund managers. Naturally he won't get it right every time, and there will be periods where his fund underperforms. For example last year he underperformed his peers as the market was led higher by commodity and oil-related stocks, to which he has no exposure.
Over the course of his career Neil Woodford has comfortably outperformed the wider market, and crucially for investors who seek income, he has a good track record of providing a high and growing level of dividend income, though as ever there are no guarantees his impressive track record will continue and past performance is not a guide to the future.
No recommendation
No news or research item is a personal recommendation to deal. All investments can fall as well as rise in value so you could get back less than you invest.
Neil Woodford's career track record
Past performance is not a guide to the future. Source: Lipper IM, 01/10/88 - 01/01/17. Figures with income reinvested.
Investors should always remember that past performance - of the fund or the fund manager - only offers part of the picture. Like the rear view mirror in a car, knowing what is behind is useful but tells you nothing about the road ahead. This is why our research digs deeper to find out why a manager has performed well or badly.
Shelter from the worst of market falls
A feature of Neil Woodford's career has been sheltering investors from the worst of market falls. It is this which has underpinned his long-term performance.
Our analysis shows that, on average, he has captured 94.8% of the gains in months where the UK market has risen, but only 68.4% of the downside in months where the market has fallen. Please remember past performance is not a guide to the future and his new fund will perform differently.
No manager will be able to stop their fund from falling in value at times. The maximum loss, from peak to trough, endured by Woodford's investors has been 31.1% (in the 2008 financial crisis). The worst fall in the FTSE All Share Index (total return) was 42.9% (2000-2003), closely followed by 41.1% in the financial crisis.
Daring to be different
Neil Woodford's willingness to follow his convictions rather than herd instinct has seen him make some big calls, notably avoiding the tech boom and subsequent crash, and selling out of banks well in advance of 2008's financial crisis.
This means his funds often deliver performance which differs markedly from the index. 1999, for example, was a great year for the market, but Woodford shunned the speculative technology companies that were leading the market higher. At the time he came under significant pressure to include these companies in his portfolio, but he remained true to his conviction. Of course, subsequent events have shown that he was correct to avoid these businesses and his fund went on to outperform its peers in the years that followed.
He is prepared to take large sector weightings where he sees extreme undervaluation. This has seen him make handsome profits in utilities, tobacco and pharmaceutical firms, all of which were deeply unfashionable when he bought them. He is keen to avoid the "crowded consensus" view (as he puts it), and invest differently from his peers - but this is risky and his investors are backing him to get it right. Despite the hype, he can get it wrong.
The new CF Woodford Income Focus Fund
Neil Woodford's new CF Woodford Income Focus Fund has a primary aim to generate a high income that will grow over time. In seeking to deliver a high income he will invest in a relatively concentrated portfolio of larger, predominantly UK-based, high-yielding companies; some of these will be companies he has invested in for many years. The concentrated nature of the fund means each holding can make a real difference to performance, so it's an approach we favour. However it does also increase the risk of underperformance compared with a more diversified fund.
Large, high-yielding companies have been a successful hunting ground for Neil Woodford in the past. His stock picks in this part of the market have contributed to the bulk of his performance throughout his career, according to our analysis.
Career track record - contribution to performance from companies of different sizes
Source: Qlikview, January 2017.
The companies he targets will all be in a strong financial position with the ability to pay, and importantly to sustain, high dividends. He tends to invest when they are out of favour and other investors are interested in companies perceived to be more exciting. Please note dividends vary and are not guaranteed.
In recent years Neil Woodford has found plenty of attractively-valued, high-yielding opportunities among healthcare and tobacco companies, while he has tended to avoid companies in the oil, banking and mining sectors. We anticipate similar biases in the new fund. This means it could struggle relative to the broad market when sectors such as banking and mining perform well, but businesses with the qualities he looks for tend to fare relatively well during tougher times for the stock market.
Conclusion
Only a small number of managers construct their portfolio with such courage of conviction when it comes to stock and sector positioning as we have seen from Woodford throughout his career. We believe he is one of the very few managers that can make the very big sector rotation calls correctly. Although there are no guarantees, like all investments the fund will fall as well as rise in value, so investors could get back less than they invest.
This new fund takes his tried and tested approach, but it is a new venture and places a greater emphasis on income generation. Given we expect the Income Focus fund to generate the bulk of its return from dividend payments and the potential for its income to rise over the long term, it could appeal to investors who are looking for their capital to generate an attractive income.
CF Woodford Income Focus Fund KIID
You may also be interested in: