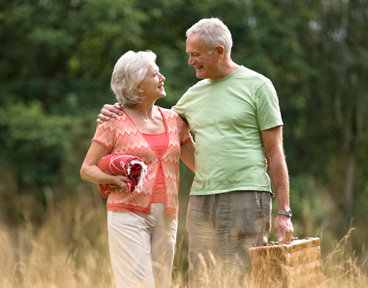 No news or research item is a personal recommendation to deal. All investments can fall as well as rise in value so you could get back less than you invest.
The lifetime allowance is the total value you can build up in pensions without incurring an additional tax charge. Government figures show it is catching out an increasing number of pension investors.
Tax revenues of £126m were collected from individuals whose pension pots exceeded the allowance in 2015-16 - an increase of 62% on the previous year.
The allowance was reduced on 6 April 2016 to £1m, which the government estimated would affect around 4% of retirees. As there are around 11.5m people approaching retirement, this means 460,000 people could be subject to the tax charge by the time they come to take their pension.
We explain the implications and the potential options available to help protect your pension.
Download: lifetime allowance factsheet
No recommendation
No news or research item is a personal recommendation to deal. All investments can fall as well as rise in value so you could get back less than you invest.
What is the current lifetime allowance?
Introduced in 2006 the lifetime allowance was originally set at £1.5m, it then increased over the following years to £1.8m in 2010.
Since then the allowance has gradually decreased with the latest reduction in April this year, from £1.25m to £1m.
HM Revenue & Customs (HMRC) have estimated around 55,000 individuals will have pension assets worth between £1m and £1.25m in 2016 to 2017, and so will exceed the current lifetime allowance.
Download factsheet: find out more about the lifetime allowance tax charge
Rise and fall of lifetime allowance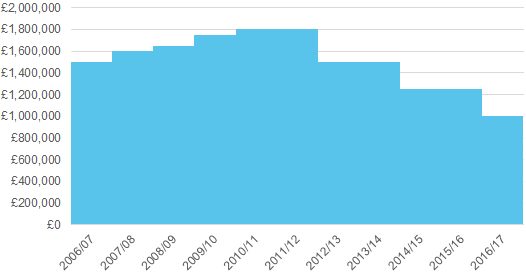 What happens if you exceed the allowance?
A tax charge will apply.
The good news is (similar to other allowances, such as income tax and capital gains tax) it is only the excess value over the allowance which attracts the tax charge – not the entire value of your pension.
The amount of tax paid will depend on how you decide to take the excess. Currently the lifetime allowance charge is 55% if the exceeded amount is taken as a lump sum (not subject to income tax) or 25% if left in the pension to be taken as income (which would be subject to income tax). Tax rules are subject to change.
Download factsheet: lifetime allowance tax charge and your options
Which pensions are affected?
With the exception of the State Pension, all UK pensions count towards the allowance; whether you have a defined contribution (also known as money purchase) pension, such as personal pensions and many occupational pensions, or defined benefit (e.g. final salary) pension.
Download factsheet: learn how to measure your pension against the lifetime allowance
How is the allowance measured and when?
Your pension will be measured against the lifetime allowance when you take benefits. Your pension provider will tell you how much of the lifetime allowance you've used, expressed as a percentage. It is also measured at age 75 and on the payment of death benefits in some circumstances.
For defined contribution pensions, this includes buying an annuity, taking tax-free cash, moving into drawdown and making a withdrawal from a pension that is not in drawdown (such as an Uncrystallised Funds Pension Lump Sum). For example, if you decided to use a pension worth £250,000 to purchase an annuity you will have used 25% of the lifetime allowance.
To value a defined benefit scheme, you need to multiply the expected income payable by 20 and add any additional tax-free cash. For example a final salary pension that will pay £40,000 a year is worth £800,000 (which equates to 80% of the lifetime allowance used).
Learn more about when the lifetime allowance is measured
Pension benefits already in payment before the lifetime allowance was first introduced in 2006 must also be taken into account.
Will you be caught out?
Most people's pension savings won't reach the lifetime allowance however, depending on when and how you plan to take benefits, it's not impossible to build a £1m pension. This is particularly true if you choose to invest your pension savings. For example, with annual investment growth of 4% after charges, a £320,000 pension today could be worth over £1m in 30 years' time when benefits are eventually taken. But remember all investments can go down in value as well as up and you could get back less than you invest.
As ever, it's important to monitor how much you're putting into your pension fund and how well your investments are performing. Calculate how much your pension could be worth at retirement.
If your pension savings are already close to, or over, £1m you are very likely to be affected by the latest reduction unless you have already taken steps to protect your pension savings (which we explain below).
Download factsheet: how to calculate the lifetime allowance you have used so far
How to protect your pension savings
If you think you might be affected, a number of options are available to help 'protect' your pension from the reduction in the lifetime allowance, and subsequent potential tax charge.
There are various types of protection which will secure an allowance greater than £1m:
Individual protection 2014 – allows you to set your allowance at the value of your pensions as of 5 April 2014, up to £1.5m, and continue to make contributions. Your pensions must have been worth at least £1.25m on 5 April 2014 to qualify. The deadline to apply is 5 April 2017.
Individual protection 2016 – fixes your allowance at the value of your pensions as of 5 April 2016, up to a maximum of £1.25m and allows you to continue to make contributions. To qualify your pensions must have been worth more than £1m as of 5 April 2016.
Fixed protection 2016 – this fixes your allowance at £1.25m regardless of your pension value. To qualify there must have been no pension contributions made since 5 April 2016 and any future contributions will result in loss of protection.
There is currently no deadline for applying for the 2016 protections, although if you need protection you should apply before taking benefits to avoid a lifetime allowance tax charge.
Download factsheet to learn more on protection and how to apply
Where can I get further information or advice?
If your pension benefits are close to £1m, or likely to breach the lifetime allowance in the future, our lifetime allowance factsheet could help you understand the basics, however we strongly suggest you seek personal financial advice.
This article and our factsheets are not personal advice. We offer a range of information to help you plan your own finances and personal financial advice if requested. Tax rules can change and benefits depend on personal circumstances.
The specialists on our Pensions Helpdesk can answer your initial questions in plain English and if required put you in touch with an adviser to discuss the most appropriate course of action for your personal circumstances and objectives – call them today on 0117 980 9926.