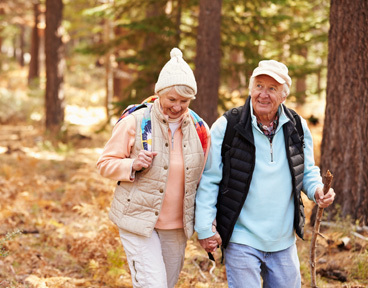 No news or research item is a personal recommendation to deal. All investments can fall as well as rise in value so you could get back less than you invest.
Sometimes seemingly insignificant factors can make a real difference to your retirement, especially when you're buying an annuity.
An annuity is a secure, regular, taxable income you can buy with your pension from an insurance company when you retire. In return for your pension pot, the insurance company will pay you an income for the rest of your life, regardless of how long you live for.
Qualifying for an enhanced annuity is one of the most common ways to increase the income on offer. Enhanced annuities pay more income based on any declared health and lifestyle details – in essence, the poorer your health, the more income you'll receive. However, you don't have to be seriously ill to qualify, just declaring minor lifestyle factors can boost your income. In fact 71% of our individual annuity clients qualified for enhanced income last year.
See if you qualify for an enhanced annuity now
How much could your retirement income rise?
To illustrate the impact of revealing basic health and lifestyle details, let's take a look at the examples of Client A and Client B.
| | Client A | Client B |
| --- | --- | --- |
| Marital status | Single | Divorced |
| Height | 5" 9' | 6"2' |
| Weight | 14st 9lb | 10st 0lb |
| Weekly alcohol consumption | 18 units | 14 units |
Just providing a few details means both Client A and Client B qualify for a significantly higher annual incomes.
| | Annual income | Difference |
| --- | --- | --- |
| Standard annuity income | £5,118 | |
| Client A | £5,276 | £158 more every year |
| Client B | £5,859 | £754 more every year |
These examples are based on a 65 year old with a £100,000 fund, single life level annuity, paid monthly. The actual income you receive will depend on your circumstances.
Get a free annuity quote to see if you could qualify for a higher income
Don't forget to enter all your health and lifestyle details
It's important to confirm all your health and lifestyle details when buying an annuity; all kinds of factors can make a big difference.
On the face of it there doesn't seem to be much difference between the details provided by Client A and Client B but the incomes they qualify for are significantly different. Perhaps surprisingly, Client B - who weighs less and drinks less than Client A – would actually receive nearly £600 a year more than Client A.
It's also important to include your partner's details if you would like them to receive your annuity income when you die, their details could further increase the income you're offered.
Find out how much income you could receive
Another simple way to increase your annuity income
Even without declaring health or lifestyle factors you could still get a better deal on your retirement income simply by shopping around.
Our annuity tool does the leg work for you; just enter your details once and you can easily compare the different incomes on offer from the whole of the annuity market.
Compare annuity income quotes from leading providers today
Once set up, an annuity cannot usually be changed or cancelled. It is important to consider all your options carefully, including whether you want an income to continue to a spouse or partner, or how income might be affected by inflation in future. Annuity rates change regularly and may go up or down in the future. Quotes are guaranteed for a limited time only. You should check you do not have any guaranteed annuity rates or other guarantees with your current provider before applying.
What help is available?
What you do with your pension is an important decision. Therefore, we strongly recommend you understand your options and check your chosen option is suitable for your circumstances: take appropriate advice or guidance if you are at all unsure.
The government's Pension Wise service can help. Pension Wise provides free impartial guidance on your retirement options face-to-face, online or over the phone - more on Pension Wise ».
This article is not personal advice. We offer a range of information to help you plan your own finances and personal advice if requested.
If you would like to talk to someone about enhanced annuities and get quotes over the telephone, please don't hesitate to contact our Retirement Helpdesk on 0117 980 9940 (Monday to Thursday 8am – 7pm, Friday 8am – 6pm and Saturday 9:30am – 12:30pm). They'll be happy to help. Alternatively, get your free personalised quote online, it only takes a few minutes.
You may also be interested in: