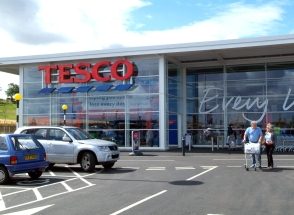 Tesco's share price fell 20% last January after the company issued a profits warning. This caused shareholders to question the validity of the group's overall strategy. Tesco reacted immediately, admitting to taking its eye off the ball in the UK, and implementing a six-point plan to turn the situation around.
Tesco share prices, research and charts
Today's Christmas trading statement follows a year of transformation, including the planned exit from the US, and is proof positive Tesco is fighting to regain its previously unassailable market share in the UK. Like-for-like sales in the UK were up 1.8% which was better-than-expected, and the group's strongest rate of growth for three years. There were other strong contributions from the online offering, with Tesco Direct reporting a 16% rise in sales.
The latest figures are improving from a very low base, and there remains much to be done. The company has sensibly played down its achievements in the period, highlighting that the turnaround plan is still in its early stages and repairing the damage caused to its reputation is a long game.
Today's positive share price reaction adds to an 11% rise in the last three months, compared to a 5% gain for the FTSE 100. Looking back over the course of a year, however, the shares have not yet regained former glories and stand down 11%, during which time the FTSE has posted a 9% rise. The market consensus of the shares as a strong hold may come under a little upward pressure if investors are convinced the turnaround plan has already gained some traction.
Investors looking to buy shares should visit our Tesco share factsheet for further information including prices and charts.
Tesco share prices, research and charts
Financial highlights:
In the UK, total sales including VAT and petrol grew by 4.2%
Group sales (including petrol), in the six weeks to 5 January increased by 3.8%
Economic challenges and reduced consumer spending saw total sales in Europe decline by 0.6%
In the US, Fresh & Easy sales rose 4.1%, while Asia saw an increase in total sales of 7.6%
Keep up to date with research and announcements on more than 150 popular shares including Tesco's direct to your inbox.
Negative points:
Management's outlook comments for the UK remain unchanged. It expects tough conditions for consumers in central Europe to persist.
Questionably, over diversification in both product and geographical terms appears to have seen management previously neglecting its still core UK business.
Considerable management time and costs have been spent on the US business Fresh & Easy, with an unacceptable return to shareholders having so far been made.
Tesco is heavily exposed to international markets, leading to currency risk.
UK retailers are concerned that inflationary pressures, tax rises, public-spending cuts and fears over job security will keep discretionary spending muted for the remainder of this year.
Positive points:
Set against weak comparative results, the group is benefiting from the significant impact of its 'six-part plan' to Build a Better Tesco in the UK. The six parts to the plan are: 1) improved service and staff 2) revamped stores and adjusted formats 3) product price and value 4) product range and quality 5) brand and marketing 6) clicks and bricks. The plan entails a £1 billion investment programme.
Tesco reported its online food sales were up 18%, while Tesco Direct revealed sales of over 16%, with Click & Collect proving an attractive option.
The group announced the appointment of Chris Bush as UK Managing Director, responsible for the UK business.
In December, management took a decision to conduct a strategic review of its US Fresh & Easy business, with all options under consideration. Tesco will provide an update on progress when it presents its full-year results in April 2013.
Tesco is one of the largest retailers in the world measured by revenues. The group enjoys significant geographical diversification across 14 countries as well as being the grocery market leader in the UK.
Tesco share prices, research and charts
The value of investments can go down in value as well as up, so you could get back less than you invest. It is therefore important that you understand the risks and commitments. This website is not personal advice based on your circumstances. So you can make informed decisions for yourself we aim to provide you with the best information, best service and best prices. If you are unsure about the suitability of an investment please contact us for advice.