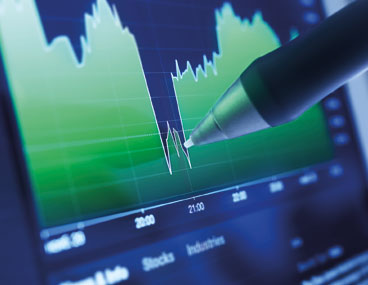 No news or research item is a personal recommendation to deal. All investments can fall as well as rise in value so you could get back less than you invest.
Ten years have passed since the Bank of England last raised interest rates. The impact on financial markets has been profound, although record-low rates have been as much a global phenomenon as a UK one.
Investors gasping for income have reacted the same way worldwide, turning to riskier financial assets other than cash to generate the income they need.
Bond markets have been a natural hunting ground for income-seekers given the fixed level of interest they pay. Quantitative easing (QE) programmes have also seen central banks across the globe purchase huge swathes of government and corporate bonds; while pension funds have been buying bonds to meet their liabilities.
Quantitative easing – is a form of monetary policy where a central bank creates new money electronically to buy financial assets, like government bonds. This process aims to directly increase private sector spending in the economy and return inflation to target.
As a result, bond prices have been driven to ever higher levels. As bond prices rise, their yields fall. The 10-year gilt yield, for example, now stands at just 1.37%.
In our view, this is hardly good value, especially when UK inflation is currently 2.9%.
That said, avoiding bonds completely would have been the wrong call over the past decade. The investment mantra, "don't fight the Fed", has certainly proven good advice. It essentially means there is no point in fighting the policy of the most powerful financial institution in the world (the US Federal Reserve). Whether you believe it to be wrong or right, this policy has continued to prop up global bond markets, including those of the US, UK, Japan and Europe.
See where the HL Multi-Manager Strategic Bond Trust is invested
Change is in the air
But after ten years some changes are beginning to happen.
The Federal Reserve has started to raise rates in the US, albeit slowly. Rising interest rates are typically bad for bond prices, as the fixed interest they offer looks less attractive against higher rates available on cash.
This month the US will also start to reverse QE, which effectively means they will stop buying bonds and start selling them back to the market.
Where the US leads, others often follow. Will the Bank of England be next? Mark Carney, the Bank's governor, has already made a number of false starts, although he most recently suggested the first rate rise could come as soon as November.
However, even if the Bank does raise rates, this will likely only reverse last year's emergency rate cut from 0.5% to 0.25%. We'd expect them to rise slowly from there. Private debt levels are high and would become difficult to service if rates rose too far, too fast.
It's unsure if this will be the catalyst for bond prices to fall. To a large extent a rate rise is already reflected in bond markets, as the 10-year gilt yield has risen since the Bank of England's most recent announcement.
Our view
We think there's currently little value on offer across global bond markets.
With bond yields already at such low levels, and the potential for bond prices to fall if interest rates rise, we don't feel investors are necessarily being compensated with a high enough income for the level of risk taken.
There's little room for yields to fall further, but they could rise. The lower yields get, the more volatility could increase and expose investors to swings in the value of their capital.
But despite all this we still feel bonds still have their place in a diversified portfolio.
In our view, a flexible approach is necessary to get the best out of bond markets at the moment. We favour strategic and global bond funds, which have the flexibility to seek the best returns from the entire global bond market, and respond quickly to changes in the investment environment.
Some also aim to shelter investors' capital in the event of turbulent market conditions, which we also view as attractive at present.
Our favourite bond funds currently feature on the Wealth 150 list of our favourite funds.
Investors who prefer a professional fund manager to run a diversified portfolio of funds on their behalf may wish to consider the HL Multi-Manager Strategic Bond Trust, which currently adopts a defensive approach to bond investing. Readers can find out more below.
HL Multi-Manager Strategic Bond
The HL Multi-Manager Strategic Bond Trust is a flexible bond portfolio, which can be altered to best fit the prevailing market environment. It's run by our sister company HL Fund Managers Ltd.
Managers David Smith and Lee Gardhouse invest with a carefully selected range of experienced bond fund managers. The fund is currently defensively positioned in light of our views above. This means it should perform relatively well during tougher times for bond markets, but lag a rapidly-rising market.
Duration – the sensitivity of a bond's price to a change in interest rates
The managers currently run the portfolio with fairly low duration of four, compared with eight for the broader corporate bond market. This affords some shelter against rising interest rates as the prices of short-duration bonds fall to a lesser extent when interest rates rise, or are expected to rise. In this case this means that, all other things being equal, a 1% rise in interest rates would lead to a 4% loss in the fund, compared with 8% for the broader corporate bond market. This stance has been the right call over the past year as interest rate expectations have risen.
Learn about bonds in our dedicated knowledge centre
How is the fund currently invested?
Investment grade corporate bond funds
These funds focus on bonds issued by the companies the market thinks are the most financially secure. They make up about a third of the portfolio.
Current holdings include Morgan Stanley Sterling Corporate Bond and Fidelity MoneyBuilder Income.
Strategic bond funds
These funds have the freedom to invest across the entire bond market. They form a further third of the fund. Invesco Perpetual Tactical Bond and Jupiter Strategic Bond are key investments in this portion of the portfolio.
Adventurous, high-yield bond funds
The Royal London Sterling Extra Yield Bond Fund invests in some of the more unusual and overlooked areas of the bond market, which means the income on offer can be attractive, although this reflects the higher risks involved in this sphere.
Flexible, global bond funds
These funds can hold bonds in currencies other than sterling. The M&G Global Macro Bond Fund has the experienced bond fund manager Jim Leaviss at the helm. Significant exposure to the US dollar provides diversification to our portfolio.
Inflation-linked and defensive funds
The M&G UK Inflation-Linked Corporate Bond Fund provides specific shelter against short-term inflation 'shocks'. Elsewhere, Jupiter Strategic Reserve is a very conservative fund we expect to provide resilience during volatile periods for bond markets. This part of the portfolio can be used as a source of cash to take advantage of new opportunities when they arise.
Overall, the HL Multi-Manager Strategic Bond Trust could provide a solution for investors seeking a more defensive, but flexible, portfolio of bond funds, with experienced managers looking after the ongoing investment decisions. We think the expertise involved and the potential returns more than justify the extra cost of a multi-manager approach.
Alongside a modest income, it could also provide diversification to a portfolio focused predominantly on stock markets. While conservatively positioned at present, David Smith and Lee Gardhouse are prepared to use the flexibility afforded to them and have plenty of firepower to pounce on new opportunities with more attractive yields when they arrive.
All investments and income can fall as well as rise in value so investors could get back less than they invest.
More information on the HL Multi-Manager Strategic Bond Fund
HL Multi-Manager Strategic Bond Fund key features
You may also be interested in: