The UK economy is seemingly on the road to recovery. Quarterly GDP growth has doubled to 0.6% in the second quarter of 2013, and this has been backed up by strong retail sales, employment and housing market data.
This could mark the beginning of a transition phase, where investors worry less about the actions of central banks and choose instead to focus on improving economic fundamentals. This environment provides an excellent backdrop for a certain type of fund to prosper – aggressive funds run by managers with proven stockpicking skills, who are not afraid to be early investors in unloved sectors which have to the potential to perform strongly as the economy recovers.
An aggressive fund set to capitalise
One of our favourite funds to fall into this category is the SLI UK Equity Unconstrained Fund. Manager Ed Legget has invested the bulk of the portfolio in economically-sensitive sectors. He is encouraged by economic growth picking up in the UK and believes equities remain the most attractive source of inflation-beating returns, especially while interest rates remain low.
Ed Legget takes a high-conviction approach to investing, and the portfolio is concentrated at just 51 holdings. This is an approach we favour, as each holding can make a significant difference to performance, though it also increases risk.
Performance under Ed Legget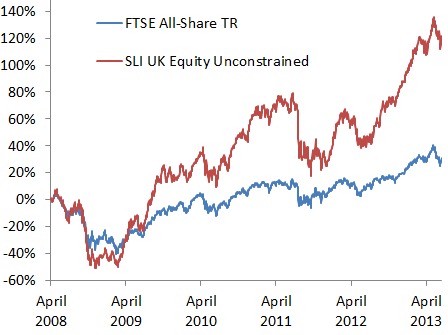 Past performance is not a guide to future returns.
Since Ed Legget took the reins in April 2008, the strategy has worked well and the fund's performance has been exceptional, delivering growth of 120.3% compared to 30.8% for the FTSE All Share (with dividends reinvested). Remarkably, it has also outperformed every single one of its peers – the fund is the best performing fund in the IMA UK All Companies sector over one, three and five years. Please remember past performance is not a reliable guide to future returns, and there are no guarantees this outperformance will continue.
Favoured sectors
One area he favours at present is financial companies. While many investors remain sceptical about the sector, valuations are low and Ed Legget is hopeful a change in leadership at the Bank of England will lead to a more pragmatic approach to financial regulation. Alongside existing positions in Barclays and Lloyds, holdings in Standard Chartered and HSBC have recently been introduced to the portfolio. He believes the strength of these two banks is supported by solid balance sheets, sensible management teams and an increasing focus on returning cash to shareholders.
Source: SLI as at 1 June 2013
Ed Legget has also started to take advantage of significant falls in the price of mining shares. In his view, if growth in China, a huge importer of resources, only slows rather than stops, he expects a number of larger mining firms to return to form over the long term. The fund's position in Rio Tinto has therefore been increased; company management has been placing a greater focus on cost control and capital discipline, and the stock is currently offering an attractive dividend yield.
Domestic-facing sectors such as house builders, retailers and distributors are also well-represented in the portfolio, though some profits have recently been taken from the strongest performers. Ed Legget continues to see compelling value in firms such as Wincanton (logistics), Enterprise Inns (pubs), and Pendragon (car retail).
Our verdict
Adventurous investors seeking to take advantage of improving optimism in the UK could consider a long-term investment in an aggressive growth fund. We believe the SLI UK Equity Unconstrained Fund is a superb choice, though it is important to remember that like any investment it will fall as well as rise in value, and because of where it invests it can exhibit greater volatility than more defensively positioned peers. Manager Ed Legget has an outstanding track record, and has taken full advantage of the fund's unconstrained nature, positioning the fund towards undervalued areas often overlooked by other investors. This fund offers access to his considerable stockpicking skills and remains a firm favourite of our research team.
Annual % growth
July 08-09
July 09-10
July 10-11
July 11-12
July 12-13
SLI UK Equity Unconstrained
-12.2
38.7
55.7
-17.8
53.2
Sector average
-19.2
18.1
27.4
-4.9
21.7
Past performance is not a guide to future returns. Source: Lipper
The value of investments can go down in value as well as up, so you could get back less than you invest. It is therefore important that you understand the risks and commitments. This website is not personal advice based on your circumstances. So you can make informed decisions for yourself we aim to provide you with the best information, best service and best prices. If you are unsure about the suitability of an investment please contact us for advice.