Discover how the SIPP loyalty bonus works
Get a loyalty bonus of up to 0.5% a year
Now you can receive a loyalty bonus on the Vantage SIPP (Self Invested Personal Pension). We expect to add £6 million to our clients' SIPPs this year alone. But there is no limit. The more you have in your SIPP, the greater your share.
Important information
A SIPP is a type of pension for people comfortable making their own investment decisions about their retirement. Investments go down in value as well as up so you could get back less than you invest. The rules we refer to are those that currently apply; they could change in the future but you cannot normally access the money until at least age 55. Tax reliefs depend on your circumstances. This website is not personal advice, if you are unsure of an investment's suitability you should seek advice
Best SIPP Provider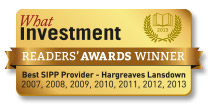 What is the SIPP loyalty bonus?
The SIPP loyalty bonus pays up to 0.5% depending on the funds you choose. It is available on 1,098 funds and the rate is on each fund's factsheet. We credit it to your SIPP - for most funds monthly - as cash, ready for you to invest. It does not affect your contribution allowance and could add thousands to your pension.
How much could you receive from us?
This calculator gives you an idea in seconds. Simply select your fund, enter the current value and click 'Check loyalty bonus'. You can add up to 10 funds to see your total SIPP loyalty bonus. Please note, we don't pay SIPP loyalty bonuses on holdings worth under £1,000. The calculator assumes that we will be able to pay the same level of loyalty bonus over 10 years, if this is not the case we will endeavour to offer comparable benefits another way.
Fund
Investment
Growth rate
Loyalty bonus
1 year saving
5 year saving
10 year saving
Total
Congratulations! Your loyalty bonus could be worth £
0

over the next ten years

The amount you receive will depend on the value of your investments so you may receive more or less than this.

It's easy to benefit. Just read the Key Features and Terms & Conditions then decide what to do next. You can start or top a SIPP online in less than five minutes, or even transfer private or old work pensions.
To give you an idea, below are some examples based on the 0.25% loyalty bonus on one of our clients' most popular funds - Neil Woodford's Invesco Perpetual High Income fund.
| | | |
| --- | --- | --- |
| The value of your SIPP (or the amount you transfer and/or top up) | | What could your loyalty bonus be worth over 10 years? |
| £20,000 | | £660 |
| £50,000 | | £1,650 |
| £200,000 | | £6,603 |
| £1,000,000 | | £33,016 |
"The loyalty bonus is an added bonus - after 10 years I expect to be over £1,300 better off."
Kevin Ashworth, Lancashire
Assumes 5% net growth but investments will grow by more or less, or fall in value.
Also assumes same 0.25% loyalty bonus for 10 years.
Plus enjoy all these benefits
Besides the SIPP loyalty bonus you can also enjoy:
Android is a trademark of Google Inc.
iPhone is a trademark of Apple Inc.