Share dealing from as
little as £5.95 per deal
Start share dealing now in three easy steps: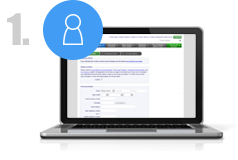 Open your account
Open your account online in just a few minutes. Add money using your debit card or by setting up a monthly direct debit.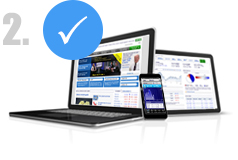 You're ready to go
View your account online anytime. You can also check your account on our mobile app or by calling us.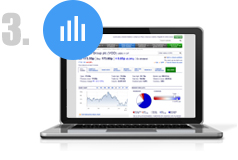 Invest online anytime
Log in to your account at any time to buy and sell shares. Plus, check our shares section for research and tips.
Remember, tax rules can change and the reliefs depend on your personal circumstances. The value of investments, and any income from them, can fall as well as rise so you could get back less than you invest. If you are unsure of the suitability of your investment please seek advice.

Open a Fund & Share Account


Open a Stocks & Shares ISA
Benefits of share dealing with Hargreaves Lansdown:
Low cost share dealing
Online share dealing from just £5.95 per deal and never pay more than £11.95 per deal, also you can trade shares by phone or post. View our share dealing charges.
Wide investment choice and overseas share dealing
You make your own investment decisions and can deal thousands of UK, American, Canadian and European shares, as well as gilts, corporate bonds, investment trusts and exchange traded funds.
Stop loss and limit orders
Set the price at which you would like to buy or sell particular shares up to 30 days in advance.
Price Improvement Service
Our Price Improvement Service polls up to thirty different market makers to get the best price resulting in savings on buys and sells.
View the latest charts, prices and information
Use of fully interactive charts and latest share prices to help you choose when to buy or sell a share.
Free share price alerts and research
Monitor your share holdings with free share price alerts and expert research sent directly to your inbox.
Free sector reports and share tips
Receive four share tips from Investors Chronicle every week together with sector reports and featured tips from Shares Magazine.
Deal shares on your mobile and tablet and access prices, indices, news and research.
Online and mobile app share dealing charges:
£5.95

per deal

£8.95

per deal

£11.95

per deal
If you place 20 or more share deals during the previous calendar month.
If you place between 10 - 19 share deals during the previous calendar month.
If you place fewer than 10 share deals during the previous calendar month.
For more information on dealing charges, including telephone and postal dealing rates, please view our share dealing charges.
Share dealing accounts available:
iPhone and iPad are trademarks of Apple Inc.
Android is a trademark of Google Inc.