No recommendation
No news or research item is a personal recommendation to deal. Hargreaves Lansdown may not share ShareCast's (powered by Digital Look) views.
Market latest
FTSE 100 | FTSE 250 | Paris CAC 40 | Dow Jones | NASDAQ
7523.23
|

0.19
(0.00%)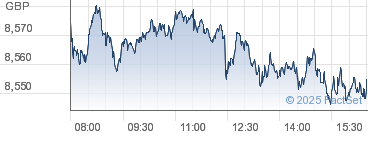 Prices delayed by at least 15 minutes
(ShareCast News) - Stocks opened higher in the US for the first time in days on Friday, with investors brushing off much of the geopolitical concern seen on Thursday, and instead focussing on weak inflation data.
That weak data was seen as an encouraging sign that the Federal Reserve would keep interest rates lower for an extended period of time.
At 1506 BST, the Dow Jones Industrial Average was up 0.24% at 21,896.75, the S&P 500 added 0.2% to 2,443.07 and the Nasdaq Composite was ahead 0.4% at 6,244.32.
According to the Labor Department, the consumer price index was up only 0.1% in July, missing expectations for a 0.2% improvement in the reading.
"The Federal Reserve's recent concerns over sluggish inflation were confirmed today, as below-forecast results compounded a difficult week for the US economy," noted UFX.com managing director Dennis de Jong.
"Despite unemployment falling to a 16-year low last week, this has been offset by disappointing wage growth, economic uncertainty following President Trump's ongoing feud with North Korea and now subdued inflation in July.
"For all the time that inflation remains at 1.7%, below the 2% target, Fed Chair Janet Yellen is unlikely to increase interest rates, and that means there's a possibility that the benchmark for borrowing rates will not be increased again this year."
Market expectations for a rate hike in December fell on the release of inflation data, with only 38% of investors expecting the Fed to raise rates at that point, according to CME Group's FedWatch.
On Thursday, US equities suffered their worst session in three months as tensions continued to sizzle between Washington and Pyongyang.
President Donald Trump continued his war of words overnight, tweeting that military solutions were now "fully in place ... locked and loaded, should North Korea act unwisely."
Trump was widely criticised earlier in the week for his comments that North Korea would face "fire and fury" in response to any aggression towards the US - comments which he later described on Thursday as "not tough enough".
The CBOE Volatility Index, which purports to measure the level of fear in the market, continued to creep up before Wall Street opened.
It reached a level of 16.9 on Friday morning - its highest since the presidential election last year.
On the corporate front, social media firm Snap missed expectations, missing revenue forecasts and posting a bigger-than-expected loss, sending its stock sliding.
Chipmaker Nvidia was also on the back foot, as investors looked past its positive earnings on Thursday evening and instead honed in on its server-chip business expectations, which a number of market watchers considered were too high.
Retailer JCPenney tumbled after it reported a larger-than-expected second quarter loss, while more upmarket department store chain Nordstrom was ahead in early trading after it beat earnings expectations in a release late on Thursday.
Dow Jones - Risers
Apple Inc. (AAPL) $157.94 1.69%
Cisco Systems Inc. (CSCO) $31.30 0.95%
Merck & Co. Inc. (MRK) $62.66 0.77%
Home Depot Inc. (HD) $154.99 0.72%
McDonald's Corp. (MCD) $157.73 0.71%
Johnson & Johnson (JNJ) $133.80 0.53%
Unitedhealth Group Inc. (UNH) $193.59 0.53%
Visa Inc. (V) $99.89 0.41%
Microsoft Corp. (MSFT) $71.67 0.36%
Caterpillar Inc. (CAT) $113.45 0.27%
Dow Jones - Fallers
Goldman Sachs Group Inc. (GS) $224.00 -0.67%
American Express Co. (AXP) $84.17 -0.46%
Verizon Communications Inc. (VZ) $47.81 -0.44%
Exxon Mobil Corp. (XOM) $78.64 -0.42%
Procter & Gamble Co. (PG) $91.44 -0.33%
JP Morgan Chase & Co. (JPM) $91.96 -0.25%
Travelers Company Inc. (TRV) $129.42 -0.21%
Chevron Corp. (CVX) $109.91 -0.18%
International Business Machines Corp. (IBM) $141.62 -0.16%
3M Co. (MMM) $205.95 -0.14%
S&P 500 - Risers
Urban Outfitters Inc. (URBN) $18.12 5.41%
TripAdvisor Inc. (TRIP) $41.21 3.78%
J.B. Hunt Transport Services Inc. (JBHT) $94.50 2.61%
Perrigo Company plc (PRGO) $78.84 2.60%
Seagate Technology Plc (STX) $32.37 2.60%
Stericycle Inc. (SRCL) $73.11 2.34%
KLA-Tencor Corp. (KLAC) $90.07 2.19%
Lam Research Corp. (LRCX) $152.70 2.18%
Signet Jewelers Ltd (SIG) $56.78 2.04%
Monster Beverage Corp (MNST) $53.58 2.02%
S&P 500 - Fallers
Nvidia Corp. (NVDA) $156.21 -5.18%
United States Steel Corp. (X) $23.23 -2.57%
AES Corp. (AES) $11.16 -1.93%
American Airlines Group (AAL) $47.62 -1.93%
Macerich Co (MAC) $56.85 -1.80%
Archer-Daniels-Midland Co. (ADM) $41.39 -1.73%
Estee Lauder Co. Inc. (EL) $100.00 -1.66%
Kimco Realty Corp. (KIM) $20.12 -1.66%
Csra Inc. (CSRA) $31.82 -1.64%
SCANA Corp. (SCG) $61.01 -1.62%
Nasdaq 100 - Risers
J.B. Hunt Transport Services Inc. (JBHT) $94.50 2.61%
Seagate Technology Plc (STX) $32.37 2.60%
KLA-Tencor Corp. (KLAC) $90.07 2.19%
Lam Research Corp. (LRCX) $152.70 2.18%
Monster Beverage Corp (MNST) $53.58 2.02%
Apple Inc. (AAPL) $157.94 1.69%
Ross Stores Inc. (ROST) $55.69 1.62%
Applied Materials Inc. (AMAT) $42.71 1.62%
Autodesk Inc. (ADSK) $106.67 1.61%
Ulta Salon, Cosmetics & Fragrance Inc. (ULTA) $250.74 1.57%
Nasdaq 100 - Fallers
Nvidia Corp. (NVDA) $156.21 -5.18%
Norwegian Cruise Line Holdings Ltd. - Ordinary Shares (NCLH) $54.92 -3.77%
NetEase Inc. Ads (NTES) $275.54 -3.07%
American Airlines Group (AAL) $47.62 -1.93%
JD.com, Inc. (JD) $45.42 -1.45%
Wynn Resorts Ltd. (WYNN) $124.77 -0.99%
Vodafone Group Plc ADS (VOD) $29.06 -0.75%
Ctrip.Com International Ltd. Ads (CTRP) $54.17 -0.70%
Liberty Global plc Series A (LBTYA) $33.74 -0.69%
Liberty Global plc Series C (LBTYK) $32.71 -0.62%

The value of investments can go down in value as well as up, so you could get back less than you invest. It is therefore important that you understand the risks and commitments. This website is not personal advice based on your circumstances. So you can make informed decisions for yourself we aim to provide you with the best information, best service and best prices. If you are unsure about the suitability of an investment please contact us for advice.