Gromit Unleashed
2

Here comes Wallace!
We're delighted to welcome Wallace to our office this summer, as part of the Gromit Unleashed 2 public arts trail.
From 2 July to 2 September, The Grand Appeal is bringing 67 wonderful Wallace, Gromit and Feathers McGraw sculptures to animate the streets of Bristol. Each sculpture has been created by artists, designers, innovators and local talent.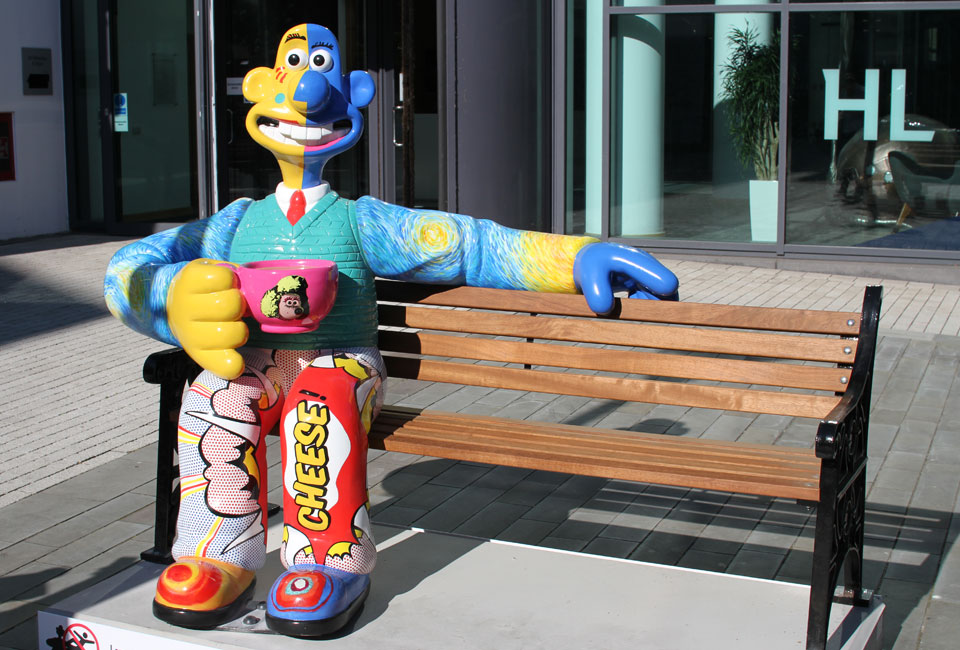 Meet The Wallace Collection
We're sponsoring The Wallace Collection, who pays homage to world famous artists including Picasso, Vincent van Gogh and Kandinsky. Not only that, but he's been designed by Aardman's very own Rachel Bennett.
We want to see your design skills!
Download this free colouring-in sheet where you can design your very own Wallace, Gromit and Feathers McGraw. Send us your picture to gromitunleashed@hl.co.uk with your name and age, and it could feature on our social media channels!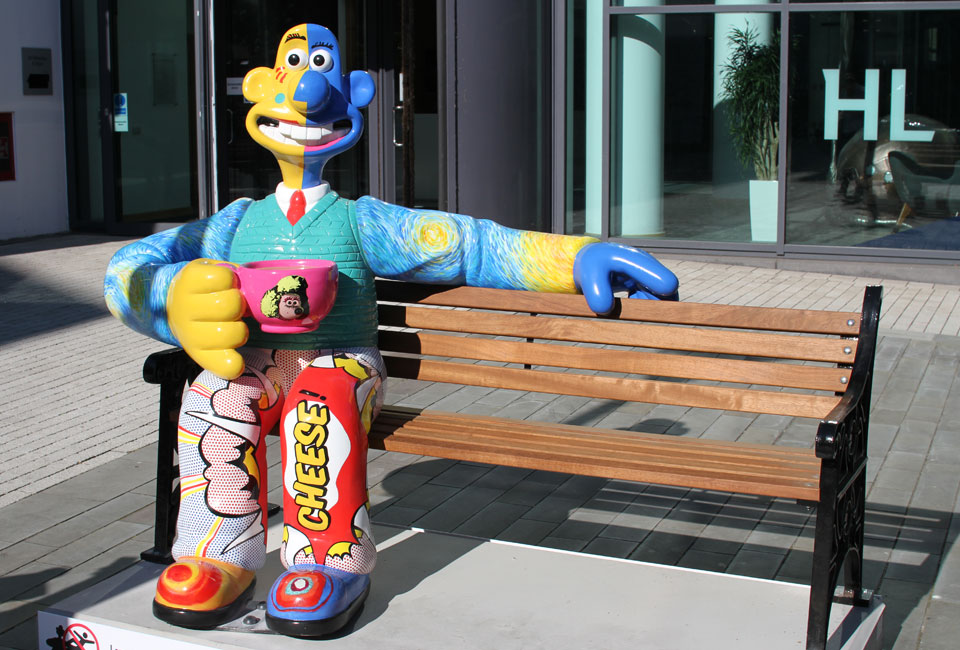 Prize draw time!
To celebrate the arrival of our new guest we're launching our own prize draw, where the winner will get £1,000 within a Junior ISA.
The Junior ISA is a tax efficient investment account for children where the child cannot access the money until after the age of 18. The most you can pay into the account this tax year is £4,260. All investments can fall as well as rise so your child could get back less than you invest. Tax rules for ISAs can change and their benefits depend on individual circumstances.
In honour of our cheese loving pal, we want to hear your best cheese-related joke, to be entered into our prize draw to be in with a chance of winning some Cheddar!
A winner will be chosen at random. But Brie sure to keep your eyes peeled for some of our favourite submissions on our Twitter and Facebook accounts.
Age is of no importance, unless you are a cheese of course, so it will be Gouda to hear from you all, but please ask an adult to submit your joke. More Mature cheese entrants can nominate an under 18 year old to donate their potential prize to.
Terms apply
.
Find out more about the Junior ISA
We'd love for you to share and tag us in all your pictures with The Wallace Collection too. Oh, and don't forget to say cheese when posing for the camera!
Supporting The Grand Appeal
The Grand Appeal supports Bristol Children's Hospital.
Founded in 1995, the award-winning charity has raised over £50 million to save lives and support sick children and their families at Bristol Children's Hospital.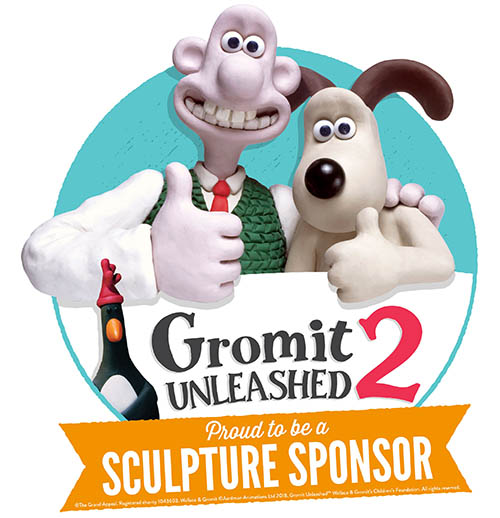 Terms & Conditions
Submit a cheesy joke via our website www.hl.co.uk between 00:00am on 3 August 2018 and 23:59pm on 5 September 2018 and we will enter you into our free prize draw (the "Draw") to win a £1,000 contribution into a Hargreaves Lansdown Junior ISA ("HL JISA") subject to these terms and conditions. Entries received after this time will not be considered.
To be eligible to win the prize, you must
a. not be resident in Northern Ireland;
b. not be an employee of any Hargreaves Lansdown group company or a member of any such employee's immediate family or household; and
c. be 18 years of age or over
d. comply with these terms and conditions.
The prize will be paid into a HL JISA. The terms and conditions for the HL JISA are available here. To receive a prize, the winner must either:
a. open an HL JISA on behalf of a child for whom they are the parent or legal guardian and in doing so accept the terms and conditions for the HL JISA; or
b. gift the money to a child for whom they are not the parent or legal guardian. In the event of gifting the money to such child, the parent or legal guardian of the child to whom the money is gifted must agree to the terms and conditions of the HL JISA.
For the purposes of this prize draw a child is any person under 18 years of age.
The normal rules which apply to Junior ISAs shall apply, including but not limited to the requirements that any child may only have one Junior ISA account open at any time and may not have a child trust fund account. If you are unsure of what these rules are please contact us on 0117 900 9000 or visit our website for further information.
Only one entry per person is permitted. Entrants will need to provide a valid email address and contact telephone number as these details will be used to contact the winner. We will not contact you unless you are the winner of the prize draw. All personal information will be used only as part of your entry to this prize draw and such personal information will be securely stored for the duration of the competition and deleted by no later than 12 September 2018.
Any jokes submitted must be kept clean and must be appropriate to the theme of the Draw. We reserve the right not to enter any joke into the Draw which we, in our sole discretion, consider to be offensive or inappropriate in any way (including, but not limited to, where such joke is considered by us to be discriminatory and where such joke refers to illegal, sexually explicit or offensive behaviour).
If you are selected as the winner and you currently hold more than one HL JISA with us, you will be required to nominate which HL JISA you wish the prize to be contributed to. You may divide prize amongst multiple HL JISAs.
One winner will be chosen by random draw. The Draw will take place on or by 10 September 2018. The winner will be notified by email on or by 11 September 2018. If a winner does not respond to us within 7 days of being notified by us that they are the winner, their prize will be forfeited and we will be entitled to select another winner at random.
We will pay the winner £1,000 into the HL JISA within the first five working days of the end of October 2018.
We reserve the right to substitute the prize with a prize of equal value.
If you are the winner, we may use your name and county of residence to announce you as the winner. If you are the winner we may also ask that you take part in any reasonable publicity or marketing material in connection with the prize and we may publish your joke on our website in any such publicity.
Personal data supplied during the course of this promotion will be processed in accordance with our privacy policy ( www.hl.co.uk/privacy-policy).
Our decision regarding any aspect of the Draw is final and binding and no correspondence will be entered into about it. The prize is not negotiable. Participants in the Draw are deemed to have accepted and agreed to be bound by these terms and conditions upon entry to the Draw. We reserve the right to refuse entry or refuse to award the prize to anyone in breach of these terms and conditions.
The FCA does not regulate the Draw. The Draw will be governed by English law and entrants to the Draw submit to the jurisdiction of the English courts.
If you have any questions please contact us on 0117 900 9000.