Benchmark gilt yield rises above 1% for the first time since Brexit
The yield on the benchmark 10 year gilt rose to over 1% today, the first time it has breached this level since 24th June, the day of the EU Referendum result.
While 1% is still an exceptionally low yield by historical standards, it is almost double the yield provided by the 10 year gilt at its lowest point, 0.52%, which it reached on 12th August 2016.
This won't be particularly welcome news for the Chancellor, who is rumoured to be plotting a debt-fuelled infrastructure spending spree in his Autumn Statement, and potentially now faces higher financing costs.
The yield on the 10 year gilt has risen very sharply in the last week or so, in tandem with sterling's decline. The probable implication is that overseas investors are dumping sterling assets, including gilts, as fears over a hard Brexit appear to be gathering momentum. The yield on the 10 year gilt has risen from 0.73% last Monday to 1% today, while sterling has fallen from $1.30 to $1.24.
The flip side to the rise in gilts is that prices have fallen, so if you were one of those institutional investors bidding up prices on 12th August, your portfolio return isn't looking too pretty to date. The 10 year gilt has fallen in price by 3.7%, the 20 year gilt has fallen by 6.6% and the thirty year gilt by 9%. Over a space of 2 months, that's some pretty negative price action for a 'safe' asset.
Indeed gilts have become much more volatile as an asset class since the financial crisis, and the subsequent fall in interest rates to historic lows. Over the last year, gilts have exhibited around double the volatility they did between 2000 and 2007.
The back up in yields is good news for pension deficits however. The yield on AA rated corporate bonds over 10 years in maturity (a key accounting figure for defined benefit pensions), has risen from a low of 1.87% on 11th August 2016 to 2.4% now, which means liabilities falling back again, for the time being at least.
Laith Khalaf, Senior Analyst, Hargreaves Lansdown:
"Gilt yields have ticked up sharply over the last week, and given what's happened on the currency markets it looks like a fair assumption that overseas investors are dumping UK government bonds.
Of course bond yields are still exceptionally low, but anyone holding government bonds has seen their capital value fall since the market peaked in August, and by quite some margin for longer dated bonds. There may also be knock on effects in the mortgage markets, as lenders may find they can't finance new fixed term mortgages at the same low rates they could just a few weeks ago.
Undoubtedly the bond market has gone from strength to strength in recent years, but this sell-off hints at the damage that could be done to bond portfolios if interest rates were to rise to more normal levels, admittedly a distant prospect, but one which such low yields don't offer much compensation for the risk involved.
The back up in yields may offer some glimmer of hope for companies with pension deficits though, as these liabilities look smaller at higher interest rates, and finance directors worrying about their next scheme valuation might well be urging yields up further.
One man's meat is another man's poison however, and the new Chancellor may be hoping government borrowing costs don't rise too much further, if he is planning a debt-fuelled spending spree on infrastructure in his Autumn Statement, as is now widely anticipated."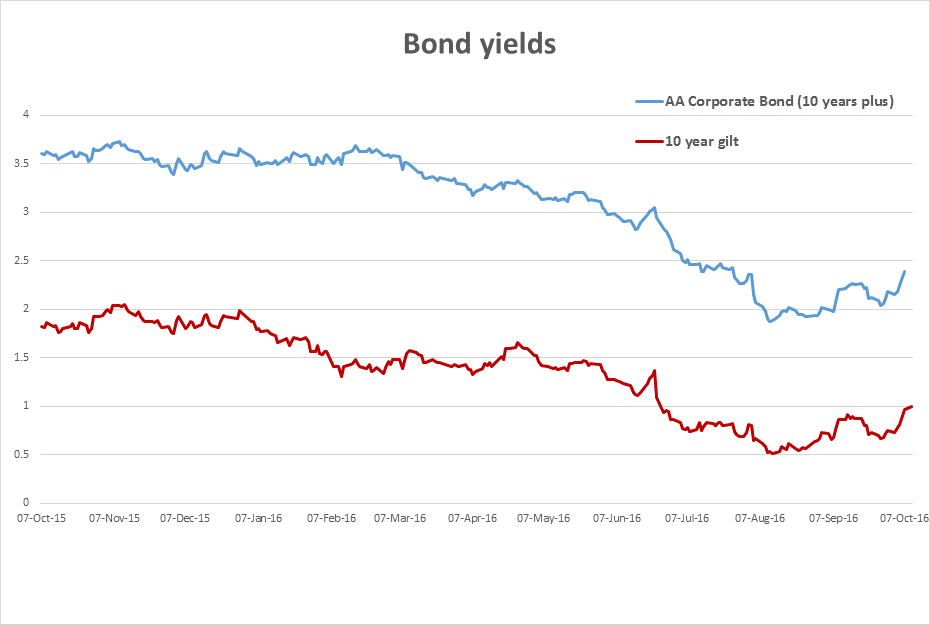 NOTES TO EDITORS
Globelynx and ISDN ready
Hargreaves Lansdown is equipped with a live in-house broadcast camera via the Globelynx network and has an ISDN line available for radio interviews - 0117 934 9006. To arrange an interview with a Hargreaves Lansdown spokesperson please contact the person you wish to speak to directly using the contact details above, or call Globelynx on 0207 963 7060 or email globelynx@globelynx.com.