First anniversary of HL Select UK Growth Shares
Total return 22% v 13.4% FTSE All Share v 15.4% IA UK All Companies
Steve Clayton, fund manager, HL Select UK Growth Shares:
We recently reached our first anniversary, and although it's a short time in investing, we're extremely pleased with the fund's performance so far.
When we launched the fund, the idea was simple. There's a virtuous circle that supports financially strong businesses with exceptional products and services. Loyal customers, willing to pay premium prices, can deliver healthy profit margins and strong cash flow. This lets companies reinvest without relying on banks to fund them, and many can grow year after year. We also wanted people who bought our fund to know how their money's invested and why. So we write regular blogs and tell investors exactly which stocks we've bought and our reasons for buying them.
Our portfolio for growth
We currently hold 25 to 30 stocks. We want to back our conviction, so each company can make a real difference to the fund's returns. But investing so differently from the wider market also increases the risk of underperformance. We pay no attention to a company's size. We hold a number of global giants, but also invest heavily in medium-sized and higher-risk smaller companies. This is where we tend to find the most compelling growth prospects.
The fund's early performance has been promising, but we don't always get it right. A handful of holdings haven't delivered so far. In most cases we're still positive on their prospects though. We've added to our positions in Domino`s Pizza, Merlin Entertainments and Auto Trader to hopefully take advantage of lower prices.
We're long-term investors and expect to hold most of our positions for many years to come. The effects of compounding are powerful. If a business can keep growing reliably, over time, it can significantly increase in value.
Total return
| | |
| --- | --- |
| HL Select UK Growth Shares | 22.0% |
| FTSE All Share | 13.4% |
| IA UK All Companies | 15.4% |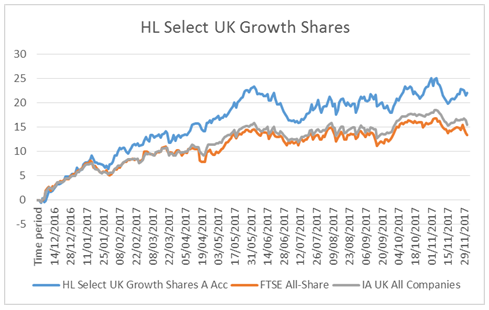 Source: LIPPER 1/12/2016 - 1/12/2017
There are a number of themes running through the fund.
Global strength
Many of our companies are global leaders with high market shares, robust distribution networks and proven brands. Unilever and Reckitt Benckiser have been selling their shampoos, ice creams, disinfectants and headache cures for decades. Trusted brands create pricing power, leading to big margins and the strength to keep reinvesting in the business.
Technology innovators
Companies like Rightmove and Auto Trader have used the internet to dominate markets that used to belong to the classified ads. Domino's Pizza has grown market share by adopting technology early, and it now gets most of its orders online. Just Eat has connected takeaway outlets to hungry people, delivering large servings of growth along with the curries, chop sueys and pizzas. All these companies generate strong profits and cash flows they can reinvest into widening and deepening their competitive moats.
One-offs
Some of our businesses are quite unlike any others. Burford Capital dominates the world of commercial litigation funding, backing law suits in return for a share of the proceeds. The business may be unique, but the flow of legal disputes around the world is unlikely to dry up.
Repeat revenue
A great way of strengthening the virtuous circle is to make, or do, something your clients will commit to again and again. If a business can rely on most of what it earned last year coming back through the door this year, any new sales are likely to grow the business, not just replace lost customers. That's a great starting point for growth.
Top ten contributions to the fund's performance
| Company | Contribution to fund's return (% points) | Share price movement since purchase |
| --- | --- | --- |
| Burford Capital | 3.8 | 154% |
| Intertek | 1.9 | 57% |
| GB Group | 1.8 | 71% |
| Unilever | 1.8 | 34% |
| Just Eat | 1.7 | 40% |
| Diageo | 1.4 | 31% |
| RELX | 1.4 | 28% |
| Intercontinental Hotels | 1.3 | 27% |
| Ascential | 1.2 | 28% |
| Sage | 1.1 | 22% |
Source: Hargreaves Lansdown
Looking to the future
It's early days for the fund. But we think there are some powerful drivers underpinning the businesses in the portfolio and we're excited about their prospects.
The strongest companies have great control of their destiny, and often earn their revenues all over the world, making them resilient in the face of any trouble at home. We don't hear much about Brexit from the companies we hold. Our philosophy has always been to search for businesses that grow strongly in the good times and are resilient when the going gets tough.