How safe is your final salary pension?
Warning of advisers capitalising on individuals' fears for their final salary pensions
Pension freedom and high transfer values offer temptation to give up guarantees
FCA extends its investigation into firms' transfer activities
Hargreaves Lansdown: we only go ahead with one in 20 final salary transfer enquiries
Final salary scheme deficits are significantly lower than in 2016
In the wake of high profile stories of company collapse and pension scheme deficits from the likes of British Steel, Toys'R'Us and Carillion, many members of final salary pension schemes are feeling anxious about the security of their pension promises.
This week the Pensions and Lifetime Savings Association issued a warning that one in six people has been contacted about transferring their pension from their current scheme.
The FCA has also confirmed it is extending its investigation of final salary scheme transfer activity to look at all adviser firms holding the relevant permission.
Tom McPhail: "Only around one in 20 of the people who contact Hargreaves Lansdown about a defined benefit transfer actually go ahead, because in the vast majority of cases they're better off staying where they are. The flexibility and control of transferring to a money purchase pension are unlikely to make up for the financial loss typically involved in giving up the final salary income."
"Whilst many schemes are in deficit at present, generally the funding position is better than it was a couple of years ago. Even where a scheme does go bust, there is a well-managed insurance scheme in the form of the Pension Protection Fund to make sure members still get most of what they were promised."
"The simple advice is don't even think about transferring out unless you have a very specific reason to do so, generally you'll be better off staying put."
Scheme deficits
The following data from the Pension Protection Fund shows how scheme deficits have fluctuated in recent years.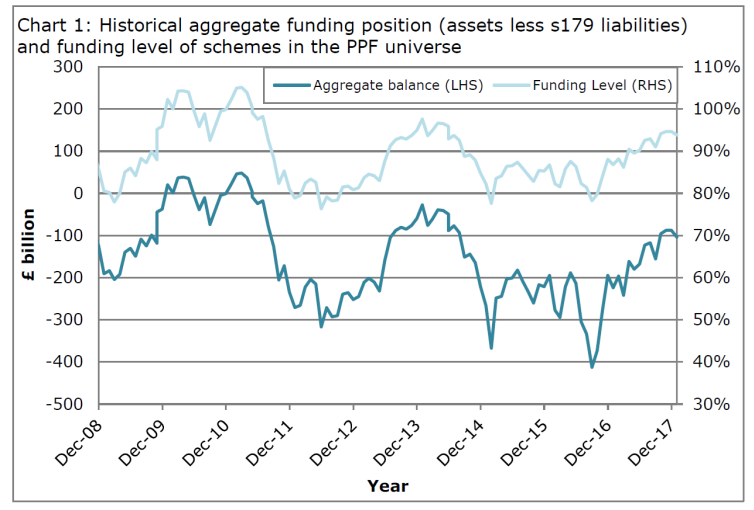 Whilst aggregate deficits have gone over £400 billion and funding levels have been below 80%, today they stand at £103.8 billion and 93.9%.
Insolvency risk
Insolvency events are relatively rare, as the following chart shows, in recent years only a few dozen sponsoring employers a year become insolvent.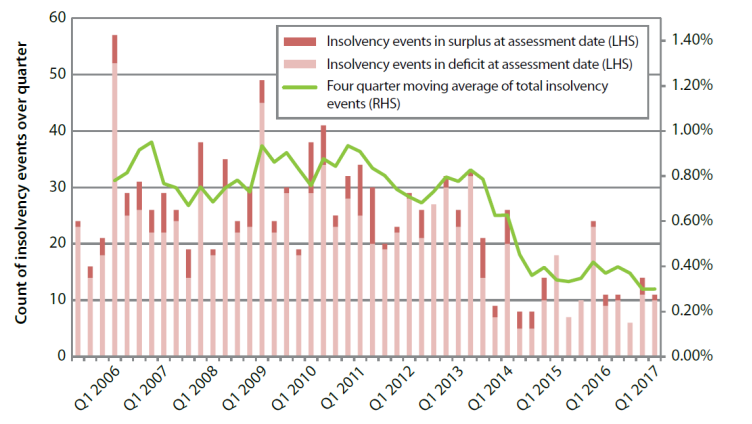 Scheme membership
Whilst there are around 5,500 schemes and over 10 million members, the vast majority of members are concentrated in a relatively small number of very large schemes. There is a very long tail of small schemes, with nearly 2,000 schemes having fewer than 100 members.
| Number of members | 2-99 | 100-999 | 1,000-4,999 | 5,000-9,999 | 10,000+ | Total |
| --- | --- | --- | --- | --- | --- | --- |
| Number of Schemes (Purple book dataset) | 1,994 | 2,458 | 759 | 180 | 197 | 5,588 |
| Assets (£ billion) | 16.1 | 133.2 | 255.4 | 195.4 | 941 | 1,541.10 |
| S179 liabilities | 16.2 | 152.3 | 293.7 | 214.9 | 1,025.80 | 1,702.90 |
| Members (000s) | 88 | 863 | 1,721 | 1,244 | 6,553 | 10,469 |
Legislative change
Within the next few months the DWP will be publishing a white paper on Defined Benefit schemes, this could look at measures to ease funding pressures and to promote consolidation of schemes. Its Green Paper published in 2017 indicated they did not feel there were urgent funding risks to be addressed.