The simple and sustainable way to take a pension income
Natural yield on an portfolio largely invested in equities should be at the heart of income drawdown
Dividend income has beaten inflation and trebled over past 25 years>
Investors need to adjust expectations of sustainable income
Additional strategies can be employed to vary income
What is natural yield?
Investment suggestions
Investors approaching retirement with a defined contribution pension pot need a simple, reliable way to draw a sustainable income from their funds. Investing in a portfolio of UK equities, taking the natural yield from investments delivers this solution and should be the core retirement income strategy for the majority of investors.
Tom McPhail, Head of retirement policy:
"Three factors have changed the way we take our retirement incomes: the decline of final salary schemes, the pension freedom rule changes and persistently low interest rates. Investors need a new simple retirement income strategy and taking the natural yield from an equity portfolio should be at the heart of that strategy."
"Retiring investors should think it terms of an income strategy which delivers a variable income from a portfolio of shares and equity funds. They can use annuities and cash accounts to complement that strategy, giving themselves additional security and flexibility as necessary. If you want to take an income of more than around 3.5% to 4% a year, then you need to accept a rising risk that you'll run out of money."
"For investors with only very modest pension pots or who simply aren't comfortable with any investment uncertainty, either taking the money as cash or looking to annuities may be a better answer. Drawdown won't be right for everyone, but for those who are happy with a fluctuating income, the natural yield approach should be at the heart of their planning."
Sustainable income
Investors have been conditioned to expect an income of 5% to 6% a year, based on historic yields. If inflation and interest rates do ever pick up again in the future then these kind of returns may once again become realistic. For now, however investors need to adjust their expectations downwards. If you want to sustain an inflation-proof income through your retirement, you need to think in terms of an income of around 3.5% a year.
Additional retirement income tips
A simple rule of thumb is to think in terms of taking an income of around £1,000 for every £30,000 you have in your pension pot
Keep a cash reserve in your pension pot to give yourself some flexibility.
Use an annuity alongside your equity drawdown income to provide additional security
Review your pension investments regularly; don't assume you can just set your investment strategy and then forget about it
If you are taking the natural yield from your investments, don't worry too much about the fluctuating capital value of your portfolio
Every retiring investor should actively plan their retirement income strategy, or engage a financial adviser to do it for them
Review your retirement income needs and options at least several years before you expect to start drawing on your investments
If you are concerned about inheritance tax then it may make sense to reduce your other savings ahead of your pensions, due to the generous IHT treatment of pensions
Always shop around at retirement, especially if you are buying an annuity
Make sure you are getting good value from your pension investments. Don't overpay for poor active management or for trackers which don't match their relevant indices
The following chart illustrates how an income from the FTSE all share would have fluctuated over the past 27 years (we have used the F&C FTSE All share tracker to show the dividend distribution history of the index)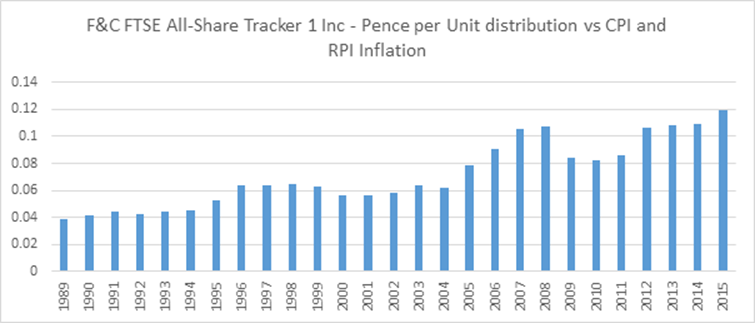 From this it can be seen that the most significant fall in income occurred in 2008/09 when there was a drop of nearly 21%. However it is also notable that the income only fell to the level it had been in 2005 and by 2012 it had already recovered and overtaken its previous high.
An investor who had put their money into the market in 1989 would have been receiving an income of just under 4% at the outset; by 2015 it would have risen to nearly 12% of their original investment, as an annual income.
Inflation proofing
The following chart illustrates how the dividend income would have kept pace with and the comfortably outstripped inflation.
What is natural yield?
Taking the natural yield on a portfolio means not selling investments to take income. Instead an investors takes the dividends from shares, the interest from bonds or cash, or the rental income from property. This means the capital value of their portfolio should be preserved over the longer term.
Investment ideas for drawing the natural yield
Woodford Equity Income: Historic Yield 3.4%
Artemis Strategic Bond: Historic Yield 4.1%>
Henderson Cautious Managed: Historic Yield 3.1%
Threadneedle UK Equity Income: Historic Yield 3.71%
Hargreaves Lansdown MM Income and Growth: Historic Yield 3.71%
NOTES TO EDITORS
Globelynx and ISDN ready
Hargreaves Lansdown is equipped with a live in-house broadcast camera via the Globelynx network and has an ISDN line available for radio interviews - 0117 934 9006. To arrange an interview with a Hargreaves Lansdown spokesperson please contact the person you wish to speak to directly using the contact details above, or call Globelynx on 0207 963 7060 or email globelynx@globelynx.com.