Registering your pension for auto-enrolment
Once you've chosen your workplace pension, you'll need to register it with The Pensions Regulator and provide certain information about how you have met your auto-enrolment obligations.
You must do this within five months of your staging date, but after the end of any staging date waiting period. You must then re-register your workplace pension with the Pensions Regulator broadly every three years.
You must provide the following basic information when you register your workplace pension, and declare the information is correct and complete to the best of your knowledge.
Download the automatic enrolment registration checklist
Looking for a new pension scheme?
Talk to us on 0117 314 1783 or email us.
Is your pension competitive?
Discover how cost-effective your existing scheme is and what the options are to get the edge on your competitors.
Have a question?
Call us on:
0117 314 1783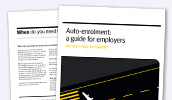 Get a head start on what you need to know about workplace pension reforms and auto-enrolment in one clear, easy-to-read guide.