Our Technology

Our benefits system is entirely designed to meet your needs, while being dynamic, flexible and cutting edge.
The system offers the following core to the functionality, which is then tailored to your requirements:
Highly configurable rules and process
Automated processes
Anytime benefits
Extensive reporting tools
Customised uploads
Security
Hargreaves Lansdown takes security very seriously. We have developed our solution accordingly, incorporating as a minimum industry standard encryption and security protocols.
We employ a Secure FTP site (Go Anywhere) as our primary tool for data sharing. Only those requiring access are provided with this, which is restricted to Hargreaves Lansdown staff actually working on your account.
Our systems employ industry standard 128 bit encryption. Passwords and usernames are determined by the user following self-registration.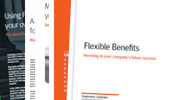 Discover flexible benefits, the potential tax savings and how they can be integrated with your workplace pension on one dynamic digital platform.
Have a question?
Call us on:
0117 314 1783