Our Retirement Service

Making your employees' retirement flexible and stress-free
As the largest independent annuity broker in the UK - we shop around on your employees' behalf, finding the best rate in a matter of minutes.
For those who want more flexibility, we offer a low-cost drawdown service. Employees can even mix & match or take their entire fund as cash if they want.
In fact, our clients were amongst the very first in the UK to benefit from the pension freedoms.
Our retirement service is designed to make retirement as flexible, easy and stress-free as possible.
Why choose our retirement service?
Access to pension freedoms
Since day one, our clients have been able to benefit from the flexibility of the pension freedoms. This includes both UFPLS and drawdown.
Retirement Planner
This interactive tool is the first of its kind in the UK. Employees can create a bespoke plan of secure and flexible income to suit their needs.
Low-cost drawdown service
A more flexible but riskier alternative to annuities.
The UK's largest annuity supermarket* - live traditional and enhanced annuity rates
We search the open market for the best rates available - we even have a price promise.
Company-branded website
To help communicate the options to your employees at retirement. There are even interactive tools to help engagement.
Specialist support
Members have direct access to our dedicated retirement Helpdesk, including evening and Saturday morning opening hours. There are no automated machines and employees get straight through to an expert.
Efficient administration
We take the administrative burden away from you and aim to turnaround correspondence on the same day of receipt.
*Source: Equifax MyTouchstone
Free Employer's Guide to our Retirement Service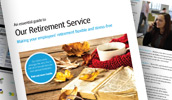 Discover how to make your employees' retirement flexible and stress-free.
Get your free essential guide
Up to 40% more income
Just by declaring health details or whether they drink or smoke, employees could increase their annuity income by up to 40% using our service.
Have a question?
Call us on:
0117 314 1783