Cash strategies for
uncertain times
Why 2019 is the year to sort out your savings
Important - Active Savings helps you make your own decisions and is not personal advice. Fixed term products generally only allow access to funds at maturity. Inflation reduces the future spending power of money.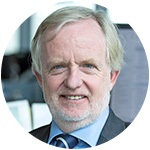 Mark Dampier
Research Director
It's always important to have some cash set aside, but it could be even more important in 2019. Cash is a great temporary home if your worries centre on Brexit, or uncertainty around a slowing world economy, and you wish to adopt a wait and see approach.
Yet the derisory interest rates available over the last 10 years or so has made cash a far less attractive asset class for many. It's not surprising that savers in many cases have turned to other assets offering potentially higher returns, everything from the stock market to classic cars.
Cash remains an essential part of anyone's wealth. I've always suggested having an emergency cash supply, with around six months' income in it. It's there partly as a fall back in case of emergencies – like a roof repair or a new boiler – or to support you while you make a career change. But beyond having an emergency fund, it gives you opportunity to take advantage of a good value share or fund, or just save up for a big future purchase like a holiday or new car.
Neglect your cash pot at your peril
Yet despite the need for cash many savers have neglected their cash pots with rates so low, believing it's not worth the effort of moving their money around. According to our research almost half of savers don't know what rate they are getting and even worse two fifths have never even switched.
By not switching, savers are losing out. With inflation at around 2.4%, the buying power of your cash halves every 30 years but, according to the Bank of England, the average easy access savings account pays a measly 0.25% so most savings fall well short. Even earning 1% more on a typical savings pot worth £25,000 means an extra £250 in interest every single year.
To boost your returns even further, fixed term savings could also be worth a look for any cash you don't need immediate access to. With fixed terms you can split your money into different maturing time frames, from 3 months to 5 years and, by fixing, you can earn over 2.5% so the value of your savings could keep pace with inflation.
Don't let your cash be a couch potato
But even with cash, it's important to keep an eye on the rate you're getting, which can be no mean feat if you have a number of accounts with different banks. Just like with investments, the key to executing an effective strategy is having more control over your money – being able to view everything as a whole, and having the ability to move it around quickly and simply. That's why we've created Active Savings, a new service designed to help you manage your cash effectively and make more on your returns.
So why not start 2019 with a resolution to make it the year you take control of your savings?

Sarah Coles
Personal Finance Analyst
There's not a great deal of nostalgia to be enjoyed by reminiscing about the last time the Bank of England interest rate was as high as it is today. Back in early 2009, the banking sector was being clawed back from the brink, Swine Flu was getting into its stride, and the country ground to a halt in the snow. In fact, the only people looking back to those days with a tear in their eye are likely to be savers. Back then they could open a NS&I easy access ISA paying 1.8% (compared to 0.75% today).
So now, after a decade in the doldrums, they could be forgiven for wondering whether 2019 will be the year they finally see more attractive savings rates emerge again.
Rises predicted
The good news is that the markets are predicting that the Bank of England base rate will rise again in mid-2019 – although only by 0.25%. With a base rate of 1%, banks may finally start boosting their savings accounts.
Before savers get too optimistic, however, there are a few things they need to bear in mind. The first is that markets don't have a perfect record of predicting the timing of rises. Memorably last April they were predicting rates would rise in May. Unfortunately, in the days before May's Monetary Policy Committee meeting, some disappointing economic data and a bucket of cold water from Bank of England Governor Mark Carney meant we had to wait until August for it to materialise.
And things have hardly become easier to predict since. The uncertainty surrounding Brexit, and the associated political turmoil, means anything could happen. If the economy booms, then rates could rise before the summer. Alternatively, if we go through a sticky patch, any rise may be pushed back into 2020. And if the country faces another downturn, rates may even be cut again in an effort to stimulate the economy.
Sluggish trickle down
Even when rates eventually rise, there's no guarantee that this will trickle down to savings accounts. You only have to look back to the last rise to see how keen some of the big banks can be to pass it on. Between June and November 2018, the Bank of England base rate rose by 0.25 basis points, but the best easy access account increased just 0.17, the best over two years by 0.16. The best over one year hadn't changed at all.
This is partly because this rise had been expected, and so the banks had already priced it into their longer-term offerings. It also owes a great deal to the fact that Bank of England rates are just one factor affecting savings, and in recent years they have had less influence than you might think.
For banks to be incentivised to offer more interest when the base rate rises, they have to want to compete for your money. Unfortunately, competition has been noticeably absent among the big banks for the past six years. In 2012 the Bank of England launched the Funding for Lending scheme, offering cheap money to banks in order to encourage them to lend. The scheme ran until the beginning of this year, and with a steady stream of cheap money available from the government, the high street banks had little need to offer attractive savings rates to get money in from customers too.
Funding for Lending
You can see the impact this cheap lending has had by looking back to 2012, when the Bank of England base rate was down at 0.5%, and Funding for Lending was yet to be launched. The average easy access account offered 0.48%. In November this year, after the Bank of England rate had been raised to 0.75%, the average easy access offering was actually lower – at 0.25%
The newer 'Challenger' banks have offered some relief for savers. Throughout this period, they've been keen to attract money and build their businesses. So for those who were willing to shop around and save with less familiar names, there were higher rates on offer. Savers who remained with their high street bank, by contrast, are likely to be stuck on a pretty dismal rate.
The good news for savers is that Funding for Lending ended in January 2018. However, the tap doesn't turn off overnight, because the Term Funding Scheme was launched in 2016, and while this scheme closed in February this year, banks will be able to draw funds from it until 2022. By the time it does, of course, we have no idea where the Bank of England base rate is going to be, and therefore what banks will have to offer in order to attract cash.
What can you do?
The unpredictability of rate rises, and the erratic effect this has on savings accounts makes trying to guess future moves nigh-on impossible. It means that the best strategy isn't to hang on in the hope your bank offers a better rate in future, but to find the best possible option today.
You should have an emergency savings fund of 3 to 6 months' worth of expenses in an easy access account, to cover the unexpected. After that you could consider fixing for up to five years, in return for more interest. The longer you fix for, generally the higher the rate, but the less flexibility you'll have, so it's important to find the fixed period that works best for you. That way, if you shop around for the best possible deal available over the most suitable period, whatever 2019 holds in store, your savings will stay on track.

Joel Lewis
Savings Manager
Having the right mixture of savings and investments is the key to any strategy.
If you have too much cash there is a risk your assets won't grow fast enough to achieve your long-term goals. But if you have too little cash you could leave yourself exposed if you need some money for an emergency.
Most people tend to look at their goals in one of three ways, so it makes sense to split your savings and investments in the same way.
Short-term (less than 6 months) – Easy access savings
Financial planners generally suggest people have between three and six months' worth of income set aside for emergencies. Those in retirement may wish to have more as their income may be lower than when they were in employment, so can't build their savings back up quite so quickly.
Medium-term (6 months up to 5 years) – Fixed term savings
As well as needing some emergency cash, you may also be saving up for known future expenses, for example, a new car, a tax bill, school fees or even a property purchase.
If you know when you're likely to need the cash you can strategically use fixed term savings to earn a better return than available on easy access savings, while ensuring you have access to your money when you need it. For example, if you are saving for a wedding in a years' time, you could use a 12 month fix and earn over 2%. Depending on the amount you save, you could even earn enough interest to pay for an extra couple of wedding guests.
It could also be that you have some money you don't need immediate access to, but you don't want to invest right now. You might just want to earn the best return you can with as little risk as possible. Here longer term fixes can really help, fix for up to 5 years and you can earn over 2.5% on your savings.
Please remember that fixed term products generally only allow access to funds at maturity.
Long-term (5 years+) – Consider investing
If you're happy you've got enough cash set aside, and are looking to build up your assets for later in life, then consider investing. For many people this will mean saving for retirement, but it could also be for other reasons for example paying off a mortgage early.
The stock market offers the potential for higher returns than available on cash, but share prices do rise and fall and you could get back less than you invest. Taking a longer term view will help to reduce the risk of losing money.
Choosing the right mix between cash and investments will be different for everyone, and if you're not sure how to get started you may benefit from financial advice. We have a team of advisers based nationwide who can help, you can request a free initial telephone consultation about our advisory service at a time that suits you.
Getting started with your strategy
If you're ready to make 2019 the year you sort out your savings for good then we can help.
Our new Active Savings service lets you pick and mix savings products from a range of banks and building societies through the convenience of one online account. Once you're set up there are no forms to fill in, just simple fair saving so you can make sure your money is always working as hard as you are.
And if you're looking to boost your investments we can help with our range of investment solutions, from anyone just starting out to more experienced investors.
See our range of investment solutions
And remember, if you save and invest with Hargreaves Lansdown, you'll be able to see everything together in one place, making your money easier to manage. And when it's simple to manage you can make better decisions and hopefully earn better returns in future.
This article is aimed to help you make informed decisions but it isn't personal advice. If you're are not sure if a savings or investment product is right for you, please seek advice.
This website is issued by Hargreaves Lansdown Asset Management Limited (company number 1896481), which is authorised and regulated by the Financial Conduct Authority with firm reference 115248. The Active Savings service is provided by Hargreaves Lansdown Savings Limited (company number 8355960). Hargreaves Lansdown Savings Limited is authorised by the Financial Conduct Authority under the Payment Services Regulations 2017 with firm reference 751996 for the provision of payment services. Hargreaves Lansdown Asset Management Limited and Hargreaves Lansdown Savings Limited are wholly owned subsidiaries of Hargreaves Lansdown plc (company number 2122142).