Earth Day – investing ideas to help save the planet
We share our top share and fund ideas to help make the world a better place.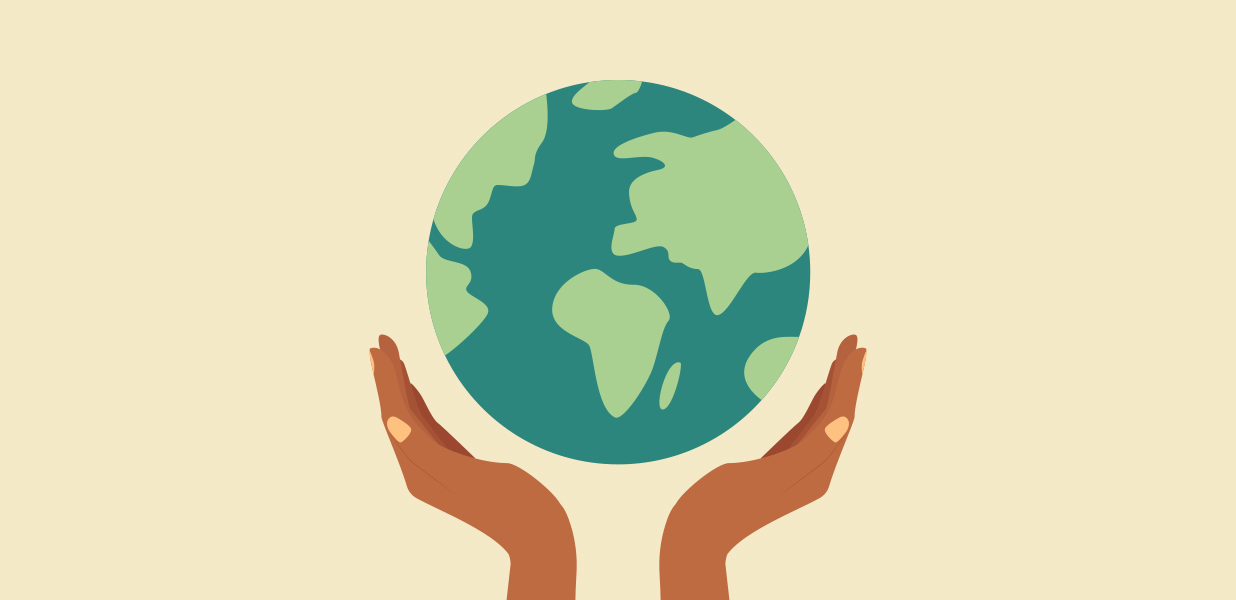 Important notes
This article isn't personal advice. If you're not sure whether an investment is right for you please seek advice. If you choose to invest the value of your investment will rise and fall, so you could get back less than you put in.
Environmental issues like climate change, deforestation, water scarcity, pollution, and biodiversity loss are threatening the health and well-being of our planet, its ecosystems, and its inhabitants.
The impacts of these environmental challenges are becoming more apparent. However, as investors we've got the opportunity to invest in solutions.
The environmental butterfly effect
Pollution is an environmental theme our clients care about. Recent scandals, like British water companies dumping truckloads of sewage in our oceans, help bring this issue to the forefront.
Pollution is also one of the greatest threats to freshwater availability. While many communities' livelihoods rely on access to water, freshwater ecosystems are disappearing three times faster than forests.
And water insecurity is directly linked to biodiversity loss. As we lose aquatic natural habitats and drinking water supplies, the ability to sustain aquatic and terrestrial biodiversity is threatened.
This biodiversity loss aggravates climate change by undermining nature's ability to regulate greenhouse gas emissions. Large herbivores, for example, help disperse seeds and fertilise the soil when they graze. These activities help to absorb and store carbon dioxide in the soil and plants, helping reduce how much is in the atmosphere.
As climate change accelerates, so does deforestation with the increased risk of forest fires. The number of wildfires is expected to rise by 50% by the end of the century.
As more trees are lost, the domino effect continues with the destruction of habitats and subsequent biodiversity loss. Not to mention fewer trees limits the Earth's ability to regulate temperatures, allowing climate change to spiral further. And as temperatures rise, global water security dwindles.
The path to a greener future

Understanding just how connected the environmental issues we face are, can make it easier to address these challenges. By taking a holistic approach and focusing on multiple issues at the same time, we can create more efficient and effective solutions.
For example, planting more trees not only helps limit climate change, but also improves water quality and supports biodiversity.
Many of these environmental issues are so deep rooted that they can only be meaningfully upturned by regulation. Global leaders have brought the environment to the forefront in recent years.
The initiative '30 by 30' pledges to designate 30% of Earth's land and ocean as protected by 2030. As of last year, 3.22% of England's land and 8% of England's sea are well protected and managed. A far stretch from 30%. Over the next few years, as a society we'll need to knuckle down and take real action.
As investors, there are lots of companies on the stock market that offer environmental solutions and services. There are also thematic funds that are addressing these issues.
This article isn't personal advice. If you're not sure if an investment is right for you, ask for financial advice. Investments can fall as well as rise in value, so you could get back less than you invest.
These investment ideas were selected with the help of our colleagues in the investment analysis and research team.
2 share ideas to help save the planet

Investing in an individual company isn't right for everyone because if that company fails, you could lose your whole investment. If you cannot afford this, investing in a single company might not be right for you. You should make sure you understand the companies you're investing in and their specific risks. You should also make sure any shares you own are part of a diversified portfolio.
Considering ESG issues can form a part of your investment analysis and decision-making process, but it shouldn't be a replacement for fundamental financial research.
AkzoNobel
It might seem counterintuitive to profile a chemicals company when discussing comprehensive sustainability programmes. But Dutch chemical company AkzoNobel's strong commitment to making positive changes is worth a mention.
The group's energy intensive operations and controversial product portfolio mean its move to offer cleaner, greener options will have a big impact on the planet.
The group's on track to meet its decarbonisation targets, with an aim to cut scope 1 and 2 emissions by 25% by 2025, from a 2018 baseline. As of 2021, it had already trimmed emissions by over a fifth thanks to efficiency improvements and the integration of renewable energy.
Customers' emissions is a more challenging piece of the puzzle, but one that Akzo is trying to tackle head-on. The group's been building out its product portfolio to include sustainable options and as of 2021, well over a third of revenue came from these offerings.
AkzoNobel 2021 revenue breakdown (bn)
Source: 2021 AkzoNobel annual report.
Akzo's main environmental issue, and perhaps opportunity, is the hazardous chemicals it uses. They can contribute to heath issues and the process to make and dispose of them can pollute the air and water. These chemicals are restricted because of their harmful effects, and if regulations continue to tighten, this could pose a business risk for Akzo.
To manage this eventuality, Akzo's created a priority substance management programme which divides its products into categories based on the risks they carry. For its most hazardous chemicals, Akzo's committed to using substitutes where possible.
The group's sustainable product portfolio helps to address this, with sustainable products including those that improve health and wellbeing, as well as those that trim emissions or reduce waste. This is a growing part of the business, and management aims to generate over half of revenue from these offerings by 2030.
It's one thing to say you're going to make positive strides toward a more sustainable business. But following through is more difficult.
A big part of that follow-through comes from board-level oversight. At Akzo, a board-level sustainability council does just that – with performance targets tied to long-term executive compensation. This adds a layer of accountability and strategic planning that makes sure things are getting done.
Kingfisher
When companies put sustainability at the core of their strategic goals, we tend to see progress in tackling several environmental issues at once. That's the case at B&Q parent Kingfisher. Last summer the group announced plans to accelerate its net-zero strategy with the aim of bringing its scope 1 and 2 emissions to net zero by 2040.
Kingfisher's been able to speed up its net-zero ambitions thanks to better-than-expected progress on its sustainability aims in 2022. The group managed to cut its scope 1 and 2 carbon emissions by about a quarter over the time period. This was thanks to a shift towards renewable electricity and alternative fuel sources for its delivery fleet.
This kind of pledge isn't uncommon – net-zero commitments are the bare minimum when it comes to responsible business practices. However, timing and commitment are what set truly responsible companies apart and Kingfisher's a great example of this within the retail sector.
Kingfisher goes a step beyond what's required, by measuring and reducing its scope 3 emissions, which are those generated by its products once they've left the shop floor.
Dealing with these indirect emissions is more challenging, but offers a much greater impact. The group's planning to slash these emissions by 40% per £million turnover before the end of 2026. This aim is supported by Kingfisher's commitment to growing the proportion of its revenue that comes from Sustainable Home Goods (SHGs).
Kingfisher revenue breakdown (£Bn)
Source: 2022 Kingfisher annual report.
These SHGs should help reduce the group's carbon footprint since many are geared toward energy efficiency. But saving energy isn't the only way SHGs have a positive impact.
Kingfisher classes things like chemical-free gardening products and water efficient taps as SHGs as well. It aims to have these items make up 60% of total revenue by 2025. This should help equip UK homes and businesses to tackle a range of sustainability issues like water conservation and biodiversity.
Kingfisher's SHG goals also support another key initiative for the company – becoming Forest Positive by the end of 2026. That means creating more forests than they use.
The group's committed to sourcing wood and paper products responsibly and partnered with the Rainforest Alliance to support communities impacted by deforestation. Given that home improvement companies are major wood buyers, the group's commitment to reduce its role in deforestation and biodiversity loss is an important step.
Find out more about Kingfisher
2 fund ideas to help make the world a better place

Remember, investing in funds isn't right for everyone. Investors should only invest if the fund's objectives are aligned with their own, and there's a specific need for the type of investment being made. Investors should understand the specific risks of a fund before they invest, and make sure any new investment forms part of a diversified portfolio.
FP WHEB Sustainability
The team behind the FP WHEB Sustainability fund invests in companies that make a positive difference to the environment and society. They focus on nine sustainable investment themes ranging from resource efficiency and cleaner energy to water management and sustainable transport.
Current investments include Ecolab, a company that sells cleaning products and services to restaurants, hotels, hospitals, and food and beverage producers. It's developed a range of products that help reduce, and in some cases eliminate, the use of water. Its products also help deliver energy and cost efficiencies, alongside improved performance, compared to standard alternatives.
The positive impact that each investment has is measured, so it's possible to calculate the environmental and social benefits that your investment creates. For example, owning £10,000 of the fund throughout 2021 was associated with:
Generating 4MWh of renewable energy
Avoiding three tons of carbon dioxide emissions
Treating 190,000 litres of wastewater for reuse
Providing a day of tertiary education
Helping three people receive healthcare treatment and saving £2,500 of costs through more efficient healthcare systems
The fund's focus towards small and medium-sized companies and flexibility to invest in emerging markets adds risk. The fund also looks very different to the broader global stock market, so we expect it to perform differently too.
FIND OUT MORE ABOUT FP WHEB SUSTAINABILITY, INCLUDING CHARGES
FP WHEB SUSTAINABILITY KEY INVESTOR INFORMATION
CT Responsible Global Equity
The CT Responsible Global Equity fund is managed by Jamie Jenkins and Nick Henderson, two seasoned global equity investors. They invest in high-quality companies with a strong commitment to sustainability.
There are three main elements to the fund's investment process – avoid, invest and improve.
The managers 'avoid' companies with business practices they consider to be damaging or unsustainable, like those involved in fossil fuels, alcohol, gambling, pornography, weapons, and tobacco. The fund also avoids fossil fuel companies and those in breach of animal welfare, human rights and labour standards.
They 'invest' in companies that make a positive contribution to the environment and/or society in one of seven sustainability themes, which include energy transition, resource efficiency and sustainable cities.
Current investments include Smurfit Kappa. The group is leading the shift from plastic to paper-based packaging, which is mostly renewably sourced, designed to be recycled and naturally biodegradable if littered.
The team also 'engages' with the companies they invest in with the aim to reduce risk, enhance long-term performance and encourage environmental, social and governance-related improvements.
For example, they've previously engaged with Japanese healthcare firm Hoya on a variety of issues including the risks of labour abuse in its supply chain, improving disclosure, and limiting water waste. Since then, the company's committed to reusing water where possible and improving carbon emissions disclosure.
The managers' flexibility to invest in derivatives and emerging markets adds risk.
FIND OUT MORE ABOUT CT RESPONSIBLE GLOBAL EQUITY, INCLUDING CHARGES
CT RESPONSIBLE GLOBAL EQUITY KEY INVESTOR INFORMATION
Want to learn more about responsible investing?
Discover our new responsible investment hub to get our latest articles and even more investment ideas.
Important notes
This article isn't personal advice. If you're not sure whether an investment is right for you please seek advice. If you choose to invest the value of your investment will rise and fall, so you could get back less than you put in.