Fortune favours the
early riser
Why it pays to invest sooner rather than later
Important - The value of investments can fall as well as rise, so you could get back less than you invest, especially over the short term. The information shown is not personal advice, if you are unsure of the suitability of an investment for your circumstances please contact us for personal advice. Once held in a SIPP money is not usually accessible until age 55 (rising to 57 in 2028).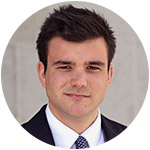 Henry Irving
ISA Account Manager
Could you instantly improve your investment returns?
It's no secret that investing earlier gives you the best chance of reaching your goals sooner. Your money has longer to grow meaning you can benefit from the miracle of compounding.
But when it comes to investing in ISAs, many investors choose to wait until the end of the tax year – March and early April – to make use of their valuable allowance. This means they're missing out on thousands of pounds of extra growth and income, all free from UK tax, over a lifetime of investing.
That's why we always say, if you have the money to hand, the best time to invest your ISA is at the start of the tax year, not the end. And it's backed up by the numbers.
We looked at the performance of three different ISA investing strategies to see which fared best. Remember the value of investments can go down as well as up so you could get back less than you put in. Past performance isn't a guide to future returns.
Remember tax rules can change and benefits depend on your circumstances.
Three ways to invest the ISA allowance
Our research team looked at three hypothetical long-term ISA investors and charted the successes of their different investment strategies.
In this scenario, each investor paid in the full ISA allowance at the start of the tax year, since ISAs were introduced in 1999, and invested in the FTSE All-Share index (with dividend reinvested). Here are the three ISA investors.
Early Ellen – chose to invest her allowance on the first day of each tax year
Regular Reggie – decided to drip-feed his ISA allowance in every month
Last-minute Larry – waited until the last day of the tax year to invest his allowance
So, which approach worked best?
The chart below shows how much their investments would be worth if they used their full ISA allowance since 1999, a total of £186,560, although please remember that these are theoretical scenarios.
Total built since ISAs introduced
Scroll across to see the full chart.
Past performance isn't a guide to the future. Source: Lipper IM to 5 April 2018. You can't invest directly in the FTSE All-Share index, but you can choose investments that aim to track its performance.
Ellen's strategy of investing on the first day of each tax year yielded the best results. She had her money in the market for the longest time and her investments grew the most. Her ISA was worth £342,445.
This was over £14,600 more than Larry, who'd put off investing until the last-minute and built ISAs worth £327,141. Bear in mind, they picked the same investment, but by investing earlier each year, Ellen made much better returns.
What's also impressive is the performance of Reggie's portfolio. By drip-feeding his ISA allowance in every month, he built investments worth over £336,875. This was only around £5,500 less than Ellen but perhaps more importantly, the portfolio was worth over £9,700 more than Larry. Investing monthly is a great option for anyone who doesn't want to add lump sums, or is worried about the timing of their investment.
Two valuable lessons…
The best long-term investment strategy is to invest as early as you can in the tax year
Even if you don't have a large pot of cash to invest right now, drip-feeding money into the stock market each month can be almost as effective
Get a head start on your ISA this year
While you have all tax year to open your ISA, it makes sense to use your ISA as early as possible if you've got the money to invest. And as shown above, you don't need big amounts to take advantage.
With HL, you can start this year's ISA from as little as £100, or £25 a month, just make sure you've read the key features and terms and conditions first. And if you're not sure where to invest, you can take a look at our latest fund and share ideas for an ISA.
---

Steve Clayton
Head of Equity Funds
New fund launch – HL Select Global Growth Shares

Seeking the best opportunities, wherever we find them
The world is changing. Technology is transforming industries, consumer preferences are rapidly shifting, populations are aging and the climate is changing.
Throughout all this change we think there's a constant. Companies in charge of their own destiny will reap the greatest rewards over the long term.
So we're launching the HL Select Global Growth Shares Fund to help you make the most of these growth stories. We can look for the best businesses in any industry, wherever in the world we find them.
Companies in charge of their own destiny
We're looking for businesses that can benefit from a virtuous circle of growth. Firms with fantastic products or services which are hard for competitors to copy generally have high profit margins and strong cash flows.
This allows forward-thinking CEOs to keep debt low, ride out occasional economic or political storms, re-invest back into their business and keep growing year after year.
If a business can keep growing reliably, compounding over a long time, it can increase its value many times over. Our strategy is to find these companies and hold on to them.
Our first fund, HL Select UK Growth Shares, was set up to find the best of these businesses in the UK. Now it's time to take our approach abroad and hunt down the best growth companies we can find from around the world.
The HL Select Global Growth Shares fund is managed by our sister company HL Fund Managers Ltd.
Find out more, including charges and how to invest
Reasons to go global
Investing globally opens up new opportunities to find truly exceptional companies from a much bigger pool of choice.
Industries often gravitate toward centres of excellence. For example Silicon Valley is home to the world's leading technology companies. And lots of the world's most valuable luxury brands are in Europe.
The HL Select Global Growth Shares Fund will invest across all the world's major stock markets, including higher-risk emerging markets, to find the companies we think have the best long-term growth potential.
How we'll invest
The world's being redrawn in many ways, and technology is at the forefront. While we like some out-and-out technology businesses, we often think the most compelling investments are in other industries, where companies are using new technology to lead change.
Retailing isn't a new industry, but online platforms upended the cart by spotting that retailers didn't actually need shops. Some of those platforms have done amazingly well. Others have used the online channels to their own advantage.
In almost every sector we can find businesses that are strengthening their positions by using technology to serve their customers better.
Not all our holdings will be technology stories. We're big believers in the value of consumer brands, and we'll be backing some businesses where we can see long-term staying power and growth potential in their brand portfolios. We might also invest in higher-risk smaller companies where we see excellent growth potential.
Other companies we invest in will simply be unique businesses that command their own industries, through the sheer strength of their capabilities. Like any investment the fund will fall as well as rise in value, so you could get back less than you invest.
We'll typically have 30 to 40 holdings. We want each investment to lift the fund when things go well. It works both ways, so it's a higher-risk approach as we aim for higher returns.
The HL Select Global Growth Shares fund is managed by our sister company HL Fund Managers Ltd.
HL Select Global Growth Shares Key Investor Information
Find out more, including charges
---

Richard Wood
Investment Analyst
Everyone loves a bargain
Yield 4.3%, variable and not a guide to future income

Value investing's been around for a long time. And for good reason – it works.
It's a strategy that involves buying shares in companies for less than they're truly worth – a bargain. It sounds easy, but they can be hard to find, and you'll need to be prepared to go against the herd.
Value investors are looking for companies that have fallen out of favour or are going through hard times. The idea is that if and when these companies become popular again, or fix the problems they're facing, their share price should rise.
If all goes to plan you can sell the shares for a profit and move on to the next idea. It can be an uncomfortable strategy though, taking time and patience for the market to come around to your way of thinking.
Avoiding value traps
Value investors do need to be careful. We all like a bargain but you often get what you pay for.
A low share price could be a sign that a company's prospects are poor.
Investing through a fund is a great way to reduce the risks. Professional fund managers have the skill, experience and time to analyse a company's prospects. They'll also spread your money across a number of different companies.
Investing is a fund manager's full time job, and we can help you find those we believe are going to be top performers.
A disciple of value investing
Ben Whitmore's Jupiter Income Fund is not only one of our favourite ways to take advantage of value investing, but a great option for income.
It's mostly invested in the UK stock market, which is currently one of the highest yielding markets in the world. The fund pays income to investors twice a year, as well as aiming to grow their capital.
Value investing goes hand in hand with investing for income. If a company's share price is low, as long as it can keep paying its dividends, its yield will typically be high. As the share price rises, the yield will fall – the fund manager can sell at a profit and reinvest in the next high-yielding opportunity.
Ben Whitmore has built his entire investment strategy around value investing. He starts by finding companies that look cheap relative to their historical valuation. Then he analyses them with a fine-tooth comb to make sure they've been able to make enough cash and don't have too much debt. Finally, he looks at companies' future prospects to find those with the scope to improve.
He's managed the Jupiter Income Fund since the start of 2013. £10,000 invested when he took over the fund would be worth £12,901* now, plus you would have received £3,173 income.
With dividends re-invested, the investment would now be worth £16,770. The fund currently yields 4.3%, which is variable and could fall as well as rise. Whitmore has managed other funds since 2001, and over the course of his career has beaten the stock market by an impressive amount, but past performance isn't a guide to the future.
Ben Whitmore career track record
Scroll across to see the full chart.
Past performance isn't a guide to the future. Source: *Lipper IM to 28/02/19.
Annual percentage growth
Feb 2014 -
Feb 2015
Feb 2015 -
Feb 2016
Feb 2016 -
Feb 2017
Feb 2017 -
Feb 2018
Feb 2018 -
Feb 2019
Jupiter Income
8.1%
-4.2%
21.7%
3.7%
-2.1%
FTSE All-Share
5.6%
-7.3%
22.8%
4.4%
1.7%
Past performance is not a guide to the future. Source: Lipper IM to 28/02/19
This fund takes it charges from capital which can increase the yield but reduces the potential for capital growth.
Jupiter Income Key Investor Information
Find out more, including charges
---

Dominic Rowles
Investment Analyst
The land of the rising fund?
Japan's unique story could make it a great long-term investment

Japanese companies don't have the glamour of US ones like Facebook, Amazon or Apple. But don't underestimate them.
Japan's auto and electronics industries are among the best in the world. Honda, Toyota, Nintendo, Sony and Panasonic are just some of the household names that call Japan home. And there are lots of smaller businesses with huge potential across a wide range of other industries too.
Despite the great opportunities on offer, Japan went ignored by investors for years. They were put off by the nation's sluggish economy.
That all changed in 2012 when Shinzo Abe was elected Prime Minister. He wanted to boost economic growth and increase Japan's competitiveness on the world stage.
The Japanese stock market's risen 98.6% since then, although this isn't a guide to how it'll do in future.
Have I missed the boat?
We don't think so.
Share prices of Japanese companies have risen strongly in recent years, but their earnings have risen even faster. And in the long run, share prices are ultimately driven by how much money companies make.
Our analysis tells us Japan's home to one of the most attractively valued developed markets. The chart below shows our favourite measure of value – the Cyclically Adjusted Price to Earnings ratio (CAPE) – for the Japanese stock market, along with the average over time. The market's current CAPE ratio is well-below its long term average level.
Japanese stock market looks good value compared to history
Scroll across to see the full chart.
Past performance is not a guide to the future. Source: HL/ Datastream. December 1982 to February 2019
The CAPE ratio explained
A PE, or price-to-earnings ratio measures how much investors are willing to pay for a company's earnings (or those of an entire sector or stock market). It's calculated by dividing the value of a company's shares by its earnings. But rather than focus on a single year's earnings, the CAPE ratio takes an average over the past ten years in order to smooth out fluctuations in the economic or profit cycle.
How we use CAPE
We then compare the CAPE ratio with its long-term average to assess whether an area is cheap or expensive relative to its history. It doesn't tell you exactly when to buy or sell – a market that looks expensive can get more expensive still and vice versa – but to invest at a lower valuation should improve the potential for attractive long-term returns. Remember there's more than one way to look at valuation, and ratios shouldn't be looked at in isolation.
That's not all. Shinzo Abe introduced a Corporate Governance Code aimed at putting shareholders at the centre of all corporate decisions.
It seems to be working. Japanese companies have increased dividends and share buybacks significantly in recent years. And it could be set to continue as the number of companies adopting the Corporate Governance Code increases over time.
How can I take advantage?
Man GLG Japan CoreAlpha is one of our favourite ways to invest in Japan. It's managed by Stephen Harker, an experienced investor in Japanese shares.
He doesn't follow the herd. He invests in companies dismissed by other investors. This might be because something's gone wrong, or they're in an unfashionable area of the market.
It means he can invest in shares at lower prices than he thinks they're truly worth. Importantly, he has to believe the business has potential to turnaround and come back into favour.
He tends to invest in a small number of companies. This means each one can have a meaningful impact on the fund's returns although it can increase risk.
A superb long-term track record
Stephen Harker's delivered excellent returns over the long run. An investment of £10,000 made 10 years ago would be worth £29,705. The Japanese stock market would've returned £24,385. Past performance shouldn't be seen as a guide to the future.
Stephen Harker career track record
Scroll across to see the full chart.
Past performance is not a guide to the future. Source: Lipper IM to 28/02/19
We put the manager's performance down to his ability to invest in companies destined for success. We think this fund will reward investors over a long period of time, but there are no guarantees.
Annual percentage growth
Feb 2014 -
Feb 2015
Feb 2015 -
Feb 2016
Feb 2016 -
Feb 2017
Feb 2017 -
Feb 2018
Feb 2018 -
Feb 2019
Man GLG Japan CoreAlpha
16.2%
-4.1%
58.0%
4.6%
-7.3%
FTSE Japan
19.3%
0.7%
36.2%
10.7%
-7.0%
Past performance is not a guide to the future. Source: Lipper IM to 28/02/19
Man GLG Japan CoreAlpha Key Investor Information
Find out more, including charges
---

George Salmon
Equity Analyst
Five shares for an ISA
Investors should make the most of tax-saving tools. After all, less tax means higher returns.
History tells us returns from the stock market are likely to beat those on cash accounts over the long term. Although there are risks attached. Unlike cash, the value of investments can fall as well as rise – that means you could make a loss. All yield figures mentioned are variable and are not a reliable indicator of future income. Tax rules can change and benefits depend on individual circumstances.
Here are our latest share ideas to consider.
Intertek

Current uncertainty makes it difficult to know what the UK or global economy will look like this time next year. But there are some things that we can be more confident about.
Companies will keep doing all they can to innovate and progress, while safety and quality control will likely be as important as ever. As a leading provider of testing and inspection services, these trends play neatly into Intertek's hands.
This isn't the only area Intertek can grow in either. Since consumers need to know everything from calorie count to allergens, its services are crucial to complying with demanding food regulation. Through its rapidly expanding assurance division, it's able to make money in an advisory capacity too.
The natural resources division is more cyclical, and profits drained away on the back of the oil price crash. But with big oil companies stepping up spending, there's hope for a recovery. Intertek is aiming to both increase revenue and restore margins.
That, and the acquisition of capital-light staff management business Alchemy, could help operating margins improve slightly. But with the core businesses demanding lots of highly skilled labour, we think going much past the current 17.2% is unlikely.
Intertek currently trades on a price to earnings (PE) ratio of 22.4, above its long run average. Still, we think that reflects its strong track record, good growth prospects and resilient revenue streams. These factors underpin analysts' confidence profits can rise by over 6% a year in 2020 and 2021.
Intertek Dividend Per Share (p)
Scroll across to see the full chart.
Past performance isn't a guide to the future. Source: Thomson Reuters Eikon 12 March 2019.
A policy of paying out half of earnings means investors can expect that to feed through to a rising dividend, although there are no guarantees. This year's prospective yield is 2.2%.
GVC
The UK's bookmakers have endured a tough time of late, but we think GVC is well-placed to bounce back.
As the owner of the Ladbrokes and Coral brands, GVC will be impacted by tighter regulation of fixed odds betting terminals (FOBTs). New laws to put lower limits on stakes will hopefully make society richer, but the lost profits will make GVC poorer, at least in the short term.
However, GVC has plans to trim spending by around £130m. That should ease the impact on profits. And the UK market isn't all bad for betting companies. The group has long had a strong position in online gaming and poker, and an ever-increasing number of us are doing sports betting online too. As a result, online revenue rose 14% to £10.3bn in March's full year results.
There's also a potentially huge opportunity overseas. America is a sports-mad place, and holds world titles in four major sports – baseball, american football, ice hockey and basketball. OK, they've rarely extended the invite list beyond the 50 states, but it looks like there'll finally be some outside involvement. Just not on the pitch.
A Supreme Court judgement has paved the way for legal sports betting nationwide, and European bookmakers are piling in left right and centre. And understandably so. It's a once in a generation opportunity.
GVC share price and selected acquisitions
Scroll across to see the full chart.
Past performance isn't a guide to the future. Source: Thomson Reuters Eikon 12th March
We like GVC's tactic of teaming up with MGM Resorts. At least initially, casinos will be the go-to location for US sports betting and GVC's experience and MGM's well-established brands could be a lucrative mix. But as any punter will tell you, there's no such thing as a nailed on winner.
Two high-profile directors selling sales rocked the share price in early March, but earnings forecasts have remained largely unchanged. That means the shares change hands for just 9.7 times expected earnings, and with the dividend well-underpinned by earnings and cash flow, investors should be paid to wait and see if GVC can make a success of its US venture. The prospective yield is 5.9%.
Tritax

There's nothing fancy about what Tritax does. It owns and leases out giant warehouses to a range of tenants that include Ocado, Next and Amazon. The business model may be simple, but we think there's lots to like.
Big distribution centres are at the heart of modern logistics and e-commerce, and crucial to 21st century retailing. They become even more important to occupants once they're up and running. That's because moving is costly, time consuming and logistically difficult. And that's if a suitable alternative can even be found.
Tritax Net Asset Value per share (p)
Scroll across to see the full chart.
Past performance isn't a guide to the future. Source: Tritax Big Box annual reports.
Properties and sites, situated next to a major motorway and covering 500,000 square feet or more, are few and far between. But Tritax's experienced management team are adept at securing attractive assets in off-market transactions. Sites are often snapped up before others even know they're for sale.
A portfolio of rare and valuable assets gives Tritax the upper hand in rental negotiations. As a result, the group is able to secure attractive yields on its investments, and agreements typically have upwards only rent reviews. That should be good news for profits.
Of course, there are possible trip wires ahead. For example, a rapid rise in interest rates is bad news for most in the property game, and Tritax is no different. Higher rates could hit the value of the portfolio, and thus shares.
Potential investors should also bear in mind the company's structure as a real estate investment trust (REIT) means it has to pay out the majority of profits after management costs. As a result growth is funded by raising new cash from shareholders, and that will likely remain a major feature in the future.
However, the dividend obligation also means the shares currently offer a prospective yield of 4.8%. If revenues rise as expected, and the group can manage costs, there's clear potential for the dividend growth, although of course there are no guarantees.
The author holds shares in Tritax Big Box plc.
Visa

The bank card as we know it came into being in the 1950s. Since then instant, cashless transactions have gone from strength to strength, and in 2016 overtook cash as the main means of payment globally.
Visa provides the payment infrastructure behind those transactions, and processes more transactions than anyone else. In 2018 there were 170bn transactions through the Visa network, worth $10.5trn. Both figures are around double what Mastercard, its nearest rival, managed.
Growth in payments and transactions processed
Scroll across to see the full chart.
Past performance isn't a guide to the future. Source: Visa annual report.
The group doesn't lend to card users, so isn't on the hook for any bad loans. Instead, it charges banks fees for matching up buyers and sellers bank accounts.
Fees come in two broad categories: service revenues, which are driven by the scale of transactions, and data processing revenues, driven by the number of transitions completed. There are extra fees for cross border transactions as well.
That's a very attractive business model.
Additional transactions are virtually costless to Visa, so extra revenue turns straight into profit. Capital expenditure is limited, meaning profits convert well into cash.
With relatively little debt on the balance sheet, surplus cash can be returned to shareholders through dividends and share buybacks. The emphasis is on the latter, meaning the prospective yield is a modest 0.7% in 2020.
Visa can be a little sensitive to economic conditions, since people spend less, and less frequently, when times are tough. And despite its dominant market position Visa's not immune to competition – there's a host of fintech start-ups out there that would love a slice of its action.
But Visa sees opportunities too.
Contactless and mobile payment increases card use in small transactions, and with the US still well behind the curve there's still years of growth potential.
With the shares currently trading on 26.6 times expected earnings, around a 20% premium to the longer-term average, the bar has been set fairly high. Still, we think Visa is well-run, and well-placed enough to deliver the growth that lofty rating requires.
Disney

We think investors will look back on 2019 as a transformational year for Disney. That might sound odd, given operating profits are expected to shrink slightly, but under the surface Disney's doing lots of work.
The $71.3bn acquisition of Fox is expected to complete in the first half. It'll give Disney control of a whole suite of media assets – from the Simpsons to the X-Men – as well as movie studios and TV networks all over the world.
Regulators have demanded some disposals to approve the deal, and Disney will also get Fox's share of the proceeds from Sky's sale. That might not have been CEO Bob Iger's preferred outcome – but it means Disney will emerge from the deal with a balance sheet that's looking far from stretched.
A relatively small debt burden will give Disney the firepower to take on the new kid of media world – Netflix.
Disney has dabbled in direct-to-consumer streaming before – with ESPN+ and a stake in US streaming platform Hulu. But 2019 will see it throw its considerable weight behind its streaming services.
Following the Fox deal it will own a majority stake in Hulu, and recent agreements have seen it approve 4 animated Marvel series for the platform just as its pulling content from Netflix.
Disney's also launching its own Disney+ streaming service later this year. That service will make full use of the media giant's unrivalled back catalogue, and includes exclusive content ranging from Star Wars to Lady & the Tramp.
Disney Revenues ($bn)
Scroll across to see the full chart.
Past performance isn't a guide to the future. Source: Thomson Reuters Eikon 12 March 2019.
2019's not without its risks of course. Mega mergers are notoriously difficult to pull off seamlessly, and going toe-to-toe with Netflix will demand massive spending on new content.
The mix of long-term opportunity and short-term risk means the shares trade on a price-to-earnings ratio of 16.1 - broadly in line with the long-term average, while the prospective dividend yield is just 1.7%. However, if all goes to plan then a future as a global streaming giant isn't all that far, far away.
---
Start your ISA today
Add to your ISA today
Unless otherwise stated estimates, including prospective yields, are a consensus of analyst forecasts provided by Thomson Reuters. These estimates are not a reliable indicator of future performance. Yields are variable and not guaranteed. Past performance is not a guide to the future. Investments rise and fall in value so investors could make a loss.
This article is not advice or a recommendation to buy, sell or hold any investment. No view is given on the present or future value or price of any investment, and investors should form their own view on any proposed investment. This article has not been prepared in accordance with legal requirements designed to promote the independence of investment research and is considered a marketing communication. Non-independent research is not subject to FCA rules prohibiting dealing ahead of research, however HL has put controls in place (including dealing restrictions, physical and information barriers) to manage potential conflicts of interest presented by such dealing. Please see our full non-independent research disclosure for more information.