How to avoid running out of money when you retire: Free report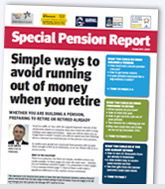 Get your FREE 8-page report - simply enter your details below
This simple, no-nonsense report tells you what threats could affect your wealth in retirement, whether you are 22 or 72, and what simple, sensible actions you could take to combat them.
Hargreaves Lansdown PLC group companies will usually send you further information by post and/or email about our products and services. If you would prefer not to receive this, please do let us know. Your personal data will remain confidential, and will never be passed to any other company, unless required by law.
Our straightforward, easy-to-read report could help you combat threats to your wealth in retirement.
Most investors are concerned their pensions won't give them enough money when they retire - and rightly so.
This guide reveals:
Why a signature on some standard paperwork could cost you £11,000
The secret of running a portfolio successfully - and what happens when you don't
Which safe investment your pension provider may not allow you to hold
Why some of the most common investments could deprive you of greater potential returns
IMPORTANT: This report, like our service, is not advice. It simply gives you the facts so you can decide for yourself. If you're unsure, please seek advice. The actions highlighted are for people comfortable making their own investment decisions.
Some think of their pension as a savings account – they add money and expect it to grow automatically over time. In reality, most private pensions are investments. They grow (or fall, for that matter) depending on investment performance.

Verified by VeriSign
VeriSign has verified the rightful owner and operator of this web page. The seal verification also shows that this page has passed a daily malware scan.