New fund launches and email alerts
Our research team regularly scour the market for new investment opportunities, some of which are included in our Wealth 150 list of preferred funds for new investment, whilst with others we simply negotiate the best terms for you to invest.
Please remember the value of investments, and any income from them, can fall as well as rise so you could get back less than you invest. If you're unsure of the suitability of your investment please seek advice.
Launch date 08 April 2015
Please see the fund's key features and key investor information document for more on charges and risks.

View the Artemis Global Emerging Markets (Class I) factsheet
Charges and savings
Initial charges
Initial charge
1.00%
Initial saving
1.00%
HL dealing charge
Free
Net initial charge
0.00%
Annual charges

Ongoing charge (OCF/TER)

1.00%
Ongoing saving from HL
0.09%
Net ongoing charge
0.91%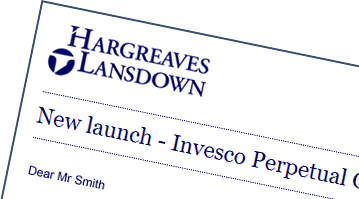 Be among the first to hear about fund launches - register for free alerts
Fund launches are popular because they provide the opportunity to invest in a fund while it's still small and nimble. Plus, fund management groups often come up with new and innovative funds to take advantage of the latest opportunities.
Fill in your details below and we'll let you know about new fund launches so you can to decide whether to invest.
Hargreaves Lansdown PLC group companies will usually send you further information by post and/or email about our products and services. If you would prefer not to receive this, please do let us know. Your personal data will remain confidential, and will never be passed to any other company, unless required by law.