Investments can go down as well as up so there is always a danger that you could get back less than you invest. Nothing here is personalised advice, if unsure you should seek advice.
The Wealth 150+ is reserved for funds we believe offer the ultimate combination of performance potential and low fund management costs. In recent years the cost of investing has generally been driven down and we have worked hard to ensure Hargreaves Lansdown clients can access the best fund managers at the best prices.
We rate William Littlewood as a high-calibre fund manager and believe he deserves a place on the Wealth 150. However, the fund's ongoing charge of 0.78% has become uncompetitive, as other exceptional fund managers have offered their funds at lower cost. We have therefore moved the fund from the Wealth 150+ to the Wealth 150.
The fund's fees
Artemis Strategic Assets charges an annual management fee of 0.75% and currently has 'other expenses' of 0.12% a year. The fund's 'ongoing charge' is therefore 0.87% a year, but Hargreaves Lansdown clients pay 0.78% (after a discount of 0.09%). The annual Vantage charge of 0.45% also applies.
Since the launch of the Wealth 150+ in March 2014 the fund's 'other expenses' have increased by 0.03%, which Artemis says can be attributed to an increase in exposure to exchange-traded fund (ETF) investments. This might not sound much, but it amounts to around £250,000 a year on a fund size of just over £800 million.
We do not feel the current fee is acceptable in an environment where ongoing charges are falling. William Littlewood has, so far, consistently failed to achieve the fund's stated targets and performance has disappointed overall.
The fund's performance
The Artemis Strategic Assets Fund has not fared well compared with many of its mixed-asset peers since launch in May 2009. It has also struggled against the FTSE All Share Index. This can, in the main, be attributed to William Littlewood's large 'short' position on (predominately Japanese) government bonds. A short position allows an investor to benefit from falling prices, but when prices rise (as they have done for bonds over this period) the short position negatively affects performance.
Artemis Strategic Assets - performance since launch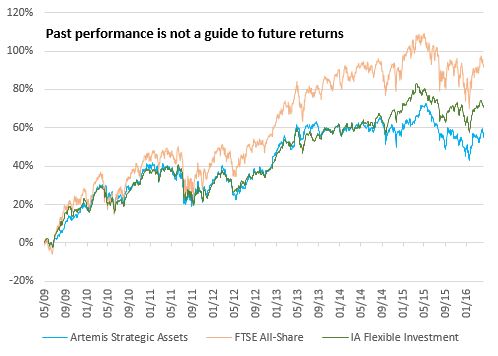 Source: Lipper IM to 03/05/2016
Annual percentage growth
May 2011 -
May 2012
May 2012 -
May 2013
May 2013 -
May 2014
May 2014 -
May 2015
May 2015 -
May 2016
Artemis Strategic Assets
-5.5%
13.4%
7.4%
4.7%
-8.4%
FTSE All-Share
-1%
16.9%
10.5%
7.4%
-6.7%
IA Flexible Investment
-4.7%
14.6%
4.6%
11.8%
-4.5%
The rationale for the short government bond position is simple: William Littlewood believes the large amount of debt created by developed-world governments via quantitative easing will eventually result in one of two outcomes. The first scenario is the debt will go unpaid i.e. they will default on their payments to government bond holders. The second scenario is high inflation. In either case, the price of bonds falls. In the first example, bond prices fall to zero as they become worthless, in the second scenario, bond prices fall as yields rise to compensate for high inflation.
His bond view has so far proven incorrect (although some equity and currency investments have been positive for performance, tempering the negative impact of the bond position), but he has been steadfast in his belief. If or when government bond prices fall, this fund should profit nicely from the fallout. In the meantime, this short position will continue to act as a drag on performance. The fund can also have exposure to smaller companies, emerging markets, high-yield bonds and derivatives, all of which adds risk.
Our view
This fund does something very different to most other funds. To prevent a portfolio being over exposed to a narrow range of areas or themes investors' need to hold a selection of funds. Some will inevitably go through periods where they underperform, but provided the reasons for the poor performance are understood and you still have confidence in the fund manager, this should not cause concern.
William Littlewood is following his conviction and we understand the rationale behind his decisions. We still believe in the manager and what he is hoping to achieve with the fund. However, in the context of the recent performance, and in light of the fact we have identified other high-calibre fund managers for the Wealth 150+ on which we have negotiated lower fees for Hargreaves Lansdown clients, we feel it is prudent to move the fund to the Wealth 150. This is not a suggestion to make any changes to a portfolio, provided the fund continues to meet investors' objectives.
Find out more about this fund including how to invest
Please read the key features/key investor information document in addition to the information above.
Important information
-
Please remember the value of investments, and any income from them, can fall as well as rise so you could get back less than you invest. This article is provided to help you make your own investment decisions, it is not advice. If you are unsure of the suitability of an investment for your circumstances please seek advice.
No news or research item is a personal recommendation to deal.
Want our latest research sent direct to your inbox?
Our expert research team provide regular updates on a wide range of funds.
---