Investments can go down as well as up so there is always a danger that you could get back less than you invest. Nothing here is personalised advice, if unsure you should seek advice.
AXA WF Framlington UK is a new fund run by an experienced manager
A bias to growth-oriented companies has recently proven a headwind to performance
We maintain our long-term conviction in the manager who has a record of strong stock picking
AXA WF Framlington UK is a relatively new portfolio. Chris St John, the fund's manager, has the flexibility to invest across the spectrum of small, medium-sized and larger companies, which allows him to cherry-pick the best investment opportunities wherever they lie. This unconstrained approach means he can invest in small businesses with exceptional potential and hold on to them if they grow into the FTSE 100 giants of tomorrow, although please note smaller companies are higher risk than their larger counterparts.
The manager identifies economic themes and the areas of the stock market he believes are most likely to benefit as the theme develops. He then selects the businesses he feels hold most promise, with the strongest growth prospects.
How has the fund performed?
The fund launched on 2 March 2016, although the manager has a longer track record in managing other UK portfolios. We recently spoke to him to determine how the fund is positioned and how it has performed so far. Please note this is over a very short timeframe and past performance is not a guide to how the fund will perform in future.
The fund kept pace with the broader UK market in its first month, although it underperformed in April. Chris St John focuses on growth-oriented companies and in recent years, against a backdrop of ongoing economic uncertainty, investors have favoured this type of company for their certainty of earnings delivery. On the other hand, lowly-valued businesses whose earnings prospects are often tied to the state of the economy have been shunned by investors and underperformed.
April saw a stark reversal of this trend, which dragged on the fund's performance. Despite this shorter-term headwind, the manager maintains his long-standing investment approach, which we view positively.
Where is the fund invested?
Themes currently include 'changing corporate architecture'. This includes companies with a range of qualities that did not exist 20 years ago, in the manager's view. They typically have significant market shares; are cash generative; and are not capital intensive (meaning they do not require huge amounts of investment or equipment to produce their goods or services). They also have the capacity to grow organically (the process of expanding by increased output or customer base, rather than through mergers or acquisitions). Companies with these traits include Rightmove and Auto Trader, which currently feature in the portfolio.
The manager favours companies with sustainable business models, low debt and strong barriers to entry. He has avoided companies that do not meet these criteria, many of which feature in the oil & gas, mining and financials (principally banking) sectors.
Sector breakdown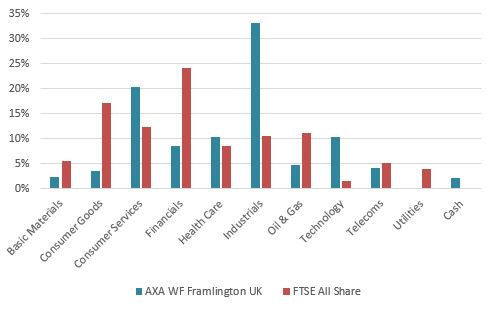 Source: AXA, correct at 29/04/2016
Breakdown by company size
Source: AXA, correct at 29/04/2016
Our view on this fund
Chris St John's growth style of investing has recently been out of favour with investors, however, we feel his approach will bear fruit for investors over the long term.
Throughout his career, including managing other portfolios, Chris St John has added significant value through his stock selection across companies of all sizes, according to our analysis. The potential for him to outperform his peers over the long term is strong, in our view, although there are no guarantees. He is also able to draw on the support of AXA's other UK fund managers. The fund features on the Wealth 150+ list of our favourite funds at the lowest ongoing charge. Please note the charge to hold investments in the Vantage Service is up to 0.45% p.a.
Please note the AXA WF Framlington UK Fund is an offshore fund and therefore investors will not be protected by the Financial Services Compensation Scheme.
Find out more about this fund including how to invest
Please read the key features/key investor information document in addition to the information above.
Important information
-
Please remember the value of investments, and any income from them, can fall as well as rise so you could get back less than you invest. This article is provided to help you make your own investment decisions, it is not advice. If you are unsure of the suitability of an investment for your circumstances please seek advice.
No news or research item is a personal recommendation to deal.
Want our latest research sent direct to your inbox?
Our expert research team provide regular updates on a wide range of funds.
---