Investments can go down as well as up so there is always a danger that you could get back less than you invest. Nothing here is personalised advice, if unsure you should seek advice.
The Managed Fund is Baillie Gifford's 'one stop shop' for exposure to international markets. The fund invests across all asset classes and global regions with the aim of producing capital growth for investors over an investment horizon of 3-5 years. We recently met Iain McCombie, UK equity investment manager and lead fund manager, to take stock and discuss performance.
The last two years have produced contrasting periods of performance. The year to August 2014 saw the fund underperform its peer group with a return of 1.76%. Since then, the fund has gone on to outperform the sector average with healthy performance figures of 8.89%. Iain McCombie's initial reaction was to remind us this is nothing new.
Historically, the fund has tended to generate more volatile returns relative to the sector over the short term. This is a function of the fund's philosophy of investing in companies displaying growth potential; in the short term, these firms may struggle to fulfil that potential. However, the longer the time horizon, the more consistently the fund has beaten its peers. Taking rolling one-year periods, the fund has outperformed the sector in 67% of quarters. Over five years, the fund has beaten its peers 95% of the time. The inference from these figures is clear; the team have a long-term attitude, and investors must stay patient. However there are no guarantees as past performance is not a guide to future returns.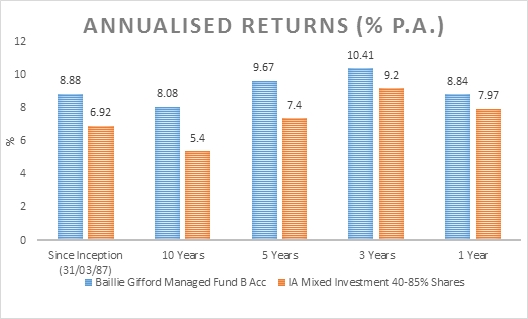 Recently, the fund's bond holdings have held back returns. The managers have invested 5.2% of the fund in higher-risk emerging market corporate bonds, which have recently fallen in value owing to a collapse in investor sentiment. Renewed talk of an interest rate rise in the US caused many investors to sell their riskier emerging market bonds in anticipation of better returns in America. However, the Baillie Gifford team forecast sentiment reversing and demand for these assets returning. In light of this, they are prepared to stick with the uncomfortable position in the short term.
Whereas bond holdings have detracted, share holdings have bolstered returns. The fund managers were particularly pleased with the performance of their UK and developed Asia investments. For the year to 30 June 2015, the fund's UK shares rose by 8.5% and the developed Asia holdings returned 20%. Key contributors to these numbers were Ashtead and Rightmove in the UK. Demand for construction in the US has been rising to the benefit of Ashtead, and Rightmove continues to dominate the online property market. Iain McCombie sees both of these stocks staying on a positive run. Past performance should not be seen as a guide to future returns.
Abroad, the securities and derivatives market operator, Hong Kong Exchanges & Clearing Limited (HKEx) , contributed positively. In the first six months of the year, HKEx had increased in value by 55.55% as domestic investors turned to stock markets in reaction to a weak property market and government incentives. However, the stunning growth in share price proved unsustainable, and lately the stock has tumbled in the face of a widespread sell-off in the Chinese stock market. The holding, however, remains 17.58% higher than at this point last year.
Our view on this fund
This fund is a recent addition to the Wealth 150 list of our favourite funds across the major sectors. We were initially attracted to the fund because of the team's experience and philosophy of discounting short-term movements in favour of long-term trends. Since the fund's inception in 1987 this attitude has served investors who have retained faith in the fund well, with returns of 1016.54%* compared with the sector average of 566.13%. However, please remember past performance is not a guide to the future and these exceptional returns may not be replicated.
Annual percentage growth
Aug 10 -
Aug 11
Aug 11 -
Aug 12
Aug 12 -
Aug 13
Aug 13 -
Aug 14
Aug 14 -
Aug 15
Baillie Gifford Managed
14.75%
2.72%
21.52%
1.76%
8.89%
IA Mixed Investment 40-85% Shares
10.62%
-0.81%
17.41%
2.73%
8.02%
Past performance is not a guide to future returns.
Source: Lipper IM to 3 August 2015. * Data run from 1 April 1987 to 3 August 2015
Our sentiment on the fund has not wavered since its inclusion on the Wealth 150 and we believe investors in this fund should share the same attitude as its managers and focus on the longer term. The fund also has the flexibility to use derivatives which involves additional risk.
Please note the fund currently has a holding in Hargreaves Lansdown Plc.
Find out more about this fund including how to invest
Please read the key features/key investor information document in addition to the information above.
The value of investments can go down as well as up, this means you could get back less than you invested. Therefore all investments should be regarded with a long term view. No news or research item is a personal recommendation to deal. If you are unsure about the suitability of an investment please
contact us for advice
.
Important information
-
Please remember the value of investments, and any income from them, can fall as well as rise so you could get back less than you invest. This article is provided to help you make your own investment decisions, it is not advice. If you are unsure of the suitability of an investment for your circumstances please seek advice.
No news or research item is a personal recommendation to deal.
Want our latest research sent direct to your inbox?
Our expert research team provide regular updates on a wide range of funds.
---