Investments can go down as well as up so there is always a danger that you could get back less than you invest. Nothing here is personalised advice, if unsure you should seek advice.
The BlackRock Pacific ex Japan Equity Tracker Fund tracks the FTSE World Asia Pacific ex Japan Index. It invests in the shares of companies listed in the Asia Pacific region, excluding Japan.
Asia Pacific Markets
Asia has historically been a high risk and reward sector, generally suited to more adventurous portfolios.
Shares in Asian companies grew strongly in the mid-2000s, their growth was double the world average in the five years before the financial crisis. With a setback in the 2008-09, Asia kept pace with the world average in subsequent years. Fortunes have turned recently - shares in the region fell by a fifth in a few months during 2015.
Strong growth and market liberalisation in China has been a key driver of performance. Shares have benefitted as China becomes more significant globally - importing from across the region. However fears of a slowing economy have weighed in the markets recently. Just last month, the IMF repeated concerns on the negative global impact from Chinese deceleration.
Commodity markets have also been a factor. Resource rich Australia is a large component of the Asia-Pacific region; mining is a key industry. Rising commodity prices were driving returns, but have dragged as prices have fallen over the last 3 years.
It is hard to say where this region will go next. In the long run, there are many positives - growth may be slowing but is still positive. This is a diverse region, home to many high quality businesses. Our research shows the market's valuation is attractive on a number of metrics. However, this is a higher risk market - there could be further losses before any recovery.
The fund's performance
The BlackRock Pacific ex Japan Equity Tracker is a tracker fund. Its aim is to track its index, the FTSE World Asia Pacific ex Japan Index, as closely as possible. This is a simple approach for an Asian fund: over time it should return close to the market, neither substantially outperforming nor underperforming.
The index covers large and mid-cap companies in a range of developed and higher risk emerging countries from the Asia-Pacific region. Australia is the largest country in the region, just over 30% of the index. The fund does not invest in Chinese A-Shares (the highly volatile domestically listed shares), but is exposed to China through Hong Kong.
BlackRock's team are experts in running index tracking funds. The fund launched in 2005 and has grown over £750m. This gives it the scale to invest in every company in the index - over 500 individual shares. Holding a full portfolio should allow the fund to track the index precisely over time.
This fund is a member of our Core Tracker list - 13 of our favourite tracker funds in each sector. We have negotiated with BlackRock to make the Class H unit of this fund available through our Vantage platform, whose ongoing charge is 0.14%. There is a charge of up to 0.45% p.a. to hold funds in our Vantage Service.
Find out more about the Core Tracker funds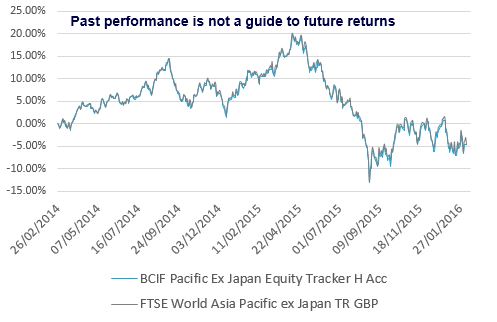 Source: Lipper IM to 01/02/2016.
Past performance is not a guide to future returns. Source: Lipper IM* to 01/02/2016. Fund launched 18th August 2005, class H units launched on 26th February 2014.
Past performance is not a guide to the future
Find out more about this fund including how to invest
Please read the key features/key investor information document in addition to the information above.
Important information
-
Please remember the value of investments, and any income from them, can fall as well as rise so you could get back less than you invest. This article is provided to help you make your own investment decisions, it is not advice. If you are unsure of the suitability of an investment for your circumstances please seek advice.
No news or research item is a personal recommendation to deal.
Want our latest research sent direct to your inbox?
Our expert research team provide regular updates on a wide range of funds.
---