Investments can go down as well as up so there is always a danger that you could get back less than you invest. Nothing here is personalised advice, if unsure you should seek advice.
Andrew Jackson took over management of the CF Miton UK Value Opportunities Fund in July 2016. We recently met the manager to find out more about his experience, investment style, and the changes made to the portfolio.
Who is Andrew Jackson?
Andrew Jackson is a UK equity fund manager with a track record spanning almost 13 years. He managed the EdenTree UK Equity Growth Fund, which invests in UK companies of all sizes, from November 2003 to July 2015. Over this time EdenTree UK Equity Growth performed exceptionally well and grew by 270.4%* compared with 151.5% for its benchmark, the FTSE All Share Index, although past performance does not provide a guide to future returns.
Annual percentage growth
Oct 11 -
Oct 12
Oct 12 -
Oct 13
Oct 13 -
Oct 14
Oct 14 -
Oct 15
Oct 15 -
Oct 16
EdenTree UK Equity Growth
31.6%
35.6%
5.3%
13.0%
3.4%
FTSE All-Share
20.0%
17.4%
5.0%
-1.1%
18.0%
Past performance is not a guide to future returns.
Source: *Lipper IM to 03/10/2016
Performance was mixed over the manager's tenure, however. The chart below shows the fund's performance relative to the benchmark; when the line is rising the fund outperformed its benchmark, and underperformed when the line is falling.
Relative performance of EdenTree UK Equity Growth vs. FTSE All Share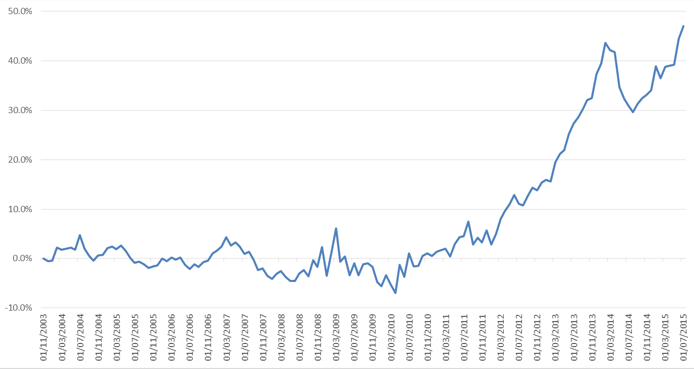 Source: Lipper IM, correct at 01/07/2015
Over Andrew Jackson's first seven years, the fund performed in line with the benchmark. It subsequently delivered impressive returns, which our analysis suggests is a result of the manager's strong stock selection and sector allocation, particularly in consumer-related companies.
How has the fund changed?
George Godber and Georgina Hamilton, previous managers of the CF Miton UK Value Opportunities Fund, adopted a distinct value investment approach. They invested in companies overlooked by, or out of favour with, other investors, which were only purchased if their share prices were cheaper than their true worth. They were disciplined in selling the shares once they reached the managers' target price.
Andrew Jackson subscribes to the 'GARP' (growth at a reasonable price) investment philosophy. While the value of a company is important, the manager will consider a company's growth and earnings prospects before its valuation. He will also maintain an investment in a company for longer even if its valuation becomes less attractive, providing the company's growth prospects remain intact and the share price could rise further, in his view.
Andrew Jackson has so far reduced the fund's exposure to the UK domestic economy and sold investments in companies in which he is less positive about the longer-term earnings growth potential. House builders Barratt Developments and Persimmon, and retailer WH Smith have been sold.
Positions in a number of more internationally-exposed companies, which the manager believes are more likely to prosper regardless of 'Brexit' negotiations, have been initiated. Shares in building materials supplier CRH, which is experiencing improving trade in the US, and technology component manufacturer e2v, which could benefit from a new management team, have been added to the fund.
Given the manager's experience investing in companies of all sizes, he will maintain the fund's bias to higher-risk small and medium-sized businesses.
Our view
We feel Andrew Jackson adopts a sensible investment approach; he seeks companies that are currently underappreciated by other investors, but whose prospects he feels are improving. Their share prices could be set to rise once this potential has been recognised by the wider market. His approach has proved successful in the past and our analysis shows evidence of good stock selection. However, there is no guarantee of future performance.
Similar to the fund's previous managers, Andrew Jackson determines the value of a company's shares before considering an investment, although we feel he is slightly less sensitive to a company's valuation. Existing investors should ensure they are comfortable with the new manager's approach.
The fund does not currently feature on the Wealth 150 list of our favourite funds across the major sectors. The UK All Companies sector features a number of high-quality fund managers, of which we feel we already have a good line-up on the list.
Furthermore, while Andrew Jackson has already made a number of changes, he intends on altering the portfolio further. As such, we would prefer to monitor performance for a longer period and once the changes are complete before considering the fund for the Wealth 150.
Wealth 150
Find out more about this fund including how to invest
Please read the key features/key investor information document in addition to the information above.
Important information
-
Please remember the value of investments, and any income from them, can fall as well as rise so you could get back less than you invest. This article is provided to help you make your own investment decisions, it is not advice. If you are unsure of the suitability of an investment for your circumstances please seek advice.
No news or research item is a personal recommendation to deal.
Want our latest research sent direct to your inbox?
Our expert research team provide regular updates on a wide range of funds.
---