Investments can go down as well as up so there is always a danger that you could get back less than you invest. Nothing here is personalised advice, if unsure you should seek advice.
Jeremy Podger, manager of the Fidelity Global Special Situations Fund, seeks to exploit share price weakness, often caused by other investors misunderstanding a company's valuation or underestimating its growth potential, in his view. In this way he hopes to buy a stock at a reduced price and benefit from a rise in the company's share price as other investors begin to realise its potential. The companies in which the manager invests fit within one of three categories:
Exceptional Value
These are companies where the manager has identified a catalyst that he believes could drive a company's earnings growth ahead of expectations. This category accounts for around half of the fund and currently includes an investment in Yamaha Motor.
Yamaha Motor was hit hard by the financial crisis as many consumers no longer had disposable income with which to purchase motorbikes. The company has been restructuring its operations, using Asian manufacturing to cut costs, and has redefined its range in an effort to rebuild the business. According to the manager, this leaves the firm in a strong position to profit from rising demand for motorbikes, particularly in the US.
Corporate Change
Allocation to this category has been increasing recently and currently accounts for around 30% of the fund. Balance sheets have strengthened following the financial crisis and many companies are now holding higher levels of cash. The manager expects this to lead to increased merger and acquisition activity as firms look to strengthen their industry position. For example, previous holding American Airlines emerged from bankruptcy in 2013 when it merged with US Airways. Jeremy Podger purchased the stock at this point as he felt the merger had strengthened the management and the stock was undervalued relative to its peers. He sold the stock at a profit in February this year.
Unique Businesses
The final portion of the fund is invested in unique businesses with a dominant industry position, strong growth, and the ability to raise prices without reducing demand. These holdings tended to be held for a longer period than stocks in the other two categories and currently include companies such as cable TV provider Time Warner, and IT consultant Cognizant.
The fund currently has 4.6% invested in emerging markets and the flexibility to invest in derivatives, both of which add risk.
Our view on this fund
Jeremy Podger assumed management of this fund in March 2012. Since this time, it has risen 59.2%* compared with 43% for the MSCI AC World Index and 37.9% for the average fund in the sector, although please remember past performance is not a guide to future returns. Performance had been relatively lacklustre under previous management, so we are pleased to see this turnaround.
We would like to see a sustained improvement in performance over a prolonged period before considering the fund for inclusion in the Wealth 150 list of our favourite funds across the major sectors. Jeremy Podger previously managed a global fund at Threadneedle where he showed some ability to outperform, though this had not always been consistent. We will continue to monitor performance and will inform investors if our views change.
Performance of the Fidelity Global Special Situations Fund over the manager's tenure.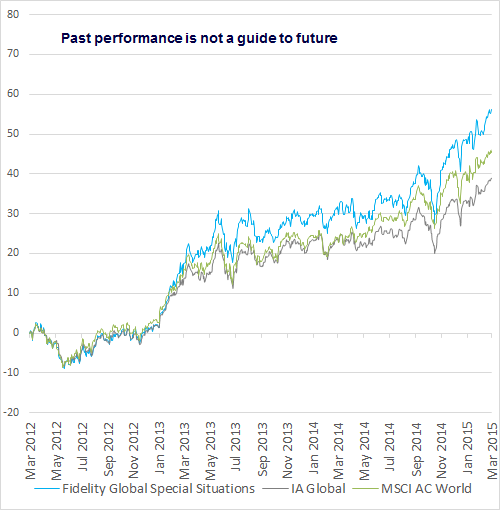 Annual percentage growth
July 10 -
July 11
July 11 -
July 12
July 12 -
July13
July 13 -
July 14
July 14 -
July 15
MSCI AC World
25.05%
-4.35%
21.15%
9.68%
10.99%
IA Global
20.09%
-6.95%
20.58%
8.21%
10.23%
Fidelity Global Special Situations Fund
17.84%
-10.13%
29.02%
8.04%
19.49%
Past performance is not a guide to future returns. Lipper IM* to 01/07/2015
Find out more about this fund including how to invest
Please read the key features/key investor information document in addition to the information above.
The value of investments can go down as well as up, this means you could get back less than you invested. Therefore all investments should be regarded with a long term view. No news or research item is a personal recommendation to deal. If you are unsure about the suitability of an investment please
contact us for advice
.
Important information
-
Please remember the value of investments, and any income from them, can fall as well as rise so you could get back less than you invest. This article is provided to help you make your own investment decisions, it is not advice. If you are unsure of the suitability of an investment for your circumstances please seek advice.
No news or research item is a personal recommendation to deal.
Want our latest research sent direct to your inbox?
Our expert research team provide regular updates on a wide range of funds.
---