Investments can go down as well as up so there is always a danger that you could get back less than you invest. Nothing here is personalised advice, if unsure you should seek advice.
Away from the hustle and bustle of London resides one of the country's leading UK equity teams. Based in Leeds, Franklin's UK team have quietly grown into a highly-successful investment group. We believe the five-strong team is amongst the most talented in the industry.
The team operate in a collaborative environment in which they are encouraged to discuss and share ideas. Over nine years ago, they took the opportunity to launch the Franklin UK Managers' Focus Fund to take advantage of this approach. The fund combines the expertise of four of the team's talented fund managers, in one concentrated portfolio of their best ideas.
The portfolio provides diversified exposure to the UK stock market, investing in larger firms as well as higher-risk small and medium-sized companies. Each manager has ownership of a portion of the portfolio dedicated to their specific area of expertise.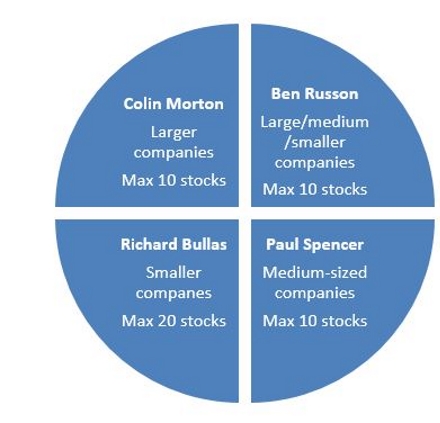 Working as a close-knit unit, each stock is carefully considered by the whole team before any changes are made to the portfolio. The four managers also have the support of Mark Hall, a long-standing member of the team and a successful analyst and investment manager in his own right. He also provides an oversight role in terms of overall portfolio positioning.
We have recently negotiated a reduced fee share class of this fund for Hargreaves Lansdown clients. The new discounted ongoing fund charge of 0.64% is reduced from the standard ongoing charge of 0.84%. This is in addition to the Vantage charge of up to 0.45% per annum (view our charges). The combination of one of the UK's strongest teams with an attractive fee makes this fund one of most exciting propositions in the UK sector, in our view. Existing investors are able to convert their existing units into the new share class in order to receive the lower charge.
Portfolio performance
The fund initially had a strong start after its launch in September 2006, however, over the following few years it struggled to outperform. In 2008, exposure to a number of small, lower-quality oil and mining companies proved hurtful, while a few holdings in UK banks also held back returns.
The fund subsequently went through a management change in 2012 and the composition of the smaller companies element of the portfolio moved away from its focus on higher-risk, resources-related stocks, which were preferred by the previous manager. Over time, the team have worked towards sharing the same disciplined approach, with a bias towards high-quality companies with strong balance sheets, shareholder-friendly management and sustainable business models.
Performance has been particularly strong since mid-2012. Over this time the fund has delivered a return of 77.1%* against 29.5% for the FTSE All Share index, although please remember past performance does not serve as a guide to future returns. Our analysis suggests the fund has benefited from the managers' superior stock selection, while a bias towards small and medium-sized companies, as well as avoiding underperforming oil, mining and banking stocks, has also helped.
Annual percentage growth
March 11 -
March 12
March 12 -
March 13
March 13 -
March 14
March 14 -
March 15
March 15 -
March 16
Franklin UK Managers Focus
2.5%
11.8%
35%
9.4%
-1.1%
FTSE All-Share
3.4%
13.3%
11.2%
7.1%
-7.2%
Source: Lipper IM to *01/03/2016. Past performance is not a guide to future returns.
Our verdict
We have held Franklin's UK team in high regard for many years. Working in a collegiate environment has seen this fund thrive over the longer term and we believe their high-conviction approach is capable of producing superior long-term returns from the UK market. The fund currently invests in 42 companies – the concentrated nature of the portfolio means each stock contributes meaningfully to returns, although it also increases the level of risk.
We view this fund as one of the finest in its sector and when combined with the reduced charge, we believe it deserves a place on the Wealth 150+ list of our favourite funds with the lowest ongoing fund charges.
Find out more about this fund including how to invest
Please read the key features/key investor information document in addition to the information above.
Important information
-
Please remember the value of investments, and any income from them, can fall as well as rise so you could get back less than you invest. This article is provided to help you make your own investment decisions, it is not advice. If you are unsure of the suitability of an investment for your circumstances please seek advice.
No news or research item is a personal recommendation to deal.
Want our latest research sent direct to your inbox?
Our expert research team provide regular updates on a wide range of funds.
---