Investments can go down as well as up so there is always a danger that you could get back less than you invest. Nothing here is personalised advice, if unsure you should seek advice.
Mike Kerley assumed responsibility for the Henderson Asian Dividend Income Fund in November 2009. During this time he has constructed a portfolio of quality companies with sustainable earnings, with the aim of achieving a high income as well as the potential for dividend and capital growth over time.
Presently the fund yields an attractive 6.5% (variable and not guaranteed). Investors should note the manager uses options to enhance the income paid and this could impact the fund's potential for capital growth.
Since launch the fund's total return, with income reinvested, of 38.6%* has outperformed the IA Asia Pacific ex Japan sector by 2.8%, however, it has underperformed the FTSE AW Asia Pacific ex Japan Index by 1.4%. We would prefer to see a greater level of outperformance over the long term and at present the fund does not feature on the Wealth 150 list of our favourite funds across the major sectors. Please remember past performance is not a guide to future returns.
Annual percentage growth
March 11 -
March 12
March 12 -
March 13
March 13 -
March 14
March 14 -
March 15
March 15 -
March 16
FTSE AW Asia Pacific ex Japan
1.6%
17.2%
-11.8%
20.3%
-11.2%
Henderson Asian Dividend Income
5.2%
23.7%
-12.7%
17.3%
-8.8%
IA Asia Pacific ex Japan
0.5%
17.1%
-10.4%
18.1%
-9.6%
Source: Lipper IM to *01/03/2016. Past performance is not a guide to future returns.
Portfolio review
The past year has proven a particularly volatile period for Asian and emerging stock markets. Slowing growth in China, increased volatility in the currency markets, and geopolitical risks in the Middle East have all played their part in dampening investor sentiment towards the region.
Some Asian companies have struggled in this environment and experienced weakness in their earnings. Economically-sensitive sectors, such as energy, resources, and automobiles, have seen the greatest deterioration in earnings and dividends, according to Mike Kerley. Elsewhere in some of the defensive areas of the market, such as healthcare and utilities, falling earnings have been minor in comparison, while some domestically-focused industries have continued to grow their earnings, including insurance. The dividends paid by companies in these latter sectors have also proven more resilient and is where the fund is currently focused .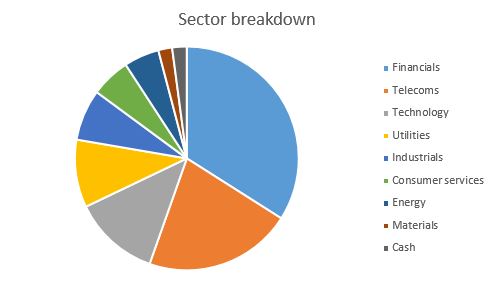 Geographically, China represents one of the fund's largest country weightings. It should be expected that China goes through a period of slower growth as it transitions from its focus on manufacturing and investment-led growth to domestic consumption. The media has exaggerated the severity and impact of the slowdown, which is masking the underlying investment opportunities, in Mike Kerley's view.
The manager has recently reduced exposure to Chinese financials, although he is positive in his outlook for consumer-related and technology companies. Current holdings include NetEase, a leading developer of mobile and online games.
The fund also holds a 13.2% exposure to South Korea, where Mike Kerley sees ongoing improvements in corporate governance. Its government now penalises companies for hoarding excess cash and, as a result, he expects businesses to increase dividends paid to shareholders over time. Korea Electric Power is currently the fund's largest holding - in the manager's view, falling costs and capital expenditure should translate into greater cash generation and dividends.
Please note the fund is a relatively concentrated portfolio of 57 holdings currently. This means each stock can have a significant impact on performance but this is a higher-risk strategy.
Find out more about this fund including how to invest
Please read the key features/key investor information document in addition to the information above.
Important information
-
Please remember the value of investments, and any income from them, can fall as well as rise so you could get back less than you invest. This article is provided to help you make your own investment decisions, it is not advice. If you are unsure of the suitability of an investment for your circumstances please seek advice.
No news or research item is a personal recommendation to deal.
Want our latest research sent direct to your inbox?
Our expert research team provide regular updates on a wide range of funds.
---