Investments can go down as well as up so there is always a danger that you could get back less than you invest. Nothing here is personalised advice, if unsure you should seek advice.
Key Points
Chris Burvill uses a simple yet flexible investment approach, investing in shares, bonds, and cash.
His focus on undervalued companies has proven a headwind in the short term, but long-term performance remains strong.
We feel the fund could capture some of the long-term growth potential of shares, but by taking a more cautious approach.
Chris Burvill likes to keep things simple. In running the Henderson Cautious Managed Fund he focuses on three key asset classes: shares, bonds and cash. The equity portion predominantly focuses on UK shares, while the fixed interest portion has a bias towards government and corporate bonds. There is also some exposure to higher-risk, high-yield bonds. On the other hand the manager tends to avoid overseas shares, commodities, currencies, and property.
Over the long term the manager's straightforward approach has proven a success - the fund has grown by 55.6%* over the past decade compared with 33.8% for the average fund in its sector, although please remember past performance is not a guide to future returns.
Annual percentage growth
March 11 -
March 12
March 12 -
March 13
March 13 -
March 14
March 14 -
March 15
March 15 -
March 16
Henderson Cautious Managed
3.0%
11.7%
10.5%
6.0%
-3.9%
IA Mixed Investment 20-60% Shares
2.2%
8.7%
4.8%
7.3%
-3.3%
Source: Lipper IM to *01/03/2016. Past performance is not a guide to future returns.
In the shorter term, the fund has faced a number of headwinds, meaning it has marginally underperformed the peer group over the past year. Over this time the UK stock market, to which the fund is biased, underperformed other developed markets such as the US and Europe. This undermined the fund's performance versus its more internationally-exposed peers.
The fund's value bias has also acted as a drag on returns. Chris Burvill has a preference for undervalued companies often with attractive yields, which may have fallen out of favour with investors but where he sees the potential for a turnaround on the horizon. Yet this style of investing has not been rewarded over the past year. Instead many investors have favoured the perceived safety of higher-quality growth stocks, favoured for their defensive characteristics and stable earnings.
Chris Burvill has, however, taken advantage of the share price weakness by topping up or investing in new opportunities that he believes will bear fruit over the long term. Last year, for instance, the manager increased exposure to unloved oil and mining companies, while he has also maintained exposure to food retailers, such as Tesco.
Presently, equities account for 53% of the portfolio, which is near the top of its range (the fund can invest a maximum of 60% in shares). The remainder is held in bonds (34%) and cash (13%).
One third of the bond element is currently invested in index-linked bonds. The income paid by these bonds is indexed against inflation. While Chris Burvill does not envisage an inflationary spike in the near term, he believes inflation could build slowly over the course of this year.
The overall bond portfolio is positioned fairly conservatively, although the manager recently topped up exposure to higher-risk high yield bonds following a period of weakness in the market. In particular, the manager focused on bonds issued by financial businesses such as Prudential. High yield bonds currently account for around 9% of the bond portfolio, which equates to more than 3% of the fund's total.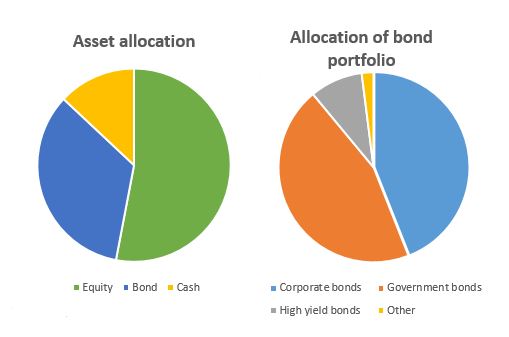 Source: Henderson, correct at 31/01/2016
Our view on this fund
In our view, Chris Burvill is an experienced and high-quality fund manager with a commendable track record. The fund's value-focused approach and bias towards UK shares has recently held back performance against its peers, however, the manager's longer-term track record is exceptional.
We continue to favour Chris Burvill's straightforward yet flexible investment approach, providing diversified exposure across shares, bonds and cash. We feel the fund has the potential to harness some of the long-term growth potential of shares, while the fixed interest and cash portion should provide some shelter during tougher times for the market. The fund currently features on the Wealth 150+ list of our favourite funds at the lowest ongoing fund charge. The Vantage charge of up to 0.45% per annum also applies.
Please note the fund's charges can be taken from capital, which can increase the yield but reduces the potential for capital growth.
Find out more about this fund including how to invest
Please read the key features/key investor information document in addition to the information above.
Important information
-
Please remember the value of investments, and any income from them, can fall as well as rise so you could get back less than you invest. This article is provided to help you make your own investment decisions, it is not advice. If you are unsure of the suitability of an investment for your circumstances please seek advice.
No news or research item is a personal recommendation to deal.
Want our latest research sent direct to your inbox?
Our expert research team provide regular updates on a wide range of funds.
---