Investments can go down as well as up so there is always a danger that you could get back less than you invest. Nothing here is personalised advice, if unsure you should seek advice.
Glen Finegan joined Henderson Global Investors as Head of Global Emerging Market Equities at the start of this year. He has assumed responsibility for the group's emerging market franchise in the UK and took over lead management of the Henderson Emerging Markets Opportunities Fund on 1 February 2015.
Glen Finegan has implemented a significant change in investment philosophy and process since taking over the fund. He adopts a 'bottom-up' approach to investing, believing underlying trends within a business are more important when assessing its value than fluctuations in the wider economy. The manager will seek high-quality companies, run by management teams with good track records, and a good record of corporate governance. A company should also be trading on a reasonable valuation in order to be considered for the portfolio.
The manager's quality criteria means the fund has recently been tilted away from lower-quality holdings in more economically-sensitive areas of the market. The fund now has a greater bias towards more defensive sectors that are expected to prove more resilient throughout an economic cycle, and which could benefit from domestic consumption across the region. Overall it is a relatively concentrated portfolio of 56 stocks which allows each holding to have a significant impact on returns, but this is a higher-risk approach.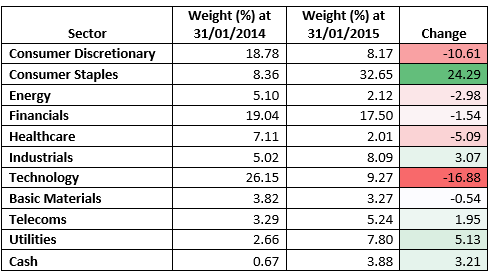 Source: Henderson, correct at 31/01/2015
An example of a company that meets Glen Finegan's quality criteria is HDFC,a leading provider of housing finance in India. The points below outline factors considered as part of his analysis and stock selection process.
Management
High-quality, long-serving board and management team with an enviable record of strong governance
Franchise
Extremely well-respected brand, both in India and internationally
Business has proven robust throughout several economic cycles
Financials
Conservative approach to balance sheet gearing
Funded by equity, deposits and long-term debt rather than riskier short-term financing

Growth
Low levels of consumer credit penetration in India means the outlook for growth is robust as the economy matures
In addition to housing finance the business is well-positioned for growth in life insurance via its joint venture with Standard Life, and general banking via its stake in HDFC Bank
Valuation
Not cheaply valued, but an exceptional track record and high levels of return on equity (a measure of how well a company uses shareholders' money to generate a profit) means a position is justified

Initial portfolio holding
3.5%
Our view on this fund
Following several years of disappointing performance under the previous manager, we view the change in management as a positive. Glen Finegan previously worked for First State for 13 years where he was a senior member of the team managing Asian and emerging markets portfolios. He will adopt a similar philosophy and process used during his time at First State and we like his focus on both quality and valuation. The new manager will also have the support of Henderson's Emerging Markets Equities team, which he will be looking to build further over the coming year.
We would like to see the manager settle into his new role and the team at Henderson before considering the adventurous fund for inclusion on the Wealth 150 list of our favourite funds across the major sectors.
Find out more about this fund including how to invest
Please read the key features/key investor information document in addition to the information above.
The value of investments can go down as well as up, this means you could get back less than you invested. Therefore all investments should be regarded with a long term view. No news or research item is a personal recommendation to deal. If you are unsure about the suitability of an investment please
contact us for advice
.
Important information
-
Please remember the value of investments, and any income from them, can fall as well as rise so you could get back less than you invest. This article is provided to help you make your own investment decisions, it is not advice. If you are unsure of the suitability of an investment for your circumstances please seek advice.
No news or research item is a personal recommendation to deal.
Want our latest research sent direct to your inbox?
Our expert research team provide regular updates on a wide range of funds.
---