Investments can go down as well as up so there is always a danger that you could get back less than you invest. Nothing here is personalised advice, if unsure you should seek advice.
This fund is run by experienced managers with the support of a well-resourced team
They focus on undervalued and unloved companies with longer-term growth potential
Good stock selection has helped recent performance
Invesco Perpetual is one of the UK's most renowned investment groups, though its Asian equities team is often overshadowed by other high-profile managers investing in the Asia Pacific region. Over the years, however, the group has quietly built its Asian expertise and a suite of funds run by an experienced team of managers.
Stuart Parks, Invesco Perpetual's Head of Asian Equities, has managed the group's Asian Fund for more than a decade and draws upon 26 years' experience. William Lam was appointed the fund's co-manager in April 2015 after joining the Asian equities team in 2006.
The managers employ a flexible investment approach and combine their wider economic views with individual company analysis. Broader economic factors have greater influence on the fund's positioning during periods of significant economic or stock market volatility, although individual stock selection always plays an important role in constructing the portfolio.
Stuart Parks and William Lam seek companies whose share prices they believe are below their true worth. This tends to lead them to out-of-favour areas of the market and companies they feel have been unfairly dismissed by other investors. Once the longer-term potential of these companies has been recognised by other investors, their share prices could be set to rise.
This contrarian investment style has led to the fund's bias to South Korea, for example. In the managers' view, many companies located here are avoided by other investors as Korea has historically suffered from poorer levels of corporate governance and lower dividend pay-outs. They feel this culture is gradually changing, however, and the fund is positioned to benefit.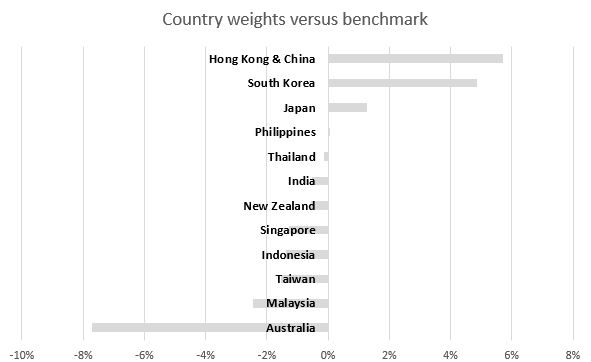 Source: Invesco Perpetual, correct at 30 September 2016
The fund invests in emerging markets and is a relatively concentrated portfolio of 55 stocks, both of which increases risk.
Performance
The fund has outperformed the broader Asian market over Stuart Parks' tenure, although prior to this year performance tended not to deviate significantly from that of the stock market. Our analysis suggests country allocation boosted performance, while the impact of stock selection was muted. The chart below shows the fund's performance relative to the FTSE AW Asia Pacific ex Japan Index; when the line is rising the fund outperformed, and underperformed when the line is falling.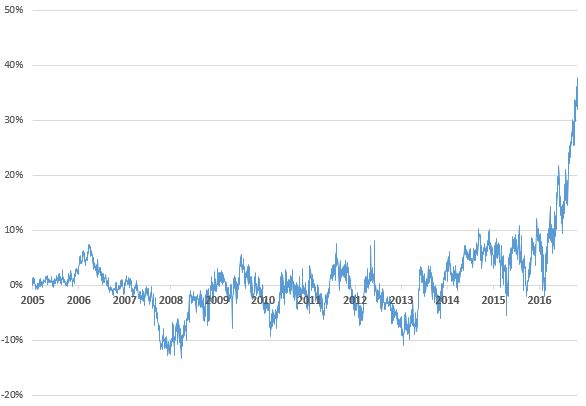 Past performance is not a guide to the future.
Source: Lipper IM, correct at 01/11/2016
Annual Percentage Growth
Nov 11 -
Nov 12
Nov 12 -
Nov 13
Nov 13 -
Nov 14
Nov 14 -
Nov 15
Nov 15 -
Nov 16
Invesco Perpetual Asian
4.9
13.7
7.1
-5.9
46.9
FTSE AW Asia Pacific ex Japan
8.5
12.9
4.0
-6.7
38.4
Source: Lipper IM to 01/11/16
Past performance is not a guide to future returns.
2016 has been a stronger year for the fund so far and our research shows stock selection has made a significant contribution to returns. The managers believe there are three main reasons for this performance:
Exposure to Chinese internet companies, which have performed strongly. Netease, for example, was added to the portfolio in 2012 when the team felt it was out of favour. The company has since developed several successful mobile games and continued to grow its profits.
Investments in Australian commodity-related businesses, which have benefited from a recent rise in commodity prices. For instance, the managers purchased Mineral Resources in late 2015; they believed it was undervalued by other investors despite its strong balance sheet and cash flows.
Other investments including Chinese auto-parts supplier Minth.
Our view on this fund
The Asian equities team at Invesco Perpetual has expanded into a knowledgeable outfit, with each team member bringing their own set of strengths to the table. Their collaborative approach has come to fruition over time and investors have been rewarded for their patience, particularly in recent years.
We feel the fund's focus on unloved and undervalued areas of the market offers something different to many others in the sector. The team's pragmatic approach offers the potential to deliver good long-term returns for investors, in our view, although we would prefer to see the current managers build on their track record together for a longer period before considering the fund for the Wealth 150 list of our favourite funds across the major sectors.
Find out more about this fund including how to invest
Please read the key features/key investor information document in addition to the information above.
Important information
-
Please remember the value of investments, and any income from them, can fall as well as rise so you could get back less than you invest. This article is provided to help you make your own investment decisions, it is not advice. If you are unsure of the suitability of an investment for your circumstances please seek advice.
No news or research item is a personal recommendation to deal.
Want our latest research sent direct to your inbox?
Our expert research team provide regular updates on a wide range of funds.
---