Investments can go down as well as up so there is always a danger that you could get back less than you invest. Nothing here is personalised advice, if unsure you should seek advice.
Along with the rest of the world, Europe continues to grapple with sluggish economic growth, low commodity prices, and a slowdown in China. Yet Jeffrey Taylor, manager of the Invesco Perpetual European Equity Fund is confident these issues will not blow the continent too far off the path to recovery.
A lower oil price, for example, should prove valuable to consumers who are paying less for their energy, while low interest rates mean businesses should benefit from lower borrowing costs. Elsewhere, actions from the European Central Bank (ECB) continue to look supportive for European markets. The ECB recently announced it will extend the length of its quantitative easing programme, while also cutting deposit rates further into negative territory.
Jeffrey Taylor's outlook has led him to favour attractively-valued sectors he feels will benefit from a domestic European recovery, such as telecommunications and financials. Financial companies currently comprise 30.8% of the portfolio, while exposure to the telecoms sector has increased to 13.4%. Existing positions have been added to, such as Spanish telecoms operator Telefonica.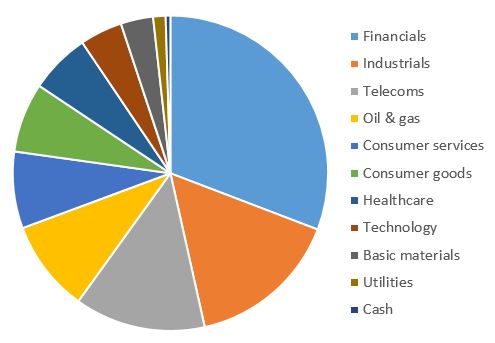 Source: Invesco Perpetual, correct at 31/12/2015
Jeffrey Taylor also views the oil & gas industry as particularly undervalued. Following a torrid time for the sector, many companies are now undergoing restructuring by cutting costs and replacing management teams, for example. The manager has recently added to the fund's exposure here, topping up existing holdings including Repsol, which is working on improving efficiency and reducing capital expenditure.
Elsewhere, the manager has added exposure to the technology sector. He recently initiated a position in Nokia, encouraged by the mobile phone company's prospects following the acquisition of French rival Alcatel-Lucent.
In contrast, Jeffrey Taylor has generally avoided the consumer goods sector where the valuations of many companies are too high, in his view. Indeed, exposure to the sector has recently reduced to 7.1% after a position in Michelin, the French tyre manufacturer, was sold from the portfolio. Please note this is a relatively concentrated portfolio of 55 holdings allowing each holding to have a significant impact on performance, but it is a higher-risk approach.
Our view on this fund
In our view this fund could benefit in an environment where areas more sensitive to Europe's economic recovery are performing well. Jeffrey Taylor tends to tilt the portfolio towards attractively-valued areas of the market, meaning the positioning of the fund will vary over time depending on where he sees the greatest value.
Jeffrey Taylor is an experienced European equity manager and has managed the Invesco Perpetual European Equity Fund for over 15 years. Over this time the fund has outperformed the IA Europe ex UK sector by 28.1%*, although much of this outperformance was achieved from mid-2012 to the end of 2014. Please note past performance should not be seen as a guide to future returns.
Annual percentage growth
Feb 11 -
Feb 12
Feb 12 -
Feb 13
Feb 13 -
Feb 14
Feb 14 -
Feb 15
Feb 15 -
Feb 16
Invesco Perpetual
European Equity
-14.4%
19.1%
24.6%
4.8%
-1.3%
IA Europe ex UK
-11.4%
23.3%
12.1%
5.1%
1.5%
Past performance is not a guide to future returns. Source: Lipper IM* to 01/02/2016.
We feel the fund's performance has been respectable over the long term and believe it has the potential to deliver above-average returns over a prolonged period. That said, the manager's track record has been less consistent than our favoured managers in this sector. In our view, there are other European equity managers that have added greater value through stock selection over the long term and, therefore, this fund does not currently feature on the Wealth 150 of our favourite funds across the major sectors.
Find out more about this fund including how to invest
Please read the key features/key investor information document in addition to the information above.
Important information
-
Please remember the value of investments, and any income from them, can fall as well as rise so you could get back less than you invest. This article is provided to help you make your own investment decisions, it is not advice. If you are unsure of the suitability of an investment for your circumstances please seek advice.
No news or research item is a personal recommendation to deal.
Want our latest research sent direct to your inbox?
Our expert research team provide regular updates on a wide range of funds.
---