Investments can go down as well as up so there is always a danger that you could get back less than you invest. Nothing here is personalised advice, if unsure you should seek advice.
In recent years investors have favoured companies with predictable earnings and the ability to grow profits steadily year in year out. Many large, consumer-focused businesses have performed well, including those which sell essential goods and services which are bought again and again through necessity, loyalty or habit.
'Defensive' businesses such as these have been popular across most major stock markets, including Japan. Investors have been willing to pay higher and higher prices for their shares in the belief sales and earnings will keep growing.
Ruth Nash and Scott McGlashan, managers of the JO Hambro Japan Fund, do not believe the prospects for these companies justifies the high prices and they have not been willing to invest. This has counted against them over the past couple of years and the fund has struggled.
A similar situation occurred earlier in Scott McGlashan's career when he worked for a different firm. In the early 1990's all investors wanted was exposure to Japan's big international brands, such as Sony, which were expanding aggressively overseas. Ultimately investors who paid too high a price suffered and Scott McGlashan's fund went on to perform well. He believes he will be proved correct again.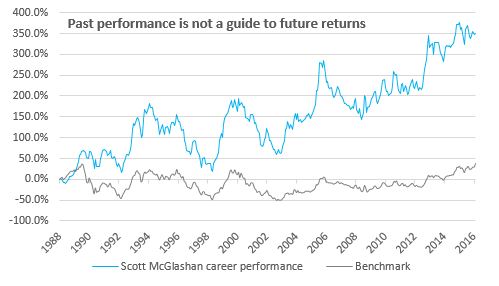 Past performance is not a guide to the future. Source: HL to 30/06/2016
Scott McGlashan managed Invesco Perpetual Japan from May 1988 to December 1999, Close Finsbury Japan from June 2000 to May 2004, and JOHCM Japan from launch in June 2004. Ruth Nash has worked alongside him since 2005 and she has 31 years' experience in total.
Rather than pay over the odds for large, defensive businesses, the managers have significant exposure to smaller and medium-sized companies, which are higher risk than their larger counterparts. They are able to find many profitable, cash-generative companies in this area of the market with growth prospects that are being ignored by other investors.
The managers also favour firms with exposure to the domestic economy, which should benefit from reforms enacted by Shinzo Abe, Japan's Prime Minister. His policies – dubbed 'Abenomics' – have involved keeping interest rates low, injecting money into the economy to boost growth and introducing measures to improve corporate governance. The managers have found a number of opportunities in the following areas:
Banks & financial companies – investors have been negative on the prospects for banks and assumed low interest rates will reduce profits on the loans they make. However, Ruth Nash and Scott McGlashan note that some banks derive the majority of their revenue from fees and they should be able to maintain profitability. They have invested in Sumitomo Mitsui Trust (a bank) and a number of medium-sized brokers, which also generate a high proportion of revenue from recurring fees.
Real Estate and construction – these companies should benefit from low interest rates and an improving economy as cheaper loans and mortgages help fuel construction activity. The managers have invested in Sekisui House, a house builder which is efficiently run and is growing its market share.
Our view on this fund
Ruth Nash and Scott McGlashan have never had so much of their fund invested in small and medium-sized companies. While investors retain a preference for larger companies which are perceived to offer resilience in uncertain times the fund is likely to struggle. Over the past five years it has grown by 44%* compared with 50% for the average fund in the IA Japan Sector and 55% for the Topix Index, although past performance is not a guide to the future.
All fund managers go through periods of weaker performance, but we are pleased the managers are sticking to their tried and tested approach. They are experienced investors and we believe their current emphasis on profitable companies with overlooked prospects will ultimately be rewarded, although there are no guarantees. The fund remains on the Wealth 150 list of our favourite funds.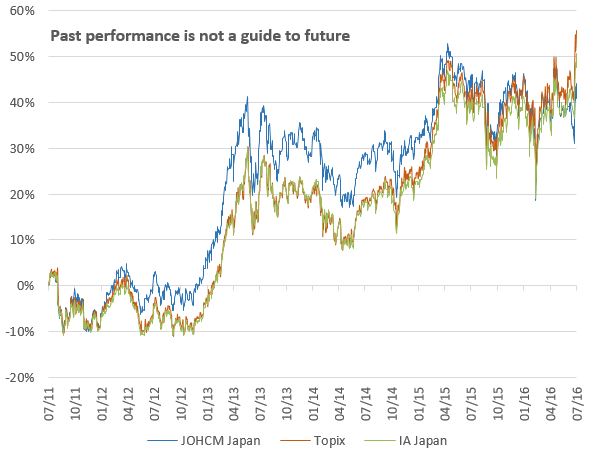 Annual percentage growth
July 11 -
July 12
July 12 -
July 13
July 13 -
July 14
July 14 -
July 15
July 15 -
July 16
JOHCM Japan
2.0%
28.9%
-2.0%
11.7%
0.2%
Topix
-3.8%
25.4%
-1.3%
18.3%
10.5%
IA Japan
-5.0%
27.4%
-2.3%
17.6%
8.3%
Past performance is not a guide to future returns.
Source: Lipper IM* to 01/07/2016
Please note the fund carries a performance fee and as it is an offshore fund you are not normally entitled to compensation through the UK Financial Services Compensation Scheme. If you are considering an investment please ensure you read the fund's Key Investor Information Document which contains further details.
Find out more about this fund including how to invest
Please read the key features/key investor information document in addition to the information above.
Important information
-
Please remember the value of investments, and any income from them, can fall as well as rise so you could get back less than you invest. This article is provided to help you make your own investment decisions, it is not advice. If you are unsure of the suitability of an investment for your circumstances please seek advice.
No news or research item is a personal recommendation to deal.
Want our latest research sent direct to your inbox?
Our expert research team provide regular updates on a wide range of funds.
---