Investments can go down as well as up so there is always a danger that you could get back less than you invest. Nothing here is personalised advice, if unsure you should seek advice.
Over the past year concerns have mounted over slowing global economic growth. In this environment many investors have favoured the perceived safety of more defensive areas of the market. High-quality companies, expected to deliver sustainable sales and earnings growth, have therefore performed particularly well over the course of the year.
According to Cédric de Fonclare, manager of the Jupiter European Special Situations Fund, the valuations of these higher-quality businesses have reached unsustainable levels. In particular food and beverage companies have benefited from this trend, so the manager has generally avoided this area of the market.
Going forward, Cédric de Fonclare will continue to seek profitable companies with growth potential that he feels offer some resilience against future economic shocks, whilst keeping a careful eye on valuations. He also aims to avoid 'value traps', in which firms are valued attractively, but are in terminal decline or incapable of positive change.
Chemicals-company Sika, for example, is a current portfolio holding. The company has held onto cost savings, while some of its competitors have struggled against a backdrop of declining commodity prices. The manager suggests Sika benefits from its unique product line, such as adhesives that cut the cost of assembly for cars, which customers may struggle to find elsewhere. The business has proven successful across the globe, generating growth even in challenging markets such as Brazil.
Valeo, which supplies products to automotive manufacturers, is also held in the fund. Cédric de Fonclare believes the company will benefit from the development of self-driving cars, as well as the trend of electronic components making up a greater proportion of the cost of new vehicles.
Our view on this fund
The Jupiter European Special Situations Fund was removed from the Wealth 150 list of our favourite funds across the major sectors in March 2015. After conducting a full review of the IA Europe (excluding UK) sector, we felt this fund had not added enough value ahead of its peers in recent years. In addition the fund has a relatively high management fee. Where we feel a fund is exceptional, it can be worth paying a higher management charge, otherwise we generally prefer funds with lower fees.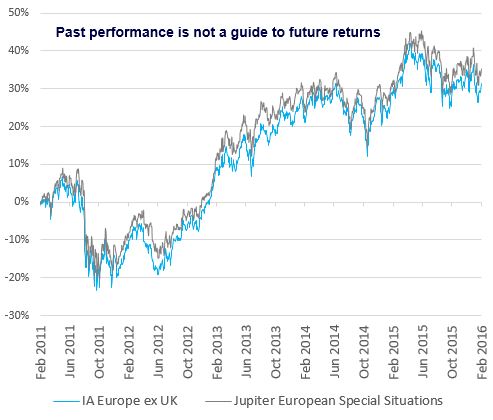 Annual percentage growth
Feb 11 -
Feb 12
Feb 12 -
Feb 13
Feb 13 -
Feb 14
Feb 14 -
Feb 15
Feb 15 -
Feb 16
Jupiter European Special Situations
-8.5%
23.2%
11.1%
4.6%
3.1%
IA Europe ex UK
-11.4%
23.3%
12.1%
5.1%
2.2%
Past performance is not a guide to future returns. Source: Lipper IM to 01/02/2016.
Cédric de Fonclare is an experienced European fund manager and we believe his focus on quality and attractively-valued companies, backed by a strong management team and good earnings growth, could see the fund fare well over the long term. That said, we currently hold the remaining Wealth 150 fund managers in higher regard.
Our preferred funds for new investment in the IA Europe (excluding UK) sector currently feature on the Wealth 150. Please note that in addition to a fund's management fees, our Vantage charge of up to 0.45% per annum also applies.
Find out more about this fund including how to invest
Please read the key features/key investor information document in addition to the information above.
Important information
-
Please remember the value of investments, and any income from them, can fall as well as rise so you could get back less than you invest. This article is provided to help you make your own investment decisions, it is not advice. If you are unsure of the suitability of an investment for your circumstances please seek advice.
No news or research item is a personal recommendation to deal.
Want our latest research sent direct to your inbox?
Our expert research team provide regular updates on a wide range of funds.
---