Investments can go down as well as up so there is always a danger that you could get back less than you invest. Nothing here is personalised advice, if unsure you should seek advice.
Simon Somerville has announced his intention to leave Jupiter and Dan Carter has taken over as manager of the Jupiter Japan Income Fund, having previously been Deputy Manager.
Dan Carter joined Jupiter in 2008 as an analyst on the Far Eastern Equities team and has worked closely with Simon Somerville since. In addition to his role as Deputy Manager on the Jupiter Japan Income Fund he has managed the JGF Jupiter Japan Select Fund since October 2013, having also been Deputy Manager on that fund for the two previous years.
No material changes to the Jupiter Japan Income Fund are anticipated. Dan Carter and Simon Somerville have a similar investment approach. Both look for cash-generative companies with a competitive advantage and growth prospects which are not being recognised by other investors. The portfolio is concentrated, which allows each investment to have a significant impact on performance, but this is a higher risk approach.
There is significant overlap between the Jupiter Japan Income Fund and the Jupiter Japan Select Fund and they will be managed alongside each other under Dan Carter. That said, in the period during which Dan Carter was lead manager on the JGF Jupiter Japan Select Fund it underperformed the Jupiter Japan Income Fund by over 6%*. Past performance should not be seen as a guide to future returns.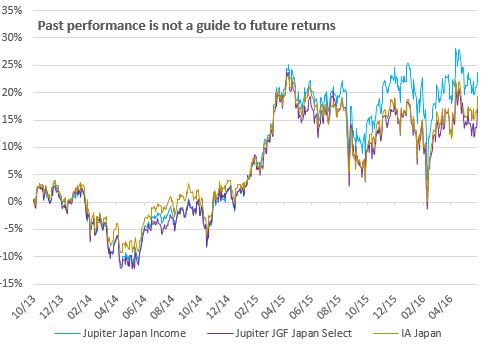 Annual percentage growth
June 11 -
June 12
June 12 -
June 13
June 13 -
June 14
June 14 -
June 15
June 15 -
June 16
Jupiter Japan Income
-6.2%
21.5%
-3.0%
28.3%
1.2%
JGF Jupiter Japan Select
-6.2%
22.2%
-3.4%
26%
-1.9%
IA Japan
-5.0%
25.9%
0.3%
25.7%
-1.8%
*Source: Lipper IM to 01/06/2016. Past performance is not a guide to future returns.
The bulk of the disparity in performance was caused by two individual stocks. The most meaningful was Nomura Co. which was held in Jupiter Japan Income, but not JGF Jupiter Japan Select. It subsequently performed well, to the advantage of the former and disadvantage of the latter. Similarly, Dan Carter invested in Rakuten in the Select fund and the company went on to perform poorly. However, Simon Somerville did not invest in the company, which benefited his fund.
Dan Carter has a total of 12 years' experience analysing Japanese equities. However, his fund management track record is relatively short and in light of this we feel it is prudent to remove the fund from the Wealth 150 which is reserved for the fund managers we believe have the best prospects.
Please note the fund's charges can be taken from capital which can increase the yield but reduces the potential for capital growth.
Find out more about this fund including how to invest
Please read the key features/key investor information document in addition to the information above.
Important information
-
Please remember the value of investments, and any income from them, can fall as well as rise so you could get back less than you invest. This article is provided to help you make your own investment decisions, it is not advice. If you are unsure of the suitability of an investment for your circumstances please seek advice.
No news or research item is a personal recommendation to deal.
Want our latest research sent direct to your inbox?
Our expert research team provide regular updates on a wide range of funds.
---