Investments can go down as well as up so there is always a danger that you could get back less than you invest. Nothing here is personalised advice, if unsure you should seek advice.
Jan Luthman and Stephen Bailey, managers of the Liontrust Macro Equity Income Fund, seek to identify economic themes which have gone unnoticed by other investors. They select companies they believe will benefit from the development of these themes over the long term while avoiding companies exposed to negative themes.
Performance has been good over the past five years with the fund outperforming the FTSE All Share Index by 12.4%* although this should not be seen as an indicator of future returns.
Percentage growth of the Liontrust Macro Equity Income Fund over 5 years
Past performance is not a guide to future returns. Source Lipper IM * to 02/01/2015.
Annual percentage growth
Jan 10 -
Jan 11
Jan 11 -
Jan 12
Jan 12 -
Jan 13
Jan 13 -
Jan 14
Jan 14 -
Jan 15
Liontrust Macro Equity Income
16.67%
-1.42%
7.35%
27.06%
2.84%
FTSE All-Share TR
14.7%
-3.02%
12.14%
17.8%
1.33%
The portfolio is currently split across three main themes:
Healthcare
Banks and large corporations have provided much of the funding to develop a vaccine for the Ebola virus and Dengue Fever. The managers feel this is the beginning of a shift within the pharmaceutical sector. With companies less reliant on national health budgets as political bodies have less involvement in the sector. Key holdings in this area include AstraZeneca, GlaxoSmithKline and Merck & Co.
Financials
As highlighted in the below graphic, the number of 48-64 year olds is expected to dramatically increase by 2022.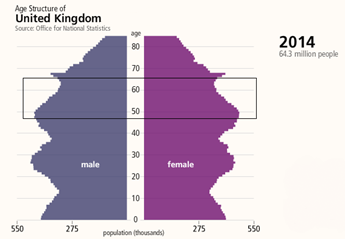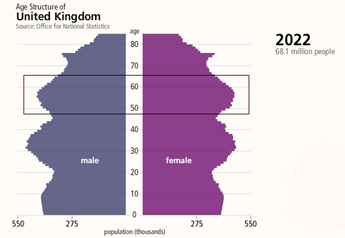 In the managers' view, the ageing population could have a large impact on wealth management companies. Those in their late-40s to mid-60s often have the highest levels of disposable income and therefore the largest capacity to save and invest - they are also incentivised to do so with retirement looming.
The recent changes to pension legislation are supportive of this theory; as it is no longer a requirement for pensioners to purchase an annuity, many retirees will remain invested in the stock market through drawdown products. The main benefactors of this theme, according to the managers, are the wealth management companies which administer these investments and pensions. As such, the fund has a number of holdings in this area, including positions in Jupiter Fund Management, Aberdeen Asset Management and Investec.
Telecommunications
The managers feel many stocks in this area are under-priced. The sector is moving towards a quadplay model (where businesses look to have a position in the four main areas of telecoms: broadband, fixed line, mobile and television). The managers' view this as a positive development within the sector due to improved consumer retention benefits and increased average spend per customer. The fund's largest holding in this area is Vodafone.
Areas avoided
The managers actively avoid utility and tobacco companies. In their view, utility companies are exposed to more political risk than many other industries. With the majority of utility consumers also falling into the category of 'voter' in general elections, the managers feel politicians are more likely to pander to this group than the significantly smaller number of shareholders.
A key argument for investment in the tobacco industry has been the growth of sales to emerging markets. However, the managers believe sales in these countries will now be hurt as governments are beginning to realise the cost implications smokers have on the healthcare sector.
Our view
The fund was removed from the Wealth 150 list of our favourite managers across the major sectors last year as we felt there were superior alternatives within the IMA UK Equity Income sector. Whilst this fund remains a reasonable core equity income choice, investors seeking exposure to this area may wish to view our Wealth 150 for our current favoured funds within this sector.
Please note the fund's charges can be taken from capital, which can increase the yield but reduces the potential for capital growth.
Find out more about this fund including how to invest
Please read the key features/key investor information document in addition to the information above.
The value of investments can go down as well as up, this means you could get back less than you invested. Therefore all investments should be regarded with a long term view. No news or research item is a personal recommendation to deal. If you are unsure about the suitability of an investment please
contact us for advice
.
Important information
-
Please remember the value of investments, and any income from them, can fall as well as rise so you could get back less than you invest. This article is provided to help you make your own investment decisions, it is not advice. If you are unsure of the suitability of an investment for your circumstances please seek advice.
No news or research item is a personal recommendation to deal.
Want our latest research sent direct to your inbox?
Our expert research team provide regular updates on a wide range of funds.
---