Investments can go down as well as up so there is always a danger that you could get back less than you invest. Nothing here is personalised advice, if unsure you should seek advice.
Sentiment towards value companies, to which the fund is biased, has improved in recent months to the benefit of the fund
We believe the fund continues to offer strong long-term growth potential
A focus on out-of-favour areas of the stock market means the fund will perform differently to its peers at times
Our view
We are encouraged Tom Dobell continues to adhere to the fund's original investment proposition and more recently the recovery process has come to fruition. A focus on out-of-favour areas of the stock market means the fund will perform differently to its peers at times, although it also provides some diversification as part of a wider UK portfolio. We believe the fund continues to offer strong long-term growth potential and the fund maintains its position on the Wealth 150 list of our favourite funds across the major sectors.
Fund Update
Investing in companies when they are at their most vulnerable is a high-risk strategy. Recovery investing requires patience and periods of volatility are inevitable in the pursuit of long-term returns; however, investors skilled at identifying businesses poised for a turn in their fortunes stand to make a healthy profit.
Tom Dobell is one of the most experienced investors in this area and has built a successful long-term track record. However, his M&G Recovery Fund has performed poorly for much of the past five years. Dependable, high-quality companies that have delivered sustainable earnings growth have been favoured by investors and dominated performance tables. In contrast, undervalued companies experiencing shorter-term difficulties have been shunned. The manager's focus on the latter type of business has therefore impacted the fund's performance, even though many of the companies he invests in have made good progress and offer longer-term growth potential.
Performance of UK Growth Companies verses UK Value Companies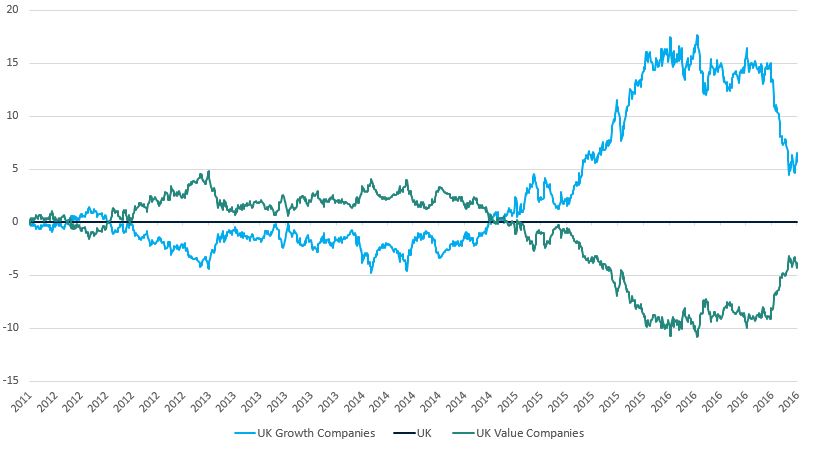 The above chart shows the performance of growth and value companies relative to the UK as a whole. For example, when the blue line is rising, growth companies are performing better than their value counterparts and vice versa.
This trend began to unwind early this year as investor caution abated. Sentiment towards some of the undervalued areas of the market, in which the manager invests, improved to the benefit of the fund. Uncertainty surrounding the EU Referendum interrupted this briefly, but overall the fund has enjoyed the tailwind this trend has provided. It has also benefited from positive news released by some of the underlying companies held in the portfolio. While the improved performance has so far been short-lived, we feel there is significant value waiting to be unlocked within the fund.
Three recovery stocks in focus
Balfour Beatty: The construction company has struggled for some time. However, encouraging earnings results for the first half of this year could mark a turning point in the company's fortunes, in the manager's view. The group has undergone significant restructuring under a CEO that has a good track record in company turnarounds and aims to cut £100 million in costs by the end of this year. The company has reinstated its dividend, which is a sign of the management's confidence. Tom Dobell is optimistic these positive developments will subsequently be reflected in the company's share price.
GW Pharmaceutical: The company's drug for the treatment of severe epilepsy in children has successfully passed its first two trials and increases the likelihood of FDA (Food and Drug Administration) approval. In 2013 investors were dubious over the company's prospects, providing Tom Dobell with the opportunity to invest at a low price. The share price has subsequently risen strongly and the manager has retained his position as he is optimistic about further blockbuster drugs in its pipeline.
Homeserve: This emergency home-cover company recently clawed its way back to its early 2011 share price. Tom Dobell invested in late 2011, shortly after the company was investigated by the financial regulator for mis-selling insurance products and the share price had more than halved in value. It has since moved on from its brush with the regulator and the manager is positive in his outlook for the company due to its strong balance sheet, solid dividend, profitable business model, and potential for growth through the utilisation of technology.
The transformation of Homeserve epitomises what Tom Dobell aims to achieve. His patient approach and focus on hardworking company management teams with solid business plans has resulted in attractive long-term returns. Since he began managing the fund in April 2000, the fund has returned 170.9% compared with 106.5% * for the average fund in the sector, although this is not a guide to future performance. The fund has exposure to higher-risk smaller companies.
Performance of the M&G Recovery fund over the past five years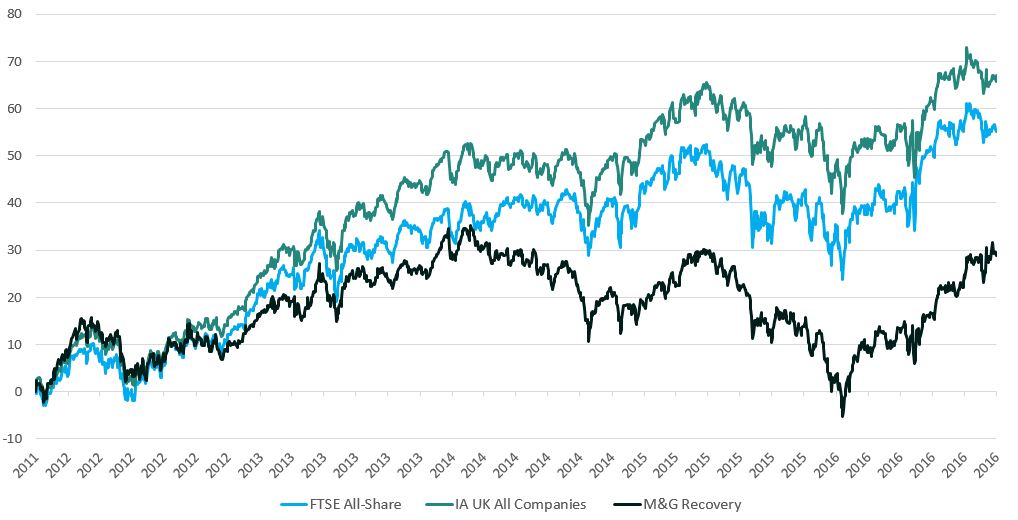 Annual Percentage Growth
Nov 11 -
Nov 12
Nov 12 -
Nov 13
Nov 13 -
Nov 14
Nov 14 -
Nov 15
Nov 15 -
Nov 16
M&G Recovery
10.52
14.61
-4.57
-5.82
13.74
FTSE All-Share Index
12.14
19.8
4.71
0.64
9.77
IA UK All Companies
15.76
24.91
3.13
4.62
6.54
Past performance is not a guide to the future.
Source: Lipper IM * to 30/11/16
Find out more about this fund including how to invest
Please read the key features/key investor information document in addition to the information above.
Important information
-
Please remember the value of investments, and any income from them, can fall as well as rise so you could get back less than you invest. This article is provided to help you make your own investment decisions, it is not advice. If you are unsure of the suitability of an investment for your circumstances please seek advice.
No news or research item is a personal recommendation to deal.
Want our latest research sent direct to your inbox?
Our expert research team provide regular updates on a wide range of funds.
---