Investments can go down as well as up so there is always a danger that you could get back less than you invest. Nothing here is personalised advice, if unsure you should seek advice.
Any period of significant uncertainty is likely to cause turbulence in stock markets. The EU referendum has been no exception and the past few weeks have been difficult for investors.
The Marlborough Multi-Cap Income Fund, managed by Siddarth Chand-Lall, has experienced a particularly difficult time. In the days following the EU referendum, the fund fell 12.1%, compared with a loss of 4.5% for the average UK Equity Income fund.
The fund underperformed its peers for two main reasons. Firstly, Siddarth Chand-Lall favours higher-risk medium-sized companies, which are more exposed to the health of the UK economy than their (mostly international) larger counterparts. Following Brexit, there has been a marked difference in the performance of the FTSE 100, which comprises the UK's largest companies, and the FTSE 250 index of medium-sized companies. The graph below highlights how these two indices performed in June and the extent of share price falls in the days following the vote to leave the EU.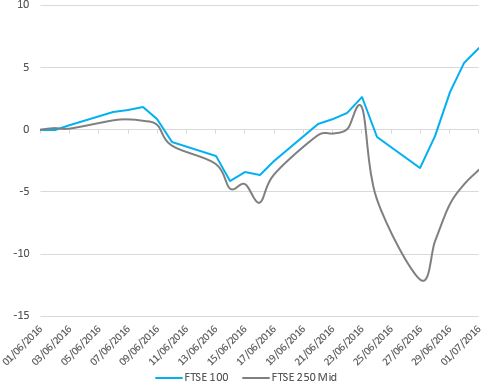 Past performance is not a guide to future returns.
Source: Lipper IM to 01/07/16
Secondly, the fund had high exposure to house building and property-related companies. This hurt performance as shares in these companies fell sharply on investors' concern about the impact Brexit could have on the UK property sector. The manager is encouraged that the directors/executives of many of these businesses have taken the opportunity to purchase shares at depressed levels, indicating their confidence in a recovery.
The vote to leave the EU was unexpected. Following the result Siddarth Chand-Lall made a number of changes to the portfolio, which he believes leaves the fund well placed to withstand a period of low economic growth. This included a reduction in the fund's exposure to financial companies and consumer-related companies that rely on imports (as sterling has weakened as a result of the vote, imports into the UK are now more expensive).
Conversely, he has increased exposure to businesses that benefit from sterling weakness – namely those that largely sell their products overseas. He will continue to focus on businesses able to provide sustainable dividends through this period of uncertainty and aims to utilise the fund's cash position to top-up favoured positions on any further weakness.
Our view
The weeks since the vote have been very volatile and we feel this is too short a period over which to judge a fund manager's performance. Over the long term, the manager has delivered strong returns for investors as a result of good stock selection, according to our analysis. Since launch in July 2011, the fund has risen 50.5%* compared with 27.4% for the FTSE All Share Index, although past performance is not a guide to future returns.
If concerns over the UK economy remain, the fund is likely to continue to struggle in the short term. However, we rate Siddarth Chand-Lall highly and he continues to benefit from the support of Marlborough's highly-experienced UK Smaller Companies Team. He has proven himself as an exceptional stock picker and recent performance does not shake our faith in him to deliver good returns over the long term, although there are no guarantees. We are happy to retain the fund on the Wealth 150+ list of our favourite funds with low charges.
Please note the fund charges can be taken from capital which can increase the yield but reduces the potential for capital growth.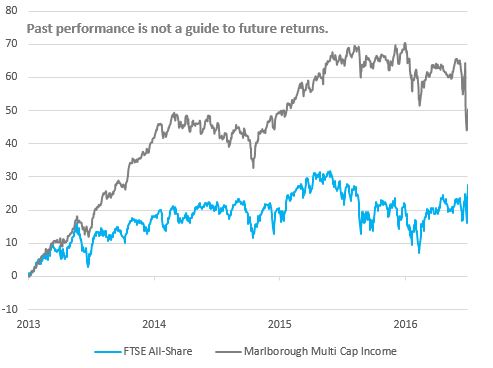 Past performance is not a guide to future returns.
Source: Lipper IM to 01/07/16
Annual percentage growth
July 15 -
July 16
July 14 -
July 15
July 13 -
July 14
July 12 -
July 13
July 11 -
July 12
Marlborough Multi-Cap Income
-9.67%
13.55%
25.15%
30.17%
2.29%
FTSE All-Share
2.08%
3.04%
12.39%
18.23%
-2.67%
Past performance is not a guide to future returns.
Source: Lipper IM to *01/07/2016.
Find out more about this fund including how to invest
Please read the key features/key investor information document in addition to the information above.
Important information
-
Please remember the value of investments, and any income from them, can fall as well as rise so you could get back less than you invest. This article is provided to help you make your own investment decisions, it is not advice. If you are unsure of the suitability of an investment for your circumstances please seek advice.
No news or research item is a personal recommendation to deal.
Want our latest research sent direct to your inbox?
Our expert research team provide regular updates on a wide range of funds.
---